Accusations of assault at UCT: What really happened?
Max Price has laid complaints of assault, and Lindsay Maasdorp accused Price of assault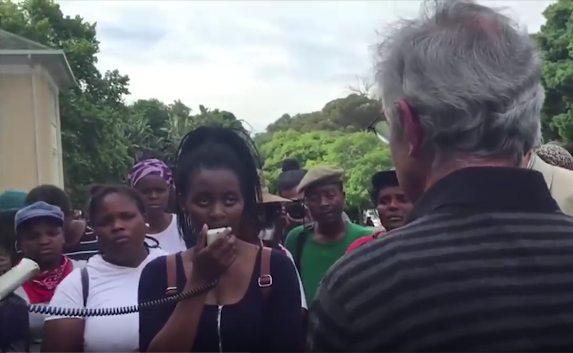 On Friday GroundUp reported that Max Price was assaulted in a heated protest outside Bremner Building on UCT. He has since laid two complaints of assault with the police. One of the protesters, Lindsay Maasdorp, accused Price of assault, though it is unclear if he has laid a formal complaint with the police. What really happened? It is hard to say. Here is what we found out from analysing the video evidence:
We have received comment from Price, but Maasdorp had not responded to an email from GroundUp sent on Saturday evening requesting comment. His phone was off when we called twice yesterday.
Maasdorp is the national spokesperson of Black First Land First, headed by Andile Mngxitama.
Maasdorp has made several threats against Price and white people on social media:
On 6 September he wrote on Facebook: "I really dislike Max Price! I want to deal with him. Please cadres, tell that clown I'm coming for him, and he should expect me!" 
On 24 September he wrote on Facebook: "When will we kill them?" 
On 25 September he wrote on Facebook: "I have aspirations to kill white people, and this must be achieved!" He also tweeted this.
On 11 October he wrote on Facebook: "Make sure the struggle implicates whiteness (white-power/white people)" and then in a comment "I am not well, I will be gone for sometime sadly, but my message is simple; implicate whites!" 
On 12 October he wrote on Facebook: "Max Price must be dealt with personally!" 
On 14 October he wrote on Facebook: "The Price on your life has been set to Max!" 
We have analysed several videos that are in the public domain of Friday's incident.
Below is a video by EWN:
Below is a video on the Facebook page of UCT Just Kidding:
The above two videos are the most useful in analysing Friday's events. However, additional information can be gleaned from several other videos:
Chronology of critical events
YouTube videos can be paused and then stepped through frame by frame using the fullstop key to go forward one frame and the comma key to go backward one frame.
The EWN video shows Price in discussions with student protest leader Mickey Moyo. 
From 1:28 to 1:34 on the EWN video Maasdorp can be occasionally seen on the left of the frames standing under a palm tree. At 1:31 on the EWN video there is a clear view of Maasdorp. He has a beard and is wearing a brown cap.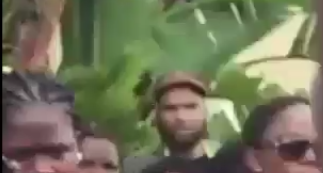 There is a better view of Maasdorp and his movements in this video. At 3:56 he leaves the palm tree area, proceeding to the point where he will soon encounter Price.
At 4:47 in the EWN video Price indicates he is being held up. He proceeds to leave. He is accompanied by Professor Anwar Mall.
The key interaction between Price and Maasdorp takes place between 4:58 and 5:00 on the EWN video. We have watched this on several of the videos. The EWN one appears to offer the best view. Four interpretations appear possible at this point:
1. Mall's arm brushes Maasdorp as in the photo below. It's clearly unintentional, and simply a consequence of the bumping that occurs when moving through a large crowd, as anyone who uses Metrorail knows.  
Maasdorp then swings around and begins to accuse Price of punching him.
2 and 3. Either Price (via his hand) or Maasdorp (via his elbow or shoulder) assaulted the other. The video evidence cannot assist us with reaching a definitive conclusion on this, other than to note that Price and Maasdorp turn swiftly around. 
4. There was no contact between Price and Maasdorp (except perhaps trivial hustle-bustle contact). Again, the video evidence does not assist us to reach a definitive conclusion on this.
At this point the situation becomes much more heated. 
At -3:23 on the UCT Just Kidding video (Facebook gives time left as opposed to time elapsed), a man wearing a dark jacket is in clear view (he also has glasses on). At about -3:17 he begins confronting Price and then pushes him and blocks his exit.
At 5:19 on the EWN video Maasdorp turns away from Price, shouting "Why did you punch me" repeatedly. He then turns round to confront Price again. At 5:30 he turns around again and begins to motion to the police to "come here". He then walks over to the police. At 6:03 he is clearly heard saying "This guy punched me in my stomach …" He motions to Price and then to his abdominal area. Yet nowhere in the video before he accuses Price of punching him, is he facing Price, so it's unclear how Price could have punched him there.
It is after Maasdorp's allegation that the police enter the crowd.
At 7:38 to 7:40 in the EWN video there appears to be a punch or attempted punch thrown at Price by a man with a blue T-shirt and navy blue cap. This scene is easier to view in this video. The police react to the man in blue's apparent punch or attempted punch at 0:04. They push him back in an ensuing scuffle, and then a stun grenade is released. The police then escort Price away from the scene. Update at 6:50am on 19 Oct (based on reader feedback): It is possible that the man in blue is only pushing not punching; the video simply isn't clear enough to draw definitive conclusions even when watched frame by frame. 
It is worth noting that the videos show that most of the participants in the protest were peaceful and did not impede Price from leaving. Moyo at one point can be heard calling for Price to be allowed to leave.
If you have further video evidence depicting the above events, please email:  info@groundup.news. If you believe we have missed something important in the videos linked to above, please let us know.
© 2016 GroundUp.

This article is licensed under a Creative Commons Attribution-NoDerivatives 4.0 International License.
You may republish this article, so long as you credit the authors and GroundUp, and do not change the text. Please include a link back to the original article.