Marikana public violence accused appear in court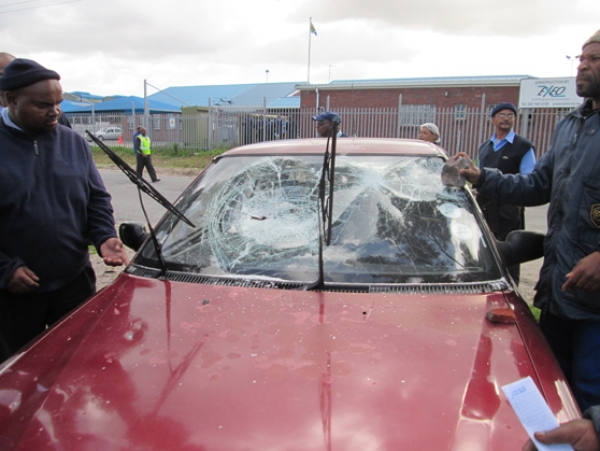 17 people appeared at Athlone Magistrate Court on 25 August on charges of public violence related to the Marikana informal settlement evictions last week. The accused faced charges ranging from stoning police vehicles and private cars to arson, including torching a car, setting alight a shop and looting.
Charges were withdrawn against five people (three men and two women), but 12 will remain in custody, the matter postponed to 1 September for further investigation.
The evictions of shack dwellers in Phillippi East turned violent last Friday, 22 August. Angry residents hurled stones at police and law enforcement officials.
Violence spread to nearby businesses, when some people tried to take advantage of the chaos and attempted to break into some shops in the area.
Motorists using the roads in the area were caught up in the battle between police and residents and some vehicles were stoned. Several cars were damaged along Symphony Way. A radio was stolen from a Polo car before the police could act.
Outside court, over a hundred members of Ses'khona Peoples Rights Movement picketed.

Ngcwelekazi Mnqupane and the Ses'khona People's Rights Movement protesting outside the Athlone magistrate's court. Photo by Masixole Feni.
Ses'khona leader Andile Lili said they expected that those who had been arrested would be kept in prison for a long period. "Our members are always thrown into Pollsmoor because that is how they intimidate us," said Lili.
He also said that Ses'khona will be pursuing civil claims against the police and law enforcement for conducting illegal evictions. Lili said, "They will pay back the damaged properties and all people's belongings that got stolen because of their actions."
Lili said the City was waging a campaign to make Ses'khona a scapegoat for its problems. He said, "We never started Marikana, but we won't turn our back on our people. We are going to make sure that they are back to that land and we will fight for them to get all the basic services. Those people need water, electricity and toilets; the city must provide that."
Some of the people that were outside court said they are rebuilding their shacks, because they have nowhere else to go.
Dodgy people are suing us. Please support us by contributing to our legal costs and helping us to publish news that matters.
© 2016 GroundUp.
This article is licensed under a
Creative Commons Attribution-NoDerivatives 4.0 International License
.