Marievale cousins accuse SANDF soldiers of assault
"The soldiers kept kicking them so badly we thought they would kill them", says witness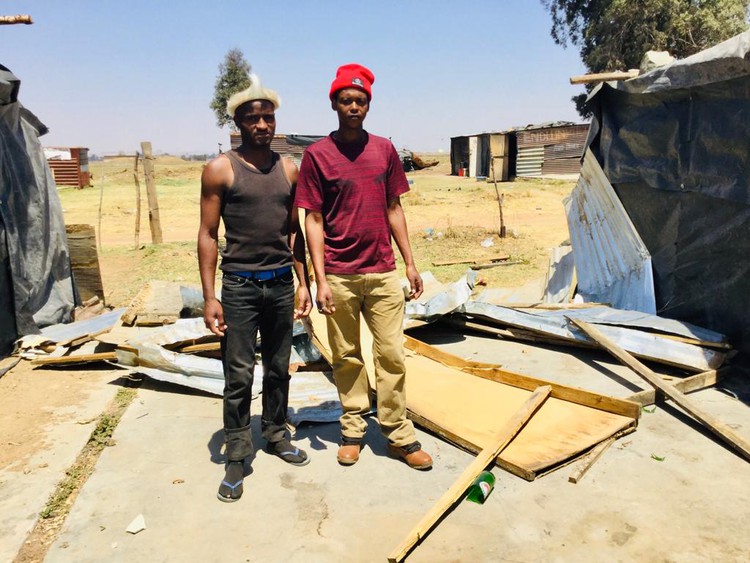 Linda Duma and Fezile Shebi have bruises on their faces and bodies after more than ten soldiers they say assaulted them at their home in Happiness Village, Marievale, last Thursday. The two cousins had erected a new shack in their yard which the soldiers demolished.
Happiness Village residents were forcefully evicted from their homes in the Marievale military base by the SA National Defence Force (SANDF) in November 2017. The residents took the matter to court with the support of Lawyers for Human Rights. On 9 May 2018 the court ordered the SANDF to allow residents to return to their homes within 30 days.
In November 2018 the residents asked for the SANDF to be held in contempt of court because they had not yet returned to their homes or been given alternative accommodation. Judge Norman Davis did not find the SANDF in contempt but reaffirmed and supplemented the 9 May court order.
The SANDF applied for leave to appeal this order but the application was dismissed. However, most of the residents have still not been accommodated elsewhere.
Linda Duma opened a case of assault with Dunnotter police against the SANDF soldiers on Friday. Shebi was hospitalised on Thursday after the assault and was discharged on Friday evening. He is yet to open a case. The cousins say they are still in pain and have not been able to go to work since the incident.
Other Happiness Village residents say they watched helplessly as the cousins were kicked by soldiers wearing army boots.
Happiness Village resident Gracinda Mazivi was one of the witnesses. The soldiers had sticks and guns, she said. "When l tried to draw closer they warned me to stay away saying they would kick me as well."
She said she ran away and watched from a distance as the soldiers kicked Duma and Shebi.
Berry Cossa says he had just arrived from work when he witnessed the incident. "The soldiers kept kicking them so badly we thought they would kill them."
The cousins were among those who were evicted from Marievale in 2017. They sent their wives and children home to Umzimkhulu in KwaZulu-Natal and moved into a small shack with 13 other relatives. They say they had decided to erect an extra shack to create more space.
Duma says he was busy building on Thursday afternoon when SANDF soldiers came and asked why he was building the shack.
"They said they had warned us not to build anymore shacks. I explained to them that there were 15 of us sharing one shack and that l needed privacy. They said they would come back and teach me a lesson."
Later around 5pm, Duma says, five army vehicles came after he had finished building the shack. Soldiers found him standing at a friend's shack and tried to catch him. When he ran they chased and caught him just as he was trying to get into his home.
"They caught me and started beating me with guns. When l fell to the ground they kicked me with army boots all over my body. They did not even spare my face. After beating me they destroyed the shack."
Shebi says he came out and asked why they were beating up his cousin. Soldiers who had been standing on the side began to beat him too.
"I begged, but they would not stop beating me. They took my phone accusing me of taking pictures of them beating up my cousin. My face was full of blood." He says the soldiers have not returned his phone.
Another cousin, Mbambo Nzimande, says he hid inside the shack afraid to come out.
"All of us came from our village in Umzimkhulu, because we want to work and earn a living. Our family back home have no idea that we are being tortured by the army here in Gauteng," he said.
Community representative for Happiness Village Chris Koitoei said, "Soldiers have a court interdict which states that they should not come near the residents of Happiness Village. Now they are crossing the line and continue to beat our people. The whole community witnessed the incident and we are not happy. It's frustrating that the SANDF continue to violate the law."
Dunnotter police confirmed that a case of assault was opened by Linda Duma on Friday.
The SANDF has not responded to a request for comment sent to the media office on Monday.