Man dies from dog bites 39 days later
Many unanswered questions on how Andries Afrikaner came to die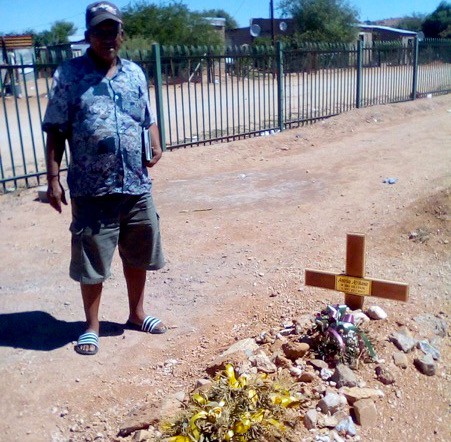 On 7 March, Andries "Aloe" Afrikaner passed away in the intensive care unit at Dr Harry Surtie Memorial hospital in Upington. He died from dog bites 39 days after he was attacked on 26 January in Kakamas.
Captain Francois Steenkamp, communications officer for the Kakamas police, said Afrikaner was found at the corner of 15th and 17th Avenue, close to the Kakamas Hospital. A police officer out on his morning jog saw Afrikaner lying by the roadside. He called the police, who called the paramedics.
A paramedic from the nearby Kakamas hospital, who did not wish to be named, was amongst the first people to find Afrikaner. "His body had holes at the back and his torso had deep wounds. His shin bones were visible," said the paramedic.
He says Afrikaner's body was cold and he believes he must have lain there for some time. He said it was the second incident of this nature that he was aware of, but this one was fatal.
His mother, Anna Jonker, who went with the police to the scene on that morning, says: "He only had his takkies on when we found him on the scene. His clothes were a few metres away from him."
The clothes from the crime scene were collected from his mother by the police a month later, she says.
His father, Abraham Jonker, says in February police promised they would investigate.
According to the funeral insurance accident claim form filled in by the investigating detective a docket was only opened in March.
"The dogs that attacked him – we don't know whose dogs they are," said Magdelene van Vuuren, a friend of the deceased.
Detective Captain Luvuyo Nondyolo confirmed that "at this stage, we don't know the owner of the dogs".
His death was not reported in the local media and no appeals were made by the police to the public for information.
Andries Afrikaner worked as a gardener in private homes. The day prior to the attack, he went to collect pay from some municipal workers he had gardened for.
Afrikaner and his three-month-old younger brother were adopted by the Jonker family in 1986 after their ailing parents passed away within six months of each other.
Dodgy people are suing us. Please support us by contributing to our legal costs and helping us to publish news that matters.
Letters
Dear Editor
In Walvis Bay in the 1970s the area around the wastewater treatment works, effectively a swampy wetland, was a no go area for kids like us because of feral dogs. Several people had been attacked and even reportedly killed by domestic dogs gone feral. They had turned into pack animals and were a real danger.

It would not surprise me if this is the situation in Kakamas. Animal welfare organisations have very limited resources and now that the Lotto has withdrawn funding from this sector the risk will grow. Expect this problem of apparently random attacks to grow alongside it.
© 2017 GroundUp.

This article is licensed under a Creative Commons Attribution-NoDerivatives 4.0 International License.
You may republish this article, so long as you credit the authors and GroundUp, and do not change the text. Please include a link back to the original article.