Living in cardboard shacks … inside a hostel
|
Photos by Masixole Feni and Liza Kettil.Text by Thembela Ntongana
News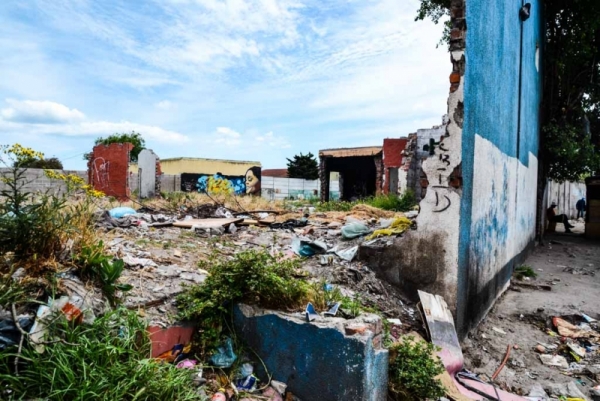 "The condition that these people live in is uncalled for," says Ward 52 Councillor Mayenzeke Sopaqa. He is describing a derelict area in Section 18, Langa, known as Emaholweni, established 45 years ago in what has become a no-man's-land, all but abandoned by the authorities.
"I am not here because I want to be here. No one can choose to live like this, but because of my health, I have to," says 59-year-old Sindisile Dame. He suffers from epilepsy and asthma and needs to be close to medical facilities.
Dame, like many others, came from the Eastern Cape in search of greener pastures. For over 15 years he has lived in a one-room shack with his wife and three children; two of the children have since moved.

Sindisile Dame and his wife Ntombizanele Dame have been living in their one room for more than 15 years.
Dame's shack is situated inside a hall. People use cardboard to separate their homes from one another.
"I moved here from New Flats [Langa] because it burnt and we were told that it was temporary … When we were moved here it was a hall, and we built with cardboard just for privacy.
"Some people have died and some have gone back home and their kids are living here. There is no privacy on weekends. You are forced to listen to music, even if you don't want to," says Dame.

Inside one of the halls where residents have put up ceiling boards for privacy.
There are five halls, each with eight families. There are few taps for water, poor sanitation and lots of crime. Adjacent to the settlement are abandoned buildings frequented by drug users and criminals.

Gideon Njoli, now in a wheelchair, and his wife Mamncethe Njoli have lived in the single quarters for 45 years.
Gideon Njoli, 66, was one the first residents to stay here. He arrived when he was just 21 years old. He and his wife Mamncethe survive on his pension money. His wife looks after him since he became paralysed six years ago.
"I can't do anything for myself," he says. "I am in a wheelchair, but I can't even move around in the house because there is no space … I am a man who has do all his business in the house with the help of my wife, because I can't go to the toilets; they don't work properly.
"We have given up asking for houses. This is how I am going to die … in this room. We have been promised too many times," says Njoli.

Fetching water from one of the few taps.
In some homes there are more than five people sharing one room. Some talk about having to move furniture outside at night to make space for a mattress on the floor, which they leave outside during the day.

Nokhaya Vangaye is one of the longest standing residents of the area.
Nokhaya Vangaye has been living in the quarters for 27 years.
"This is not a way to live … The roofs are falling off … There are rats everywhere … You have to carry a bucket of water to go to the toilet because they don't have running water … There is not a lot of space to play, the kids play around in dirt," says Vangaye.
She has two grandchildren and they have been in and out of hospital for TB treatment. She says they have been promised over and over again that they will get houses, but every time there is a new development, they do not make the list.
"We are willing to move anywhere they take us … Just to live in better houses. It's been too long," says Vangaye.

Two of the halls; one used as a creche (on the left) and another as a residence for eight families.
Ward Councillor Mayenzeke Sopaqa says that the rooms used to be used as single quarters for people who worked as contractors for the companies then developing Langa.
He says that for five years as a councillor he has been asking the City to take ownership of the building, but he has not received any response.

The toilets used by the families that live in the area.

One of the toilets that no longer work.
"The condition that these people live in is uncalled for. The toilets cannot accommodate females, because at that time only males lived there … The City needs to intervene because those people don't even have proof of ownership. It's been too long for people to have to live like that," said Sopaqa.

A woman lives in this shack and offers day care for infants.
The City was contacted on Tuesday morning for comment but at the time of publishing had not yet responded. The article will be updated with City comment.
Dodgy people are suing us. Please support us by contributing to our legal costs and helping us to publish news that matters.
© 2016 GroundUp.
This article is licensed under a
Creative Commons Attribution-NoDerivatives 4.0 International License
.