The learners who cross a lake with hippos in it to get to school
Department of Education provides a boat at last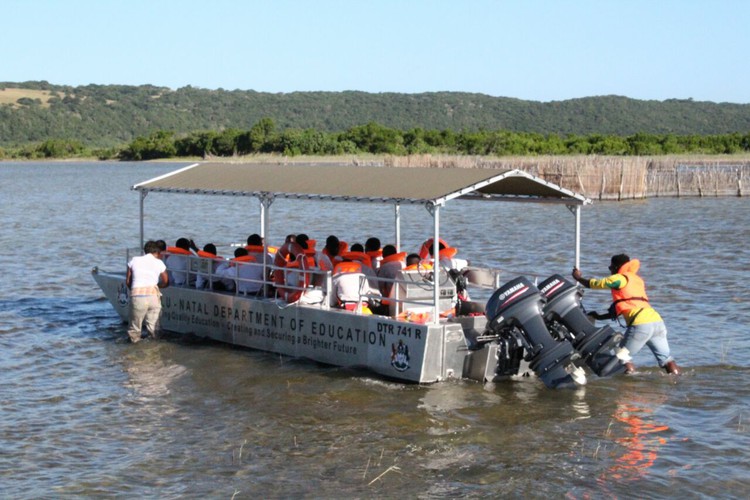 For years, learners at two KwaZulu-Natal schools, some of them under eight years old, have been wading through a lake with hippos to get to school. Now, at last, the Department of Education has provided a boat.
Nhlange High School and eNkovukeni Primary School are in eNkovukeni, in the north of KwaZulu-Natal, just a few kilometres from the Mozambican border and about five and a half hours driving time from Durban.
The village is on the Makhuwulani Lake, one of four lakes in Kosi Bay lake system.
For years, learners from the area have had to wade through the lake to get to and from school.
Gugu Ngubane has been a teacher at eNkovukeni Primary School for three years. She told GroundUp: "I am a professional teacher who has to undress and cross a lake with hippos just to get to work. Even the young children cross this lake. It's just normal, an unnecessary normal."
When GroundUp visited the lake, several hippos could be seen.
Neliswa Mthembu, a substitute teacher at the school, said only determination to put food on the table and love for the children kept her going.
She said she lived 10 km from the school and had to get up at 4:00 am, hitch hike to the lake, wade across the lake and then walk up the hill to the school on the other side. "I wake up each day with doubt about coming to work, but then I remember that the kids need me more than I need the job."
Three weeks ago, the community of eNkovukeni was provided with a boat by the Department of Education.
But, said the driver of the boat, Philani Ngubane, though this came as a relief to many people, the boat has had problems with petrol supplies.
"Often, petrol runs out and filling the boat again is delayed for a few days. This means that children and teachers are again left to cross the lake."
Contacted by GroundUp, Muzi Mahlambi, Head of Communications at the KZN Department of Education, said this was "clearly an administrative error and poor management" and would be dealt with.
He said the provincial government planned to build a bridge in the area but due to financial constraints only a boat could be provided at present.
The boat has made no difference to learners like Nhlange High School student S'phelele Nsele, 21. He lives in KwaHlomula, north-west of eNkovukeni, and though he doesn't have to cross the lake, he has to get up every day at 4:00 am to walk the 15 kilometres to school before the first bell rings at 7:20 am.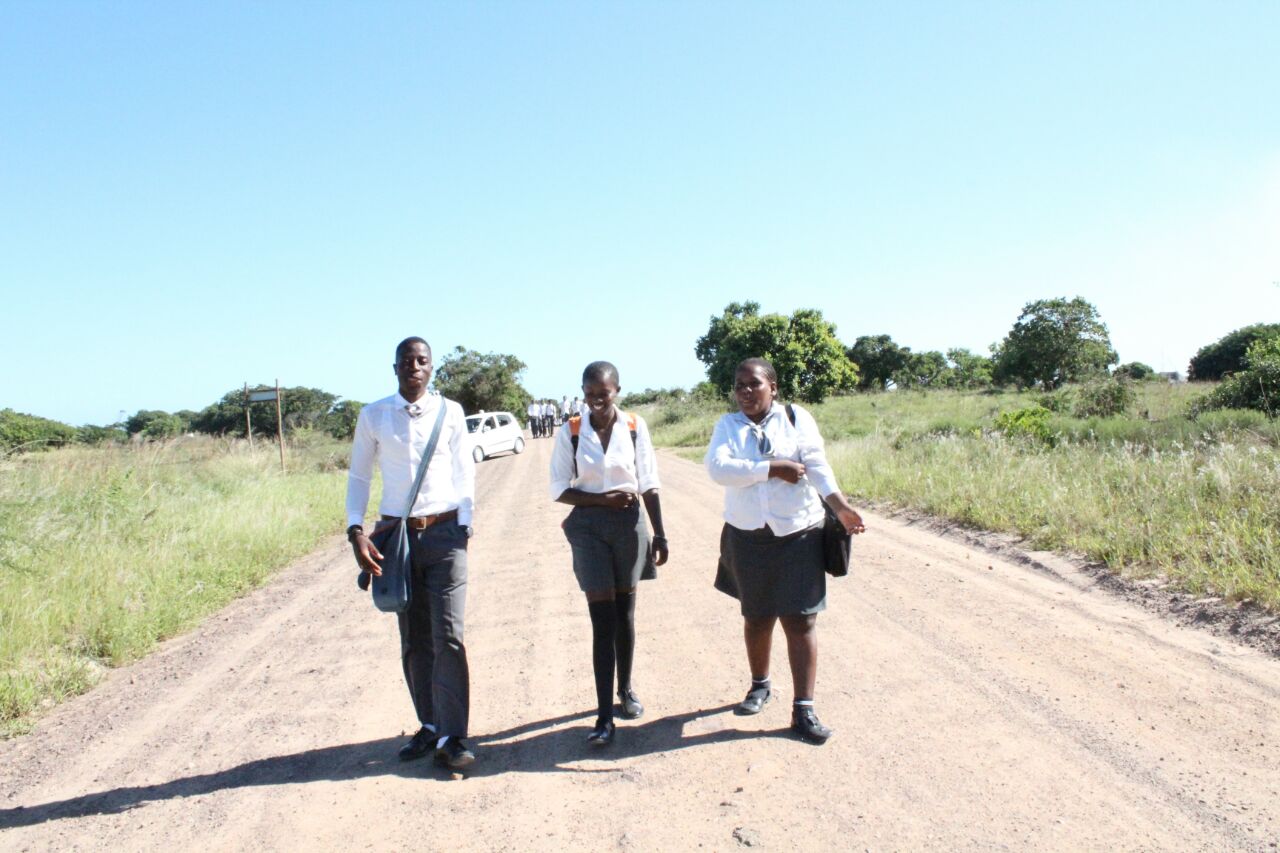 He says he's been walking a long distance to school since he was at primary school, but it doesn't get any easier.
"On some days you just want to turn around and go back home. Surviving extremely hot conditions and rain takes a toll out of you. You get to school exhausted, sweaty and hungry."
Silindile Mthembu, 18, a grade 11 pupil at Nhlange High School says she can barely focus in the mornings:
"Many of us have a hard time concentrating, especially in the morning classes. Teachers have to continuously keep us from falling asleep in class. The school is also very strict on time. It doesn't matter even if you walk an hour or more to get to school, you have to be on time or you are locked out, even during exams."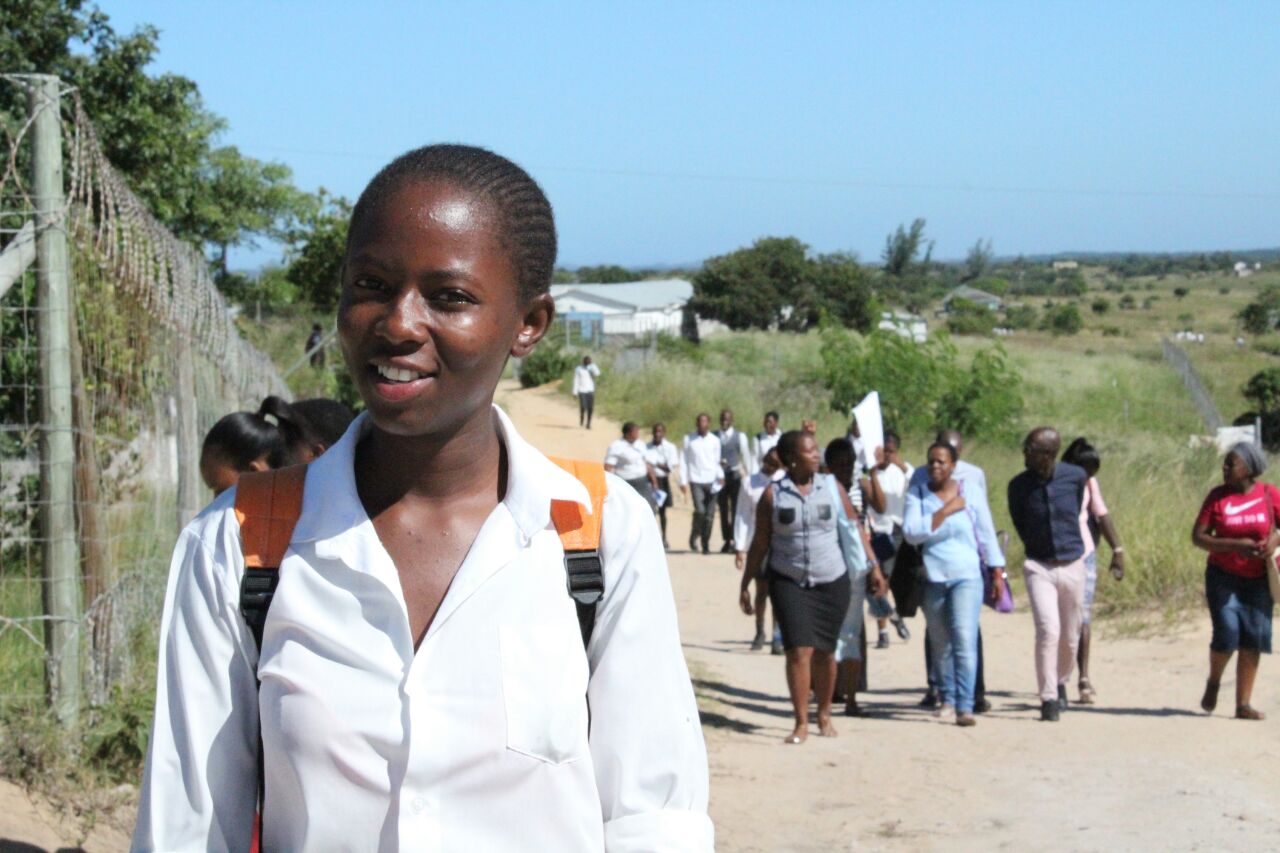 "When it rains it's easier for us to wear ordinary clothes and flops to school, and change at the school toilet. I make sure I get to school on time every day, although during winter it isn't as easy. I know that people before us have survived this journey and so that makes it bearable," says Mthembu.
In KwaZulu-Natal more than 200,000 learners walk more than two hours to and from school every day, according to activist movement Equal Education. Education department policy is that pupils who walk more than 6 km to school and back qualify for state-provided transport. But this is little comfort for the parents, teachers and learners of eNkovukeni.
Gabisile Bhengu, a mother of two children, says she fears change will never reach eNkovukeni:
"We've been living under such circumstances for decades, voting for a government that I doubt even knows we exist.
"My children have been crossing the lake on foot since grade 1. As a mother and citizen of this community, I know the dangers of the water and hippos, and so each day I pray that my children get to school safe and come home in one piece."
Mahlambi said eNkovukeni was one of four areas to benefit from a transport "intervention" in the current financial year. "We have begun providing learner transport which we are still facilitating."
He said if the provincial government had "the power and finances" to provide for every child who walked long distances to school, this would be done.
© 2017 GroundUp.

This article is licensed under a Creative Commons Attribution-NoDerivatives 4.0 International License.
You may republish this article, so long as you credit the authors and GroundUp, and do not change the text. Please include a link back to the original article.