Redhill land claimant compensated nearly 20 years later
"I was hoping we'd get the land, but what can we do? We must let go."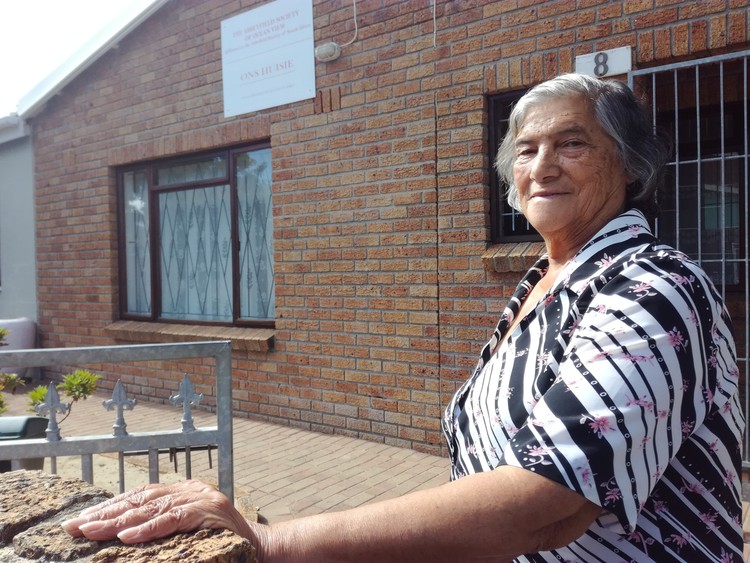 Lily Margaret Lawrence, 80, has, after 20 years of waiting, received an undisclosed compensation fee for land that her and her family were forcibly removed from in Redhill near Simons Town. Her family's land claim of 1998 was lost and they resubmitted the claim in 2001.
Lawrence and her family were among hundreds of families who were forced to leave their homes and belongings to move to open land on the Cape Flats, demarcated for "non-whites" under the Group Areas Act.
"I was hoping we'd get the land, but what can we do? We must let go," says Lawrence.
In July 2014, GroundUp spoke to two of Lawrence's four children, Margaret Constant and George Lawrence, who were preparing to re-submit a land restitution claim on their mother's behalf. The siblings also recalled the grim experience of moving from the "close-knit community" in Redhill to a block of flats in "sandy" Ocean View in 1970.
GroundUp visited Lawrence last Tuesday who currently lives in a home for older persons in Ocean View. Her husband died 17 years ago. She said she spent "a large part" of her life in the Redhill area, first on a farm and then, from 1967, in council cottages in what is now the predominantly white area of Pinehurst. Three years later they were forced to move to Ocean View.
"When we were moved to Ocean View, my brother-in-law came to live with us. We were seven people in a small two bedroom flat on the second floor. Moving was very sad. It was a traumatic time," she says.
Lawrence says life in Ocean View "was hard to get used to" as people who were removed from the surrounding Noordhoek areas became their neighbours. "Before, we lived next to family and friends that we grew up with, but the flats were a mixture of people from all backgrounds, which took a lot of getting used to," she says.
Lawrence laughed as she recalled "battles for the washing lines" as there was never enough space for everyone. She says most of all she missed having her own garden. She says that two of her sisters who submitted claims for Redhill have already been compensated. Her own hopes of getting back the land where she raised her family diminished over time.
Lawrence was the only one in her family to claim for the land. All of her sisters submitted claims for compensation, she says. But she was recently diagnosed with breast cancer and so decided to take the money,.
"A few years ago we saw trees being cut down there and found out they want to build a golf course there," Lawrence says. (GroundUp could not confirm this.)
Lawrence, who has ten grandchildren and five great grandchildren, says the family often returns to Redhill to celebrate Heritage Day. "I would like to take some of the people from Ocean View to Redhill because a lot of people don't know about that place. It's really beautiful up there," she says.
Vuyani Nkasayi, spokesperson for the Western Cape Rural Development and Land Reform Department says 22 claims were lodged for the Redhill site. He says 18 were settled in 2001, three are still outstanding and one was rejected. No clarity could be provided by the department on why it took so long for Lawrence to be paid.
Mtobeli Mxota, director of Restitution at the The Rural Development and Land Reform Department says that 79,212 claims were settled by 31 December 2016. Of these claims, 66,000 were compensated financially at a cost R11.66 billion.
Mxota says approximately 3,389,727 hectares of land have been approved for restoration.
Dodgy people are suing us. Please support us by contributing to our legal costs and helping us to publish news that matters.
© 2017 GroundUp.

This article is licensed under a Creative Commons Attribution-NoDerivatives 4.0 International License.
You may republish this article, so long as you credit the authors and GroundUp, and do not change the text. Please include a link back to the original article.