Langa in mayhem as protesters demand housing
|
Zintle Swana and Thembela Ntongana
News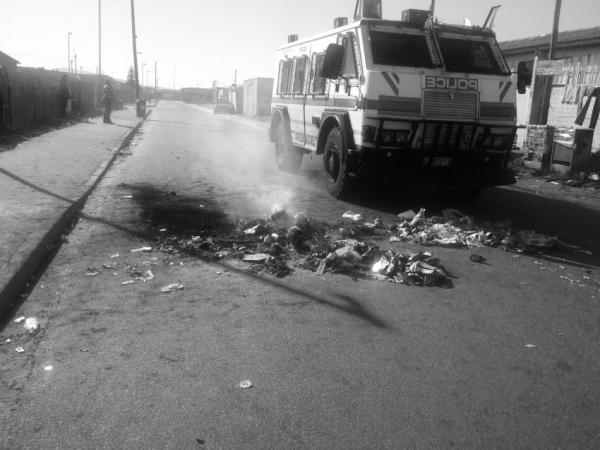 Hundreds of Langa residents took to the streets today to demand new houses. Several shops were looted, roads were closed and police used teargas and fired rubber bullets.
Ward 51, 52 and 53 residents blocked the roads to prevent people from going to work. No vehicles were allowed in the area and the train station was also closed.
Some residents complained they had been on waiting lists for up to 21 years.
"My mother and I have been waiting for eight years since we applied for RDP houses and we were given a red card as proof that we are on the waiting list," said Langa resident Rashida Mali.
Residents also complained their houses were in bad condition and that the R350 a month rent on municipal flats was too high. Some said they were unemployed and had been evicted because they could not afford the rent, or because the original tenant had died.
Aluta Songoni, a resident in Langa zone 14, said, "I used to live in this apartment with my mother who passed away last year. The government is now evicting us because the person that it's registered to is deceased.
"They do not even care that we are her children and we have a right to live here."
Community representative Thandi Jonas said that the residents had raised their concerns with the mayor on two occasions but had not received a satisfactory response.
One of the residents in the crowd, Goodman Dasayi, said, "Today I could not make it to work because all the ways to get out of Langa were closed."
He said he would probably get into trouble at work tomorrow.
Some grocery stores in the area, including Shoprite, Chinese shops and more than ten Somali shops, were looted. Police used teargas and rubber bullets, and at least two people were hurt.
Jonas said 26 people had been arrested by the police. Fourteen had been released and 12 were expected to be released later today.
She said the mayor's office had promised a meeting tomorrow, and that the protest would continue "until we get the answers we want."
Neliswa Nqqose, councillor for ward 51, and Mayenzeke Sopaqa, councillor for ward 52, could not be reached for comment.
Dodgy people are suing us. Please support us by contributing to our legal costs and helping us to publish news that matters.
© 2016 GroundUp.
This article is licensed under a
Creative Commons Attribution-NoDerivatives 4.0 International License
.