Langa and Nyanga residents call for City official to step down
"If there is corruption, experts will investigate and the law will take its course," says Mayco councillor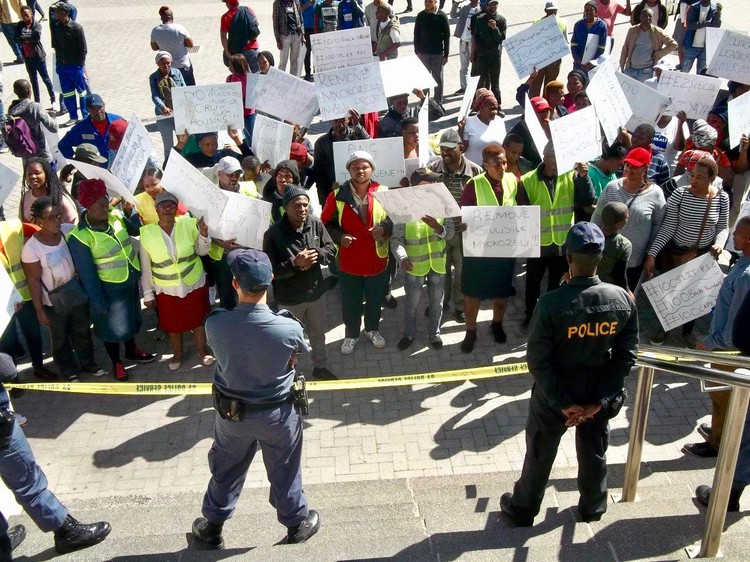 Angry residents from Langa and Nyanga marched to the Cape Town Civic Centre on Friday demanding that the City sack a housing official.
Placards read: "Sivuyile Mxokozeli you are a liar / We don't want you" and "Investigate corruption". Protesters sang, "Hush my baby / Things will change."
Zanele Mbizela, a community leader on the Project Steering Committee in Langa, said Mxokozeli – project manager in Langa and Nyanga – must step down. "We will make his life miserable. He doesn't know what we are capable of," she said. "Mxokozeli messed up the project and employed corrupt community liaison officers."
Addressing the marchers outside the Civic Centre, community leader Zekulunge Mantsontso and chairperson of the Masiphakame Housing Co-operative in Nyanga, said, "We are here to tell the City of Cape Town that the leaders it has sent to the township to bring about development are not delivering."
The protesting residents want the City to split the Phase Two Hostel Development into two areas, with each area having its own steering committee. "Each project has its own budget already, so it will be easy to split them," said Mbizela.
She said that in Phase One "19-year-olds got houses, while elders, who had been on the housing waiting list for almost 30 years, got nothing". Mbizela said elders whose applications for RDP houses were approved never received houses.
"The City has been neglecting Langa residents for about 30 years and denying them opportunities to get RDP houses," she said.
Mayoral Committee Member Siyabulela Mamkeli received the memorandum of demands from the angry residents outside the Civic Centre. "I understand your frustration and know that you live under inhumane conditions," he said.
Mamkeli said, "If there is corruption, experts will investigate and the law will take its course." He undertook to make site inspections to find out what was going wrong.
Asked to comment on the allegations, Mxokozeli said, "The City's protocol requires that journalists should source comments from City's media section. I can only provide my comment if the City's media section asks me to comment."
Dodgy people are suing us. Please support us by contributing to our legal costs and helping us to publish news that matters.