KSD students clash with police
Rubber bullets used and residences set alight. Protesters say this is just a warning message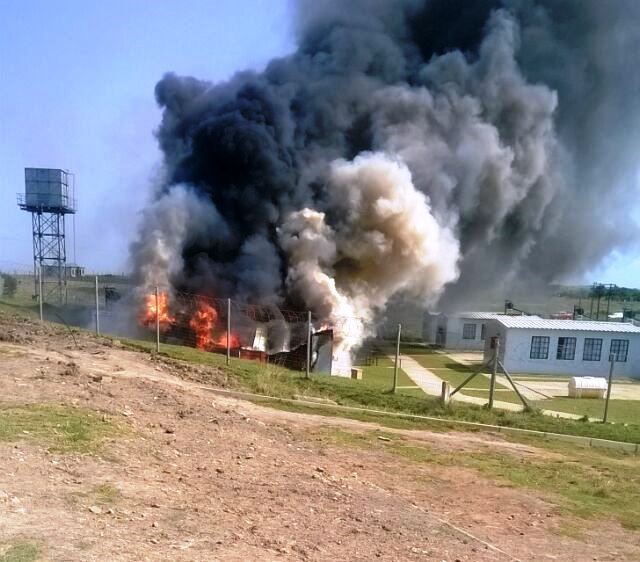 On Thursday, residences were set alight at two King Sabatha Dalindyebo Technical and Vocational Training campuses. Students said this was a warning message to their management.
Police used rubber bullets to disperse a group of over 100 students at KSD college, Zimbane campus in Mthatha, where male toilets were set alight. Students said the arson was a warning to management that if they do not respond to their grievances by today, all hell will break loose.
A similar incident happened at Ntabozuko Campus in Elliotdale, when students set alight two residences forcing students to evacuate.
A student leader, who asked not to be named, said that if the management does not come with a solution to their demands, things were going to get worse.
Four campuses - Ngcobo, Mngazi, Mapuzi and Ntabozuko - started protesting last week, demanding transport allowances of between R11,000 and R15,000 a year, as well as computers and improvements to buildings. Some students also complain that they have still not received their certificates from 2013 and 2015. Others complain about not receiving their 2015 exam results.
Cicirha and Zimbane campus added to protest
This week, Zimbane campus and Cicirha main campus, both in Mthatha, joined the protest. According to students at Cicirha, they were forced to join the strike on Wednesday after groups from different campuses gathered outside the main campus throwing stones and demanding those inside the campus leave. Police also used rubber bullets to disperse the crowd.
Ntabozuko campus SRC chairperson Phakama Nana said she was in a meeting with the management at main campus in Mthatha when she received a call that students were setting fire to residences.
She said that on Wednesday, after students had called management several times to a meeting and management never pitched up, students hired transport and went to Cicirha main campus.
"When we get there as students, police were waiting for us. They told us to elect delegates to go inside to speak with management. We elected people and I was one of them. We asked the management to come outside to address students. They told us that they were going to first discuss it; we must wait for them outside," said Nana.
But when they came out of the management office, she said, police were already firing rubber bullets at students.
"Before we asked what was happening, they started shooting at us with rubber bullets. We could not address students and they were angry when they left yesterday," said Nana.
At Zimbane campus, two student leaders, who asked not to be named, said, "Burning toilets is a small thing. Management is aware of our grievances, but they are not taking them seriously. This time, we want them here, and we are not going to write exams until they listen to us."
A student at Cicirha said their campus was not part of the protest until Wednesday when they were forced to join. "We were busy writing Maths. Some were going to write Marketing when a group of students came. We tried to ask police to protect us so that we can finish writing, but things turned violent. We had to leave classes."
She said management told them they could return to school on Friday and police would be present to protect those who wanted to write exams.
On Thursday and Friday, GroundUp contacted KSD and was told management were in meetings and would respond in due course. We will publish the response when we receive it. 
© 2016 GroundUp.

This article is licensed under a Creative Commons Attribution-NoDerivatives 4.0 International License.
You may republish this article, so long as you credit the authors and GroundUp, and do not change the text. Please include a link back to the original article.