Khayelitsha residents march in the rain demanding better living conditions
Memorandum delivered to ANC councillor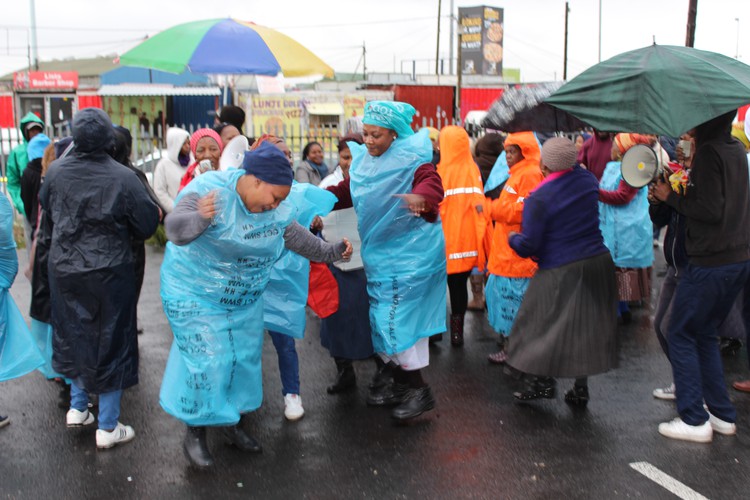 About 50 residents of Taiwan informal settlement in Khayelitsha braved the rain to march to the ward councillor's office on Thursday demanding "decent living conditions". They wore plastic rubbish bags to protect themselves from the rain.
They handed over a memorandum to ward councillor Mlulami Vellem (ANC) in Site C, addressed to the councillor, to Western Cape Human Settlements MEC Bonginkosi Madikizela and to Mayor Patricia de Lille.
Residents say they want a clear plan and timeline for housing, street lighting and proper water and sanitation.
"As the winter approaches we live in constant fear of flooding and fire. With no drainage and electricity our lives and the lives of our children lives are at risk," said the residents in the memorandum.
Community leader Ncumisa Dosi said she had been living in the area since she was a teenager. Now 49 years old, she lives in a two-room shack with her six children and grandchildren. Dosi told GroundUp residents had been trying to communicate with Madikizela's office since 2016 but had been met with "just empty promises".
"We came out in the rain because we have been living in dire conditions for too long. I have been here for 32 years and my children are still experiencing the same problems – lack of toilets and overcrowding".
"He (Madikizela) came to us in 2016 with his officials and marked our houses with Xs in red, telling us we were going to get houses. But he disappeared afterwards. He acknowledges our letters but does nothing about them except making empty promises," said Dosi.
"What we want the most is houses, but in the meantime they must give us a dignified place to live, a place with electricity, proper streets and sanitation," said Sibusiso Mdlankomo.
"We are tired of using portable toilets and chemical flush toilets that are used by many families," he said.
Residents have given the Mayor, the MEC and the councillor ten days to respond to the memorandum, which was accepted and signed by Vellem.
A request for comment to Madikizela's office had not been answered at the time of publication. Comment will be added when it is received.