Khayelitsha animal clinic celebrates birthday with lively dog show
Non-profit Mdzananda Animal Clinic turned 27 this weekend
The biggest dog, the best look-alike, the cutest, the most unusual dog, the best dressed owner and dog, the shiniest coat, the cutest trick, the best behaved, and the smallest dog – these were the prize categories in a friendly competition to celebrate Khayelitsha's Mdzananda Animal Clinic turning 27 on Saturday.
The Mdzananda Animal Clinic is a permanent, veterinary council-registered non-profit facility in Khayelitsha. It sees on average 1,500 animals in a month. Its services include consultations, hospitalisation, general and orthopaedic surgeries, a sterilisation clinic, mobile clinics and an animal ambulance.
Mdzananda also has a strong focus on community empowerment and education to ensure responsible pet ownership.
The clinic's general manager, Heidi May, said, "For our birthday we usually try to do an event in the community but in the previous years we couldn't because of Covid restrictions. So, this year we are back in full force."
The celebration included an educational session with children, a fun dog pageant and prize giving.
The only requirements for participants to enter the show were that their animals were sterilised and vaccinated.
All category winners received certificates.
The event promoted community initiatives such as beading artists. A community-based restaurant sold burgers and other food.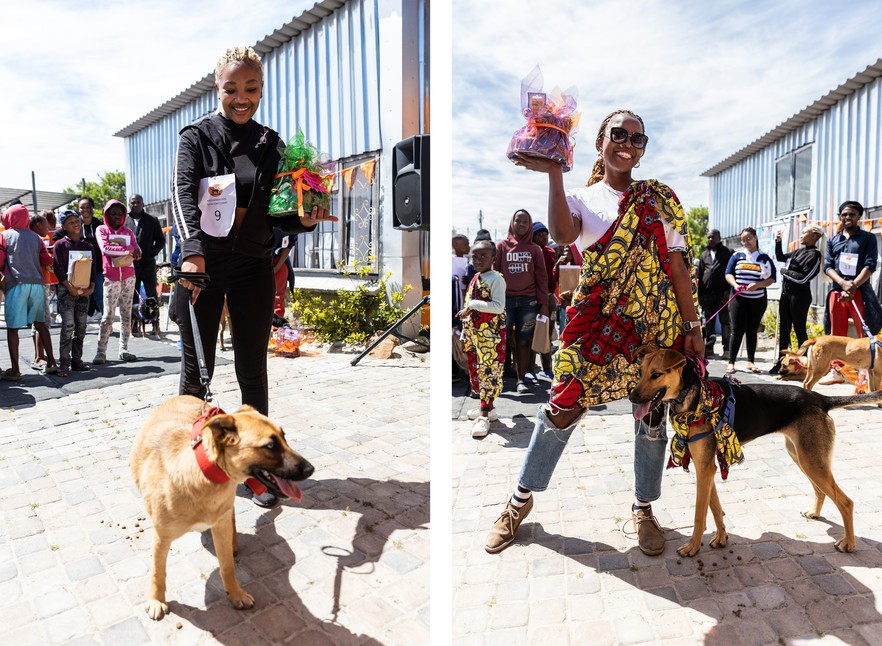 Sweets and her owner, Zikhona Madubela, from Ilitha Park, took home the prize for best dressed dog and owner. Both were draped in colourful, printed cloth, usually worn at traditional gatherings.
"I have had Sweets for a year and six months now. We met through Mdzananda. I started off as her foster parent, then adopted her. Sweets is a great dog who is hyper and likes playing," said Madubela.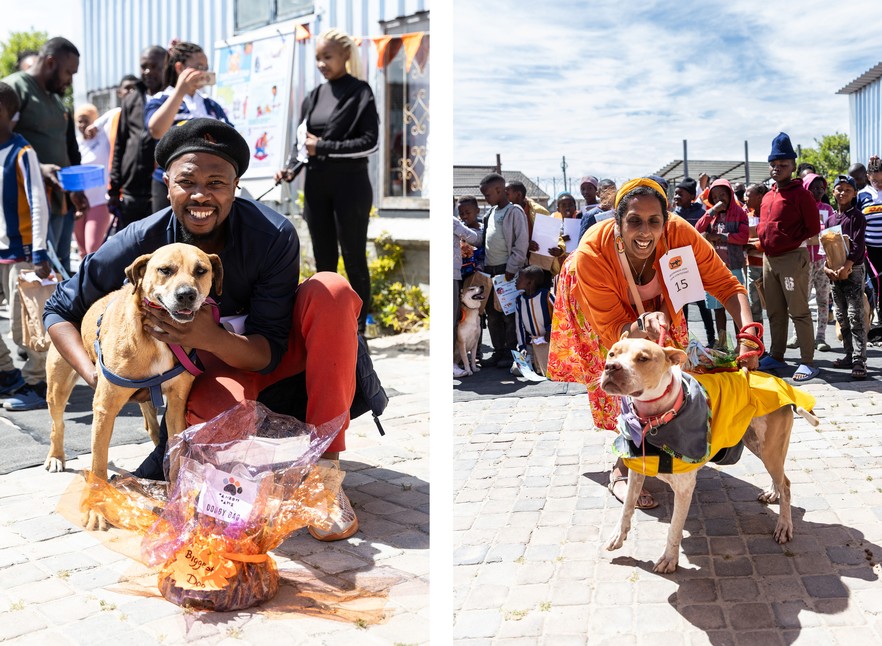 Winner of the biggest dog category, Lucy, showed off how high she can jump when thrown a treat in the air by her owner, Masakhane Sotayisi.
Sotayisi is the founder of Masakhane's Pet Wash in Mandela Park.
Daisy and owner Shantalie Hewavisenti, from Observatory, won the best look-alike category.
Hewavisenti met Daisy through Mdzananda and was currently in her third month of fostering her. "I love her so much and I want to adopt her," she said.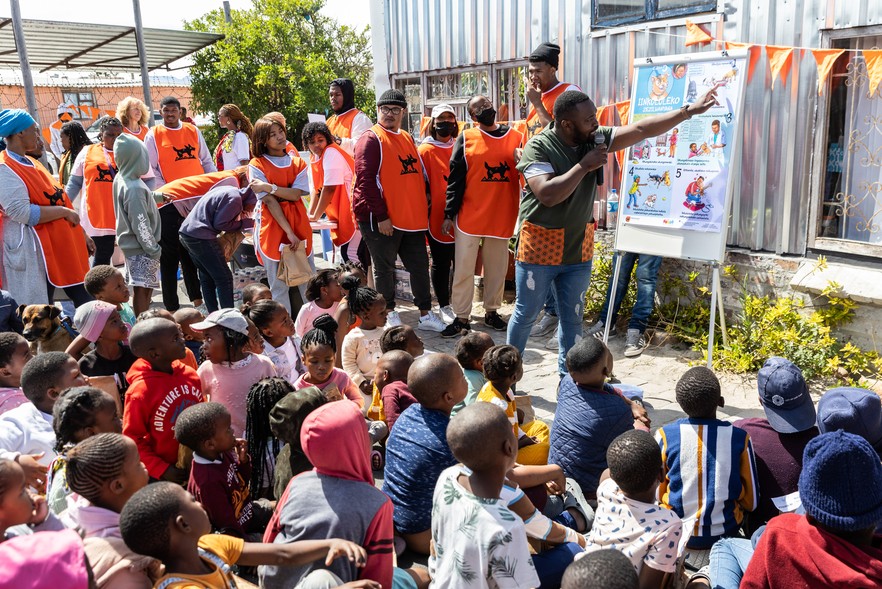 An educational session was run by Mdzananda's Malizole Mneno.
"Every year we make sure that we cover at least five schools within the community at a certain point," said Mneno.
"We teach the learners about the five needs of an animal …food and water, shelter, medical attention, love and exercise."
"Our plan is to start from a very young level and make the young ones understand the responsibility of pet ownership and how to do it properly, and where they can go if they need help with their pets," said May.
"Oddly enough a large part of the Khayelitsha community doesn't know that there is a veterinary facility here. So, through our mobile and outreach clinics, door to door education is how we alert people of our services."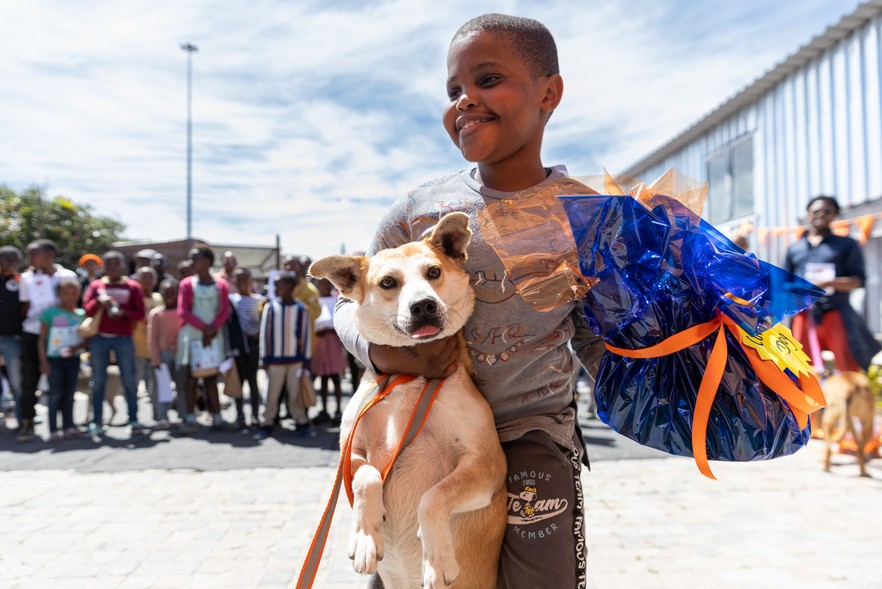 © 2023 GroundUp. This article is licensed under a Creative Commons Attribution-NoDerivatives 4.0 International License.
You may republish this article, so long as you credit the authors and GroundUp, and do not change the text. Please include a link back to the original article.
We put an invisible pixel in the article so that we can count traffic to republishers. All analytics tools are solely on our servers. We do not give our logs to any third party. Logs are deleted after two weeks. We do not use any IP address identifying information except to count regional traffic. We are solely interested in counting hits, not tracking users. If you republish, please do not delete the invisible pixel.