Keeping fit at the Sea Point outdoor gym
|
Mary-Anne Gontsana
News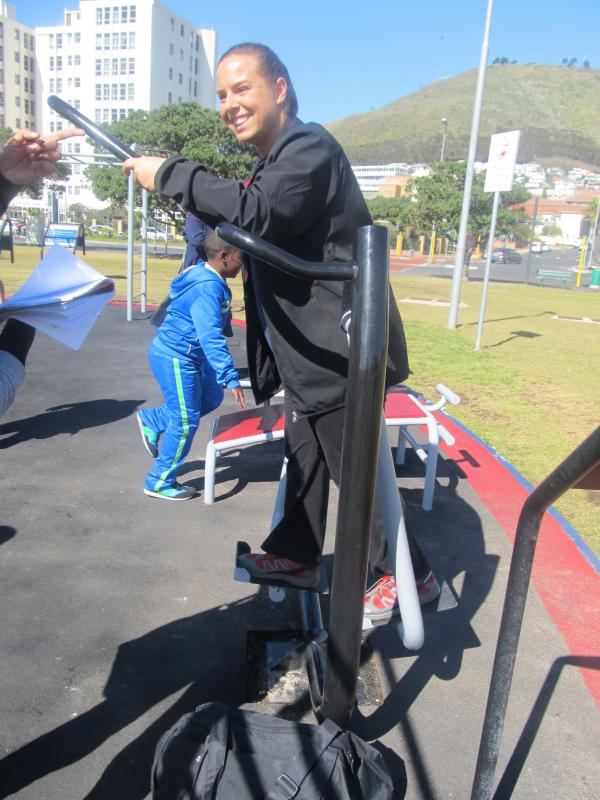 Exercising and keeping fit is a requirement for a healthy lifestyle, but not many people can afford to join a gym. The Sea Point outdoor gym, opened last year, is one of the places that the public can visit at any time for a workout and it's free.
Sea Point resident Jacques Mateg said that he visits the gym three times a week and that it is a good attraction for everyone. "I am a member of a gym nearby but I prefer coming here because it is outside and it's refreshing. More things like these should be built in the city, especially in townships. Some parents don't have the income for a proper gym and kids need to start looking after themselves at a young age. Even the equipment is the same as in an indoor professional gym but with a better view. I was here for the opening ceremony of this gym and everyone was so excited," said Mateg.
Another frequent outdoor gym visitor, Cecilia Schutte, said she is a marathon swimmer and comes to the gym very often. "I do community work through swimming and having a gym right here at the promenade is really good. More initiatives like these are needed in the townships. For instance, I work with kids in Du Noon that we teach swimming," she said.
Beverley Schafer said that as the ward councillor for the Atlantic Seaboard, she received the gym equipment at a ceremony on 13 December last year. "I believe that one of the legacies of the 2010 FIFA World Cup and Cape Town's successful bid for World Design Capital 2014 was putting design thinking into urban development planning for social and economic growth. The outdoor gym and play area in the Green Point Urban Park are such examples."
"The outdoor gym is maintained by Play on Art, who are the manufacturers of South African Outdoor Gym Equipment. It was funded from the Atlantic Seaboard Ward Allocation Budget, in partnership with Outdoor Gyms and the Biokinetics Association of South Africa (BASA). These two organisations have a national vision of collaborating with the private and public sector in addressing health and fitness in South Africa. With this in mind, they launched their first site in Cape Town, and together we decided that Sea Point Promenade be the best place to launch it," explained Schafer.
She agreed that there was a lack of such projects in our townships and said there were future plans in place to see all communities around the city having access to these facilities.
Dodgy people are suing us. Please support us by contributing to our legal costs and helping us to publish news that matters.
© 2016 GroundUp.
This article is licensed under a
Creative Commons Attribution-NoDerivatives 4.0 International License
.