Background to SJC activist Angy Peter case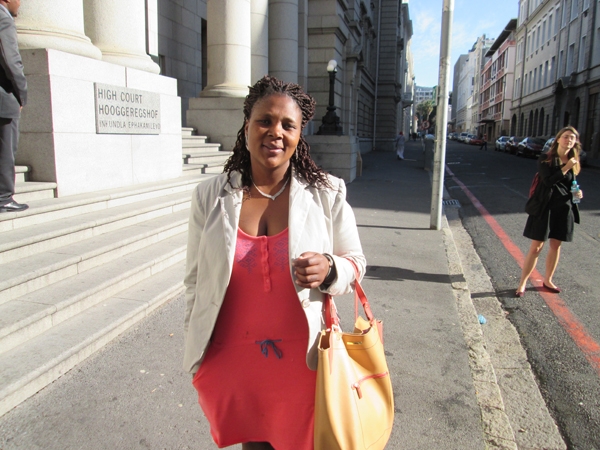 Social Justice Coalition activist Angy Peter and her co-accused, husband Isaac Mbadu, Christopher Dina and Azola Dayimani, will know their fate after nearly two years on trial when Judge Robert Henney deliver his judgment today. The four were charged for the kidnapping and murder.
In October 2012, Rowan du Preez was found necklaced at Blueberry Hill with a tyre around his neck after he was set alight in vigilante violence. Three police officers who responded to the scene claim that Du Preez named Angy Peter and her husband as his assailants before he died.
Rowan du Preez, aka Siphiwo Mbevu, was murdered in October 2012.
The defence has disputed the police officers' claims that the deceased spoke clearly and without pause in naming his assailants, and that he explained to the police how he was forced into a van, assaulted, driven to the location of the necklacing and set alight.
Peter, who was the public face of the Commission of Inquiry into policing in Khayelitsha, has maintained throughout the trial that the police framed her and her husband for Du Preez's murder. The defence lead by Advocate William King alleges the police wanted Peter arrested in revenge for her role in establishing the Commission of Inquiry into policing in Khayelitsha.
Trial within a trial
Questioning the admissibility of the "dying declaration" resulted in a trial within a trial. Both the state and the defence called expert witnesses to support their versions.
Dr Estie Meyer, medical expert for the state, testified that she saw "no anatomical reason" why Rowan du Preez could not have spoken to the police after he was assaulted. She said that Du Preez's autopsy revealed that there were no head or neck injuries that would have affected his ability to think or speak. Du Preez's vocal cords had two lacerations on them which were not severe enough to stop him from talking. His tongue was slightly black, but not burnt or swollen. Meyer stated that he would have been able to use his tongue sufficiently to communicate and be understood.
Advocate King disputed this, reading testimony from a Ms Peterse, the ambulance assistant, who described Du Preez as unable to say anything except "water". Peterse was unable to even obtain his first name.
A surgeon specialising in trauma surgery at Vincent Pallotti and Christiaan Barnard Hospitals, Dr Almin Steyn, testified for the defence that it was "extremely unlikely" that someone in Du Preez's condition would have been able to "have a long and complicated conversation" in which he identified his assailants. She said that while the physical mechanisms to talk, the tongue, vocal cords and brain were intact, there are many other medical factors that make it improbable that he would have spoken uninterrupted as the police evidence states.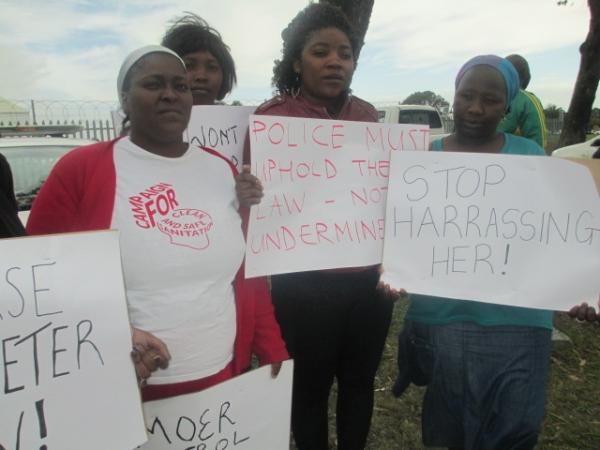 Social Justice Coalition activists protest the arrest of their colleague Angy Peter August 2013. Photo by Pharie Sefali.
Steyn said that severe stress, pain, anxiety, fear, extreme thirst, elevated heart rate, rapid breathing and physical injuries to the tongue, throat, nose and mouth would all limit the patient's ability to speak.
The defence also called forensic specialist Dr David Klatzow to give expert testimony on blood-alcohol and the speed at which tyres burn. Klatzow submitted that Du Preez had drunk a substantial amount of alcohol, possibly to the point that could be life-threatening. He said it was unlikely that he was able to speak clearly or act normally at the time of the assault. Klatzow also stated that it is physically impossible for the oesophagus to be burnt and not the tongue. He explained that du Preez had inhaled hot gases, and probably flames; these passed through the mouth and down to the throat, resulting in the burns to his oesophagus.
After the prosecution outlined its case, the defence applied to have the trial struck off the roll under Section 174 of the Criminal Justice Act due to a lack of evidence. Judge Robert Henney ruled against the defence application.
Closing arguments
During closing arguments, state prosecutor Advocate Pelesa said Peter had a motive to kill Du Preez because he had broken into her home and stolen a television set. He said the accused were also identified kidnapping the deceased.
King argued that the investigation was conducted in a biased manner. The police's case relied on little more than their claim of Du Preez's dying declaration. The state witnesses were relatives and friends of the deceased. King questioned their credibility. He said the lead investigator, Standford Muthian, planted the idea in their heads of Angy Peter being the suspect. He said police never probed other possible suspects. Du Preez was a well-known criminal and there were people who had assaulted him and wanted him dead. The deceased had turned a state witness against his accomplices in the murder and robbery of a Somali businessman. His accomplices were found guilty and sentenced to years of imprisonment.

Isaac Mbadu and Angy Peter outside the Western Cape High Court. Photo by Masixole Feni.
Detective Constable Muthian was the last witness to testify after Judge Robert Henney subpoenaed him. Judge Henney said it was the first time as a judge he'd seen the lead investigator omitted from testifying in a murder trial. He was pointedly critical of the investigation.
It has been a very long trial, fraught with difficulties. GroundUp will report on the verdict.
© 2016 GroundUp.
This article is licensed under a
Creative Commons Attribution-NoDerivatives 4.0 International License
.