Immigrant finds her feet selling shoes
Melania sells second-hand footwear smuggled from Mozambique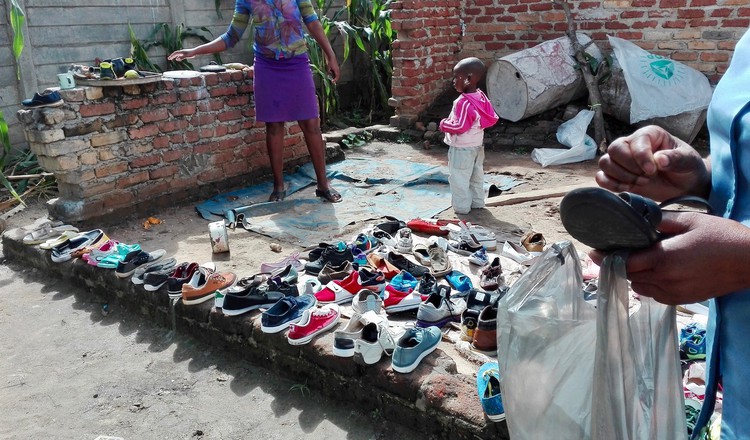 In August 2016, Melania* from Bulawayo, Zimbabwe, found herself and her three-year-old daughter stranded in Nelspruit, 1,700km from her destination. The traffickers she paid to smuggle her to Cape Town had taken all her money and abandoned her.
"For three months, I begged motorists for sweets and fruit for my children at Nelspruit traffic lights, and scoured informal markets for rotten or leftover beetroot," says Melania.
"I paid R1,100 to be smuggled across the Limpopo River by maguma-gumas [traffickers who ferry immigrants across the river].
"On arrival in Musina, they bundled me and my baby into a caged van and promised to take us to Cape Town," she says. But the two of them were dumped in Nelspruit, Mpumalanga, and robbed of the rest of their money.
Melania's fortunes changed when she met a taxi driver from Mozambique who asked her to sell second-hand shoes smuggled from Maputo.
Second-hand popular brand shoes line the entrance to her home in the mining town of Barberton, where she moved in November.
"These are genuine leather trainers and stilettos, worn before, but cheap and durable. Just R120 for worn New Balance trainers. My shoes are popular," she says.
The shoes are smuggled in large bundles from the port of Maputo into South Africa by long distance taxi drivers and then carried by porters across the Komati River, says Melania.
"Every fortnight shoes arrive. We put them into baskets and carry the best to office workers, illegal miners, suburban elderly, who have first right to select fresh arrivals," she says.
For every pair she sells for R120, she earns R50.
"My child is back in crèche … I am no longer thinking of proceeding to Cape Town," says Melania.
She has "franchised" three other Zimbabwean immigrants to distribute her shoes.
Melania tells GroundUp that she understands that smuggling shoes affects the jobs of licensed traders. Putting five pairs of trainers she has cleaned with detergent out in the sun to dry, she asks, "I'm just a small player, a refugee. What else can a woman survive on?"
Dodgy people are suing us. Please support us by contributing to our legal costs and helping us to publish news that matters.
© 2017 GroundUp.

This article is licensed under a Creative Commons Attribution-NoDerivatives 4.0 International License.
You may republish this article, so long as you credit the authors and GroundUp, and do not change the text. Please include a link back to the original article.