Iconic women's housing project of the 1990s, today awash in sewage
Residents of Victoria Mxenge Housing Development have taken the City of Cape Town to the Ombudsman after three years of overflowing sewers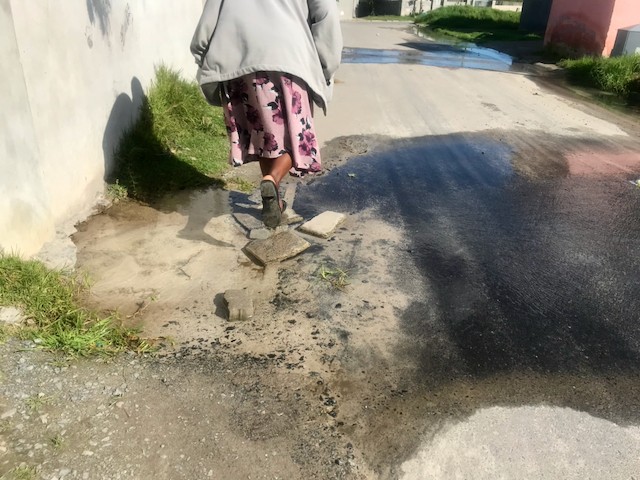 Residents of Victoria Mxenge Housing Development say they have been living with overflowing sewers for three years.
They have protested and complained numerous times and have now gone to the City of Cape Town Ombudsman to adjudicate the City's response.
The City says problems at a pump station have been resolved, but the problem won't go away as long as residents flush inappropriate items and criminals prevent its teams from responding to blockages.
The Victoria Mxenge Housing Development in Philippi, Cape Town, was established by 12 women at the dawn of South Africa's new democracy. It has garnered national and international fame, but today it is awash with sewage.
After pleading with the City of Cape Town since 2019 for a permanent solution to sewage overflowing in their streets, residents have now gone to the City Ombudsman.
In June 2021, the City organised an oversight visit that was attended by the South African Human Rights Commission (SAHRC) and the Ministerial Advisory Panel (MAP) for the national Department of Human Settlements. But nothing has changed for the residents.
They have sent letters of complaint, protested and picketed several times at the Fezeka subcouncil office. Last month, they went to the Civic Centre hoping to see the mayor but having not made an appointment they were turned away. They then went to the City Ombudsman.
Community leader Patricia Matolengwe said she filled out the Ombudsman complaint form, stating: "Drains are clogged, the whole area is wet and damp. The children are sick and houses are about to sink."
The City Ombudsman facilitates the resolution of public complaints against the City administration. It investigates whether fair service was given and whether the municipality complied with due process.
Matolengwe said they had been hiring private contractors to help, but people can no longer afford the R50 per household contributions to clean up the drains at the crèche and community hall.
"To fix all the roads we need to contribute about R260 per household but people said they don't have money," she also told us previously.
Joel Bolnick, a member of the Cities Support Programme in the National Treasury, wrote to the Mayor on behalf of the women of Victoria Mxenge requesting Executive Mayor Geordin Hill-Lewis visit the area and meet with community leaders "to assist them to permanently resolve the infrastructure problems that beset their exceptional neighbourhood".
Bolnick wrote, "There have been repeated efforts by the community leaders to get Council to help resolve the problem. These have generally been ignored or at best resulted in short-term solutions until the next rainfall or until the next blockage occurs and the community returns to living with flooded roads and effluent running into some of their homes. To my knowledge, this problem is at least seven years old.
"Victoria Mxenge's Housing Association is a credit to the city and to the country as a whole. Now in their 50s and 60s, the women in this organisation not only secured and serviced their own land but went on to build their own houses and to assist more than 2,000 families across the city to do the same.
"Not only does Victoria Mxenge deserve a lasting solution to their drainage problems but they have the proven capacity to organise and enable communities of the urban poor to work with their government in pursuit of a better built environment for all and in its ongoing maintenance."
Sankie Street is one of the worst affected with burst water pipes, sewage flowing into houses from streets, blocked municipal drains and blocked drains inside people's yards. Inside the houses it is damp and cold. The walls are always wet.
A grade R teacher at Victoria Mxenge Educare Centre said the 30 children it caters for cannot even access the play park because the gate area is flooded.
The City confirmed that the Ombudsman had "escalated the matter to the relevant line department".
Mayco Member for Water and Sanitation Zahid Badroodien said that the Philippi West Pump Station, which serves the Victoria Mxenge area, had experienced challenges due to foreign material finding its way into the station.
Service was restored on 18 August.
Flushing "anything other than human waste, toilet paper and wastewater or grey water can cause a sewer blockage and overflow", he said.
"Overflows, however, will continue to happen, as long as misuse/vandalism occurs, and sewers continue to be blocked by items that should not be in the system such as material and fats," he said.
Badroodien said staff safety was also an issue in the area. He said the City was always ready to attend to reported sewer blockages timeously, but they depended on law enforcement as City employees doing municipal work had been subjected to attacks.
"We need the community to be our eyes and ears as we cannot afford to see service delivery to vulnerable communities hijacked by a few opportunistic criminals," he said.
City's spokesperson Luthando Tyhalibongo said that the mayor is "happy to meet with the residents, and his office would be able to accommodate their request if they made an appointment".
© 2022 GroundUp. This article is licensed under a Creative Commons Attribution-NoDerivatives 4.0 International License.
You may republish this article, so long as you credit the authors and GroundUp, and do not change the text. Please include a link back to the original article.
We put an invisible pixel in the article so that we can count traffic to republishers. All analytics tools are solely on our servers. We do not give our logs to any third party. Logs are deleted after two weeks. We do not use any IP address identifying information except to count regional traffic. We are solely interested in counting hits, not tracking users. If you republish, please do not delete the invisible pixel.