"I saw my shoes float on water and heard my cat meow"
Western Cape mops up after devastating floods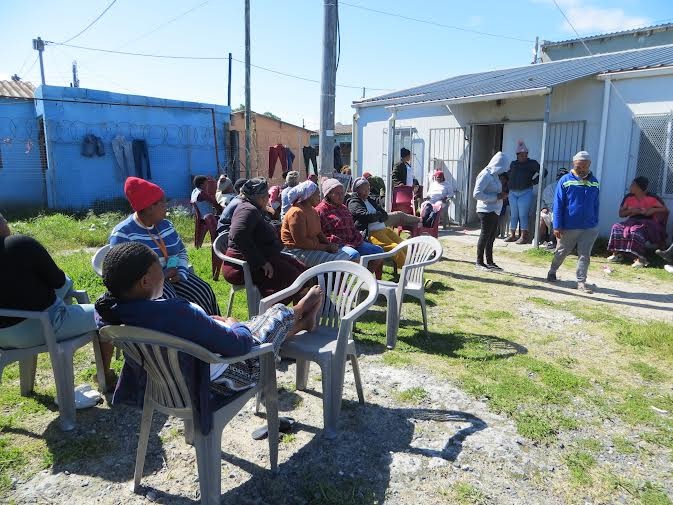 Mop-up operations were underway in the Western Cape on Tuesday after the devastating floods which destroyed hundreds of homes.
The City of Cape Town estimated that 12,000 people had been affected by the storms that lashed the city.
Teams were assessing the damage while flood victims took shelter in community halls waiting for their shacks to dry out.
"I saw my shoes float on water and heard my cat meow when I woke up yesterday morning. My cat stayed on my bed because it was scared of the water". Nozukiso Gwe was one of hundreds of flood victims from Qanduqandu in Khayelitsha who found shelter in a community hall after the floods which devastated the Western Cape on Monday.
Gwe, who lives with two children aged two and ten, said she used buckets to scoop the water out of her shack, but it kept on flowing back until she gave up. Blocked sewage and storm water drains made everything worse, said Gwe.
The flood victims were sheltering in White House community hall in Khayelitsha after the Kuils River overflowed into their shacks.
Community leader Phindile Gilimane said: "The hall was jam-packed with hundreds of flood victims last night. Most of us slept on chairs while others just stood outside."
Gilimane said the river, which residents call Blowy River, was overgrown and packed with rubbish and quickly overflowed. He said shack dwellers want the City of Cape Town to remove the reeds and rubbish at regular intervals to prevent overflows during heavy rains, he said.
Community leader Babalwa Jongilanga said people's houses were still full of water.
She said the flood victims desperately need food and blankets.
Qhamana Muna, in the shelter with her small baby, said her groceries, bed and sofa were all waterlogged.
"My baby slept on my chair and cried all night from hunger while I sat on a chair," she said.
The City of Cape Town said teams were busy with damage assessments and mopping up operations across the metro. Disaster management teams had been to assess damage in informal settlements in Hangberg, Grassy Park, Kampies, Egoli, Oasis, Ocean View and Fish Hoek, Dunoon, Zwe Zwe, Bloekombos, Kraaifontein, Sir Lowry's Pass Village, Macassar and Kraaifontein. A total of 12,000 people had been affected by the storm, a City press release said.
Civic organisations were helping with hot meals, food parcels, blankets and mattresses for flood victims.
Mayco Member for Human Settlements, Carl Pophaim, said teams had worked non-stop to assist residents with materials, relocation and emergency flood kits "where it has been feasible to do so".
"In some areas where the water will take longer to evaporate due to the soil conditions, and where the safety risk is pronounced, City teams will look at draining water where feasible. Full assessments of households in need are being done across the metro.
"The South African Social Security Agency (SASSA) remains the lead relief authority and the City calls on this agency for swifter action."
Pophaim said of the 186 new settlements which had sprouted during Covid, 60% were in high risk areas including wetlands. About 500 hectares of land would be needed to house the people who were at risk.
At a press conference on Tuesday, Western Cape MEC of Local Government, Environmental Affairs and Development Planning, Anton Bredell said more than 6,000 people had been affected by the weather in Cape Town and in the Cape Winelands 550 people had been displaced. He said that during the storm, eight people had died in Cape Town and four people are currently missing in the rural areas.
Bredell said provincial and local authorities were working to get roads cleared, bridges fixed and to get food to people in towns that are cut off.
Jandre Bakker of the Western Cape Department of Transport and Public Works said that more than 80 roads were closed but the situation was constantly changing.
Sixteen schools were closed, mostly in rural areas, said Alan Meyer of the Western Cape Education Department. A total of 152 schools had reported structural damage.
The Western Cape government said it was working with the South African Red Cross Society to coordinate the receiving and distribution of donations. Donation drop-off points include the Red Cross offices in Wynberg, Greyton, Hermanus and Knysna. Donations needed included blankets, water, dry and non-perishable food, baby food and toiletries.
© 2023 GroundUp. This article is licensed under a Creative Commons Attribution-NoDerivatives 4.0 International License.
You may republish this article, so long as you credit the authors and GroundUp, and do not change the text. Please include a link back to the original article.
We put an invisible pixel in the article so that we can count traffic to republishers. All analytics tools are solely on our servers. We do not give our logs to any third party. Logs are deleted after two weeks. We do not use any IP address identifying information except to count regional traffic. We are solely interested in counting hits, not tracking users. If you republish, please do not delete the invisible pixel.