"This place, honestly, has saved my life"
Shelters to get boost from City of Cape Town for winter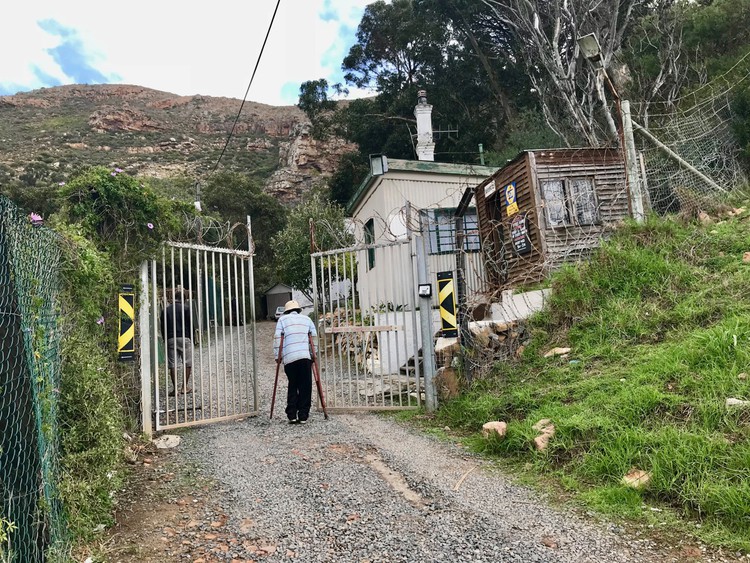 "Come back 15 May. We will have more beds then," the manager of Happy Valley Home in Simon's Town tells a homeless man.
Happy Valley is one of the nine organisations that will receive aid from the City of Cape Town this winter from 15 May to 30 September. The shelter will get ten additional beds. Shelters will also receive additional groceries, blankets, mattresses, toiletries and cleaning materials. This is "to help cater for an expected increase in the number of street people seeking shelter during the cold winter months" according to a City press release.
The City's "winter readiness plan" adds 276 beds for the homeless, and supplies for seven organisations in Cape Town, according to Councillor JP Smith.
Happy Valley Home can accommodate 65 residents, 45 men and 20 women. The shelter could only add ten additional bed spaces because of limited space. Its beds are almost always full.
During the winter homeless people "cry at the gate" said the manager, who did not wish to be named.
Happy Valley Home does not charge people to stay, but asks for a monthly contribution of up to R650. Residents get three meals per day, seven days a week.
Darren Feldman, who came to Happy Valley almost a year ago, said, "This place, honestly, has saved my life."
When he arrived, he "couldn't string a sentence together" he said. He had just completed his eighth drug rehabilitation program, but the rehab centre closed down, leaving Feldman homeless.
At the shelter he created a personal development plan with the manager and set goals to reintegrate with society, as do all the Happy Valley Home residents. The shelter also helps people gain employment by assisting them with CVs and obtaining ID documents for them.
Feldman now works at the City's waste department. "I've come out the other side," he said. He hopes to rebuild his relationship with his wife and two children and reunite his family. "My dream is to be totally independent and send money home to my kids and donate money here [to Happy Valley]," said Feldman.
According to a street people report conducted in 2015 by the Directorate of Social Development and Early Childhood Development, there were 7,383 homeless people in the City. The report stated 4,862 people slepts on the streets and 2,521 in shelters. 79% were male and nearly three-quarters were between the ages of 26 and 45.
| | | | | | |
| --- | --- | --- | --- | --- | --- |
| Shelter name | Number of beds for Men | Number of beds for women | Winter readiness additional beds | Charge per night | Includes |
| Elim Night Shelter | 51 | 19 | 15 | R15 if unemployed, R30 if employed | Meals, shower, social work services |
| Mould Empower Serve | 45 | 15 | 15 | R8, possibly no charge if part of winter readiness plan | Meals, shower, social work services, toiletries |
| Oasis Reach for a Dream | 20 | 0 | 20 | No charge | — |
| 28 Somerset West Night Shelter | 42 | 12 | 20 | R15 | Meals, shower, social work services |
| Happy Valley Home | 45 | 20 | 10 | Monthly contribution up to R650 | Meals, shower, clothing, toiletries, social work services |
| Tygerberg Association for Street People | 20 | 0 | 20 | No charge | Meals, shower, toiletries |
| Ubuntu Circle of Courage | 15 | 0 | 15 | R25, do not charge during winter | Meals, toiletries |
| Haven Night Shelter (10 facilities) | About 30 per shelter | About 10 per shelter | 146 total for all 10 shelters | R12 or can earn stay by working for shelter, if income exceeds R1400 then R750 per month | Meals, shower, social work services |
| Carpenter's Shop | 40 | 0 | 15 | No charge for those on winter readiness plan, others R1000 per month | Ablutions, social work services, clinic services, life skills training, clothing |
Dodgy people are suing us. Please support us by contributing to our legal costs and helping us to publish news that matters.
Letters
Dear Editor
Thank you for sharing these details, as they become more relevant the closer we get to winter. Many organisations do what they can to assist.
The City of Cape Town does not seem to act with any urgency on the matter, and it will not go away on its own. Why have they not made use of the many empty buildings that belong to them? Or, is that a Public Works problem?
It is irksome that the Woodstock Hospital and adjacent buildings have been empty for many years, where they could have been home to the many street people or destitute families that float around our city. A disused hospital is the ideal place to turn into an upliftment facility. To earn their keep, perhaps they could get to work on taking care of these ghost buildings all over our city. The nurse's home in Green Point is another perfect site. We are all a little tired of hearing that x site is marked for y development, which invariably never happens. While we wait, can we perhaps re-purpose them to save lives?
Rehabilitating and uplifting people is the primary objective here, but the spin-off is that many of our heritage buildings could be looked after in this way instead of seeing yet another demolition order being issued after allowing them to fall into an irreparable state.
To see how bad the situation is, one only has to drive along Main Road in Woodstock in the evening. They literally line up in rows to bed down before darkness falls, and it is the saddest sight to see. This happens all over the city.
We can help by applying pressure on the Council for a start.