Homeless protesters disrupt Khayelitsha Magistrate's Court
If the City of Cape Town can demolish shacks during the lockdown, what is stopping us from evicting tenants? asks backyarder's landlord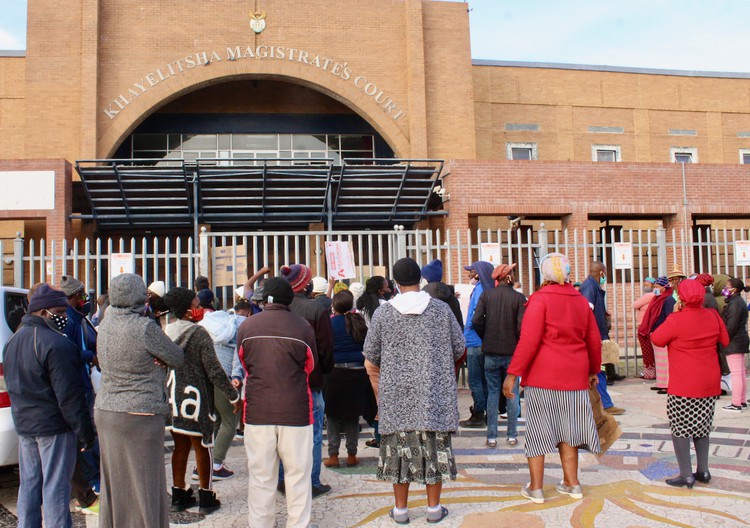 Over 40 residents from Ethembeni informal settlement, who say they are homeless because the City of Cape Town demolished their shacks, protested by blocking the main entrance to the Khayelitsha Magistrate's Court on Tuesday. Another entrance had to be opened for people to enter the building.
Velile Yali, manager at the court, said, "I addressed them and the situation was defused. I attended to them and I tried to make a few calls on their behalf."
The demonstrators wanted the court to stop the City from demolishing their homes. They vowed to rebuild their shacks. They were encouraged by a successful court action in the same area brought by Empolweni residents in April.
Yali told them they needed to approach their councillor, not the court building.
Lulamile Phinzi, who was protesting, said the City must return building materials confiscated by the Anti-Land Invasion Unit in April.
Nozuko Nkosobe said, "Our landlords chased us away because we couldn't pay rent anymore. The lockdown has turned our lives upside down. We still don't understand why our shacks were demolished because we heard that during the lockdown no evictions should take place, but that didn't stop the City of Cape Town demolishing our shacks."
Mayoral Committee Member of Human Settlements Malusi Booi responded: "Tenants may not be directly or tacitly evicted as this would be against the Covid-19 regulations … No evictions in terms of the law governing evictions by the landlords are allowed under the regulations. Please lay a charge at the nearest SAPS [station] against those who have evicted these residents."
But Nkosobe said their landlords didn't care about lockdown regulations. "The mistake made by whoever was setting the lockdown rules is that they never followed up on what they said, because these people are depending on the rent money. If we don't pay rent, how are they [landlords] supposed to pay for water and electricity bills?"
A landlord, who asked to stay anonymous, said, "If the City of Cape Town can demolish shacks during the lockdown, what is stopping us from chasing them [tenants] away? The City needs to get their facts straight. So, we must allow people to stay in our houses free, while they demolish shacks?"
"Some of us are single parents who are depending on the rent money. So if they are not paying, how are we supposed to take care of our families?"
Booi said the land was municipal land and "further attempts to illegally occupy the land is illegal and structures will be taken down".
He said individuals could contact the Anti-Land Invasion Unit office on 021 444 0092 between 7am and 4pm to arrange to collect their materials.