Homeless and in a wheelchair at 63
Zolile Ncapayi was abandoned by his family ten years ago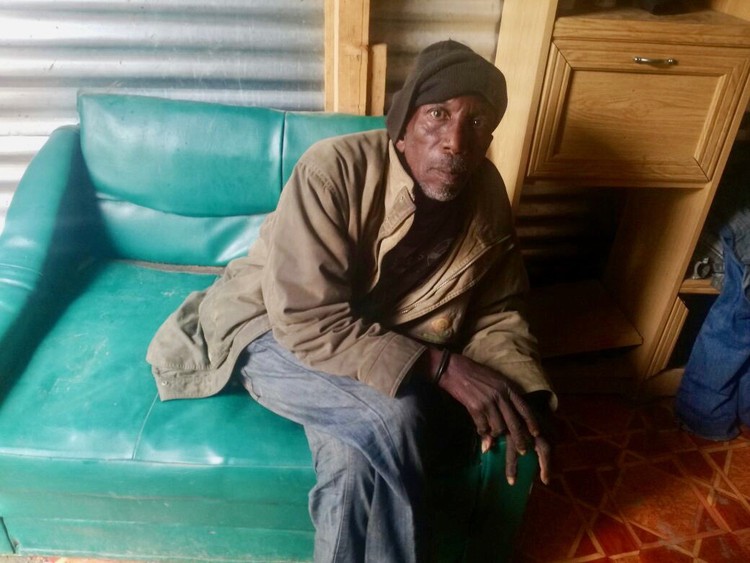 Zolile Ncapayi is 63 and unable to walk. He progressively lost the use of his legs over 30 years ago. He has a wheelchair, but it doesn't work properly and it is almost useless on the gravel roads where he lives in Scenery Park, East London.
Sometimes he goes out on the road on his hands. "Hands are not meant for walking on gravel roads, but I do it because I need to get around and do something for myself," says Ncapayi.
Ten years ago the family home in Mdantsane was sold. His sister then took him to a shack in Scenery Park and abandoned him.
"I do not know where my sister or any of my family is, whether my mother is alive or not. I was left here with no family," he says. He has heard from people that his sister has been seen in East London, but he has had no contact.
The sum total of his possessions is a plastic bag of clothes, two blankets and the broken wheelchair. A month ago, the shack, for which he paid rent, was demolished to make space for an RDP. Since then he has been sleeping on the floor of the shack of his neighbour, Mxolisi Malgas. He used to sleep on he floor in his old shack too. He has not slept in a proper bed in years.
On the day GroundUp spoke to Ncapayi he had woken early because his blanket was wet.
Malgas says, "[Ncapayi] needs a place where the toilet is inside; not like here. The toilet is outside and is not made for someone who is disabled. He struggles to even use it and you find that he wets himself … I am not always here to help him because I also have to go look for job."
Ncapayi gets a disability grant with which he buys electricity and groceries. Malgas is currently out of work.
Ncapayi told GroundUp he would love to have his own place, a working wheelchair and a bed to sleep on.
GroundUp is still awaiting a response from the provincial department of social development on what it can do to assist Ncapayi. 
© 2017 GroundUp.

This article is licensed under a Creative Commons Attribution-NoDerivatives 4.0 International License.
You may republish this article, so long as you credit the authors and GroundUp, and do not change the text. Please include a link back to the original article.