Homeless and hopeless after fire ravages Good Hope
"Why are people still living here despite the countless promises to move them?" asks activist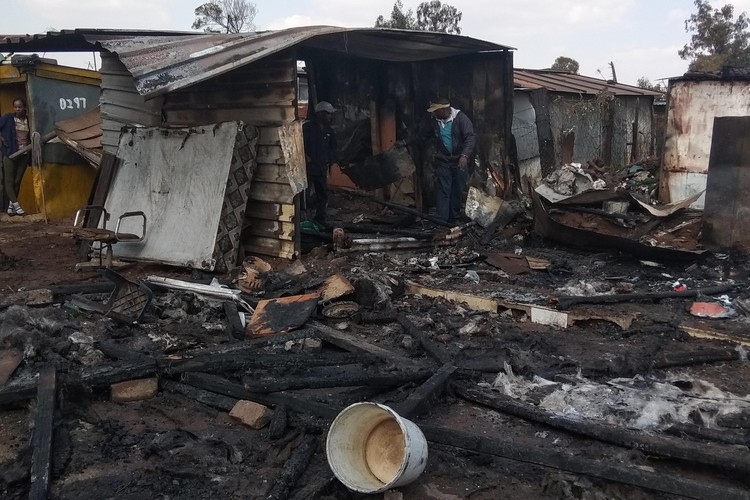 At least ten shacks have been destroyed, and one damaged, following a fire that spread from one shack to adjacent shacks in the space of an hour in Germiston's Good Hope shack settlement on Wednesday.
Thuli Ntimba says she was in town when she got a call from her landlord mid-morning telling her that her shack was burning. She works as a security guard in Edenvale. What used to be her shack is now a pile of smokey black and grey rubble.
She is left with only what she was wearing when she went to Germiston. All her documentation was lost in the fire. "When I arrived, there was nothing. I lost R550 for transport to work for the month, my ID, my bed, my bank card, my work uniform, my matric certificate, and my firearm licence. I have no clue where to start."
Behind her shack, two Mozambicans who work as vendors at Germiston taxi rank returned to find shards of their crockery and a half-burned passport. The fire consumed their entire structure, leaving only a door lock and an empty blackened shack. One of the men is concerned about his missing passport, wondering if the Department of Home Affairs will understand his position.
Nthabiseng Khulu says she was eating when she heard someone nearby screaming "Fire!"
"I saw that it was really burning right behind our shack. So I quickly ran home and told my mother to start moving the clothes because I could see the fire would reach our home," said Khulu. She and her mother managed to move as much as possible into the narrow alleys before the fire reached their shack, but some of their valued possessions were burned including a few of Khulu's school books, her nephew's clothes and their kitchen.
Her mother, Khanyisile Khulu, says she was taking a bath when her daughter ran inside and told her to leave because their shack was already burning. Although Khulu managed to save a bed, a few clothes and their grey box TV, their shack was partially destroyed by the fire and the makeshift ceiling dangles over their head.
Most of the damage stems from the water that can still be seen trickling in from the roof, causing a muddy puddle.
Ekurhuleni disaster and emergency management were on the scene assessing the damage.
A few food parcels and blankets were handed out to those affected. The victims of the fire get a 20 litre bucket that contains tea, sugar, rice, spaghetti and cremora, among other things.
"My stove was burned in the fire; how do they expect me to cook this food? I don't have a kitchen now. There is no soap in [this parcel], there is no paraffin. There are seven of us in this shack. They only gave me three blankets," Khanyisile Khulu says, shrugging hopelessly.
Sinayo Ngidi was badly burned on his leg and had to walk to a nearby hospital after trying to douse fire on a nearby shack. "I was on top of one of the shacks, pouring water through an opening when a tyre holding the corrugated iron down caught alight and a flame rose up and burnt my leg."
The cramped settlement has not been electrified yet and most of the community members rely on paraffin and gas stoves.
Firefighters arrived after the blaze had already devoured most of the ten shacks.
"What will become of me? How could this happen? I have no ID," a woman cried out after finding out that the fire broke out in her home while she was in town.
The fire is believed to have been started by a gas stove, but Abahlali baseMjondolo's Sizwe Mpaxa says no matter its origin, the shack fire highlights a bigger problem.
"This is part of the ruling party's corruption. It shows a lack of development. Why are people still living here to the point where there are fires despite the countless promises made to move them?" he asks.
Councillor Geoff Mthembu referred New Frame to City of Ekurhuleni spokesperson, Themba Gadebe, saying he would handle all media queries on the shack fire. Gadebe's phone was on voicemail and New Frame was unable to determine the delay in electrification and the moving of community members to a safer place.
As more and more community members returned from work, everyone came together, reassuring one another that no one was at fault.
A wheelbarrow wormed through the crowd and the clean-up began and numbers swelled. They worked fast, setting aside reusable building material, and going through the rubble and soot for anything valuable to salvage. No one knew where those left homeless would sleep that night.
Dodgy people are suing us. Please support us by contributing to our legal costs and helping us to publish news that matters.