Home Affairs incompetence causes refugees to lose jobs, money and bank accounts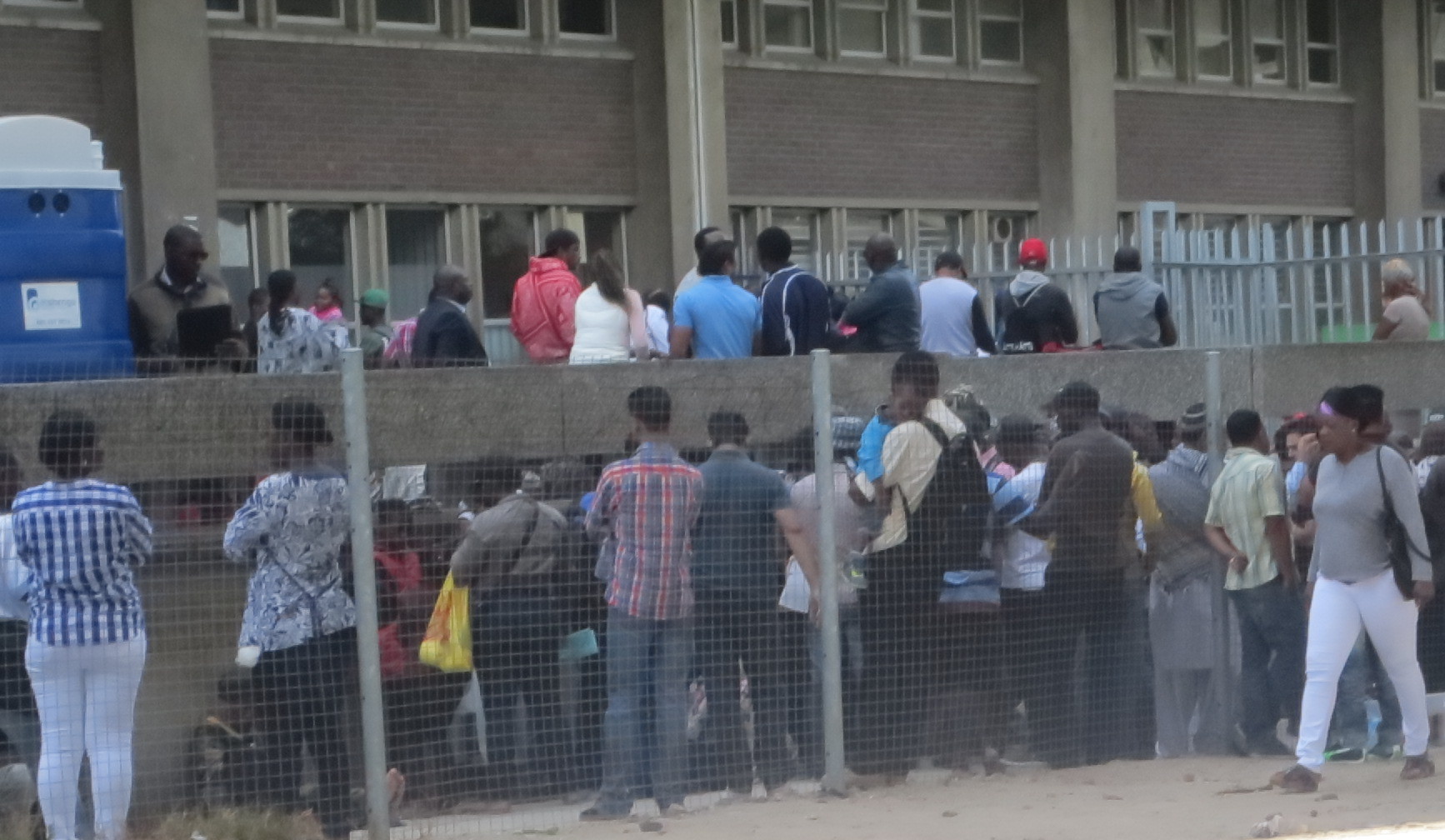 "I am sick and tired and wish I could be resettled to another country. They should not treat people like animals," says a man trying to renew his refugee status. He is one of many complaining about the service at Home Affairs on Cape Town's foreshore.
The Department of Home Affairs' foreshore office has been accused of turning away refugees since September 2015 without assisting them because the department has lost their files. Some refugees have consequently lost their jobs and had their bank accounts frozen. While in the queue outside Home Affairs, pregnant women and children stand in the scorching sun daily waiting for officials to call out their names.
On Tuesday Groundup visited the Home Affairs offices. At 8am the queus was already long. Refugees who were there for identity documents, passports and asylum seekers' permits appeared to be served on time and were not complaining.
But some people in the queue complained to GroundUp that since September they have been struggling to renew their refugee statuses. They are continuously told to come back to Home Affairs and it takes weeks before they finally get their documents. Six Bangladeshi man claimed they came all the way from the Northern Cape to renew their papers and have been staying outside Home Affairs for two weeks now.
One of them, Shipon Khan, says, "I first applied for my papers here and [so I have to] come back here for renewal. Yesterday I almost cried when security pushed me and said I should wait outside when I complained. If a man like me is emotionally affected, what about women? I am touched by seeing pregnant women and children standing in the heat for a long time like this. Why don't they help them first or come up with better solutions for them? I have been here daily for three weeks, and only few people are getting their documents. Last week I complained and the Home Affairs official said to me, 'Here you are not allowed to talk to me, only your paper is allowed to do so.' We have been sleeping in hotels and the money is running out. Look at this old fellow of mine. Where will he get money to continue sleeping in a hotel? I run a tuckshop. I am losing business because there is nobody to look after it for me. If I go back without the paper I will be arrested."
Khan said other refugees stay at the Home Affairs office because they are afraid they will be arrested if they go elsewhere. At the Home Affairs office no one will arrest them.
He says one morning he saw a woman with a baby trying to renew her documents. In the late afternoon when others were given their documents, she did not get hers. When she asked, she was told she would get it the next day. He says he has been checking with her till now and she never got it. It was lost inside the office.
A Congolese woman who refused to be named claims she lost her job at a guest house in town where she was doing housekeeping because she has been away from work too long. She was not able to bring proof to her employee that she was at Home Affairs, and neither could she produce her renewed documents.
She says, "Today I was here at 6:30am. The officials collect our documents in the morning then return them at 12pm and tell us they could not find our files and we should come back. They do not give proof I was here. Even if I get arrested I do not have proof to show police that I have tried hard to renew my document. In Wynberg where I am staying I pay R2,500 rent. I am single. I have two children, one in crèche and another doing grade four. Where should I get fees from? I lost my job. My bank account is frozen."
Another man said his refugee status was expiring on 7 December. He came a few days before to renew, but was told to come back on 9 December. He said, "Since then I have been coming and going. Today is the fourth time. I do not know if I will get it. It is up to them, and this is not my country. I am sick and tired and wish I could be resettled to another country. They should not treat people like animals. I was here 5am with my wife and three children."
The director of PASSOP, Bernard Toyambi said, "Our organisation has been observing the situation at Home Affairs. We noticed that ID, passport and asylum permit departments are doing well. The chaos is in the refugee status department. An official called Shadrach Diamond is doing a great job assisting both outside and inside the offices. The department should increase committed staff like Diamond who will deal with searching for files."
Toyambi said the problem of delayed renewals of refugee statuses needs to be investigated. "What company would allow someone to be away from work for more than three weeks just for permit renewal? We are not happy refugees are turned away because they are not able to produce the copies of their previous permit. Refugees move around too much and it is hard for them to keep records. Home Affairs should be able to assist them without producing their original papers," he said.
GroundUp sent Home Affairs a request to comment on Tuesday afternoon. The Department has acknowledged receipt of the query, but at time of publication it had not responded.
Dodgy people are suing us. Please support us by contributing to our legal costs and helping us to publish news that matters.
© 2016 GroundUp.

This article is licensed under a Creative Commons Attribution-NoDerivatives 4.0 International License.