Watch champion speedcuber Lonwabo Mvovo in action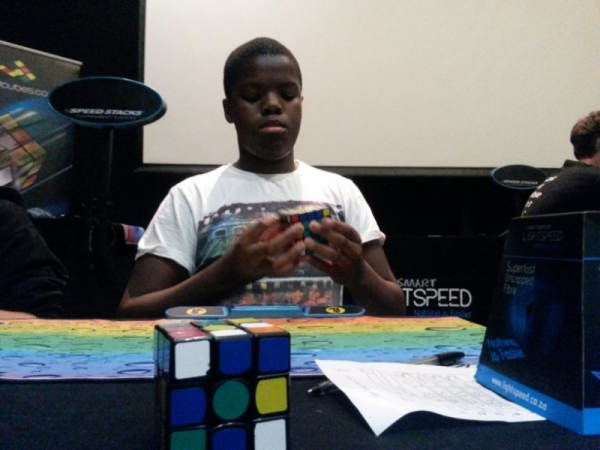 Most people take hours, days or never to solve the Rubik's Cube. This is not the case for 15-year-old Lonwabo Mvovo who has recently been awarded the top spot in South Africa for completing the puzzle blindfolded in minutes.
"I started about a year ago after I saw a boy at my school playing with a cube during break. I got into it and found out that it's something I really enjoy doing," he said.
Mvovo, a student at Bergvliet High School, won first place at a national Speedcubing competition for solving the cube in under four minutes while blindfolded.
He was among a dozen other competitors who participated in the two-day event held at the Science Centre in Observatory last week. The competition is run by the World Cube Association.
"After the guy at my school showed me how to complete my first cube, I started getting into the other different cubes too. They are more complicated. I like that," Mvovo said.
In addition to his win, Mvovo had the third fastest time in the 3x3 Rubik's Cube category after Stephen Cotterrell from Johannesburg in first place and Maverick Pearson from Cape Town in second.
Mvovo said speedcubing has become a part of his life. He said he plans to take on bigger challenges such as the megaminx and pyraminx cubes next year.
"I just like it. It's good for your hand-eye co-ordination. I don't usually tell people that I do this because it's not for everyone. I'll probably continue doing this and would definitely encourage kids to try it out because I didn't know how much I would have actually enjoyed it until I tried it," he said.
Donovan Hale, a senior delegate at the World Cube Association, said that while speedcubing was fairly new in South Africa, it is a growing sport.
"This is our 12th competition in South Africa. The first one was held at the beginning of last year in Johannesburg.
"The first rule in our book is that it must be fun. Our aim is to get these competitions to as many kids from different walks of life," he said.
For more details on future competitions, visit speedcubes.
Video of Lonwabo competing in April. At this event he came 4th, 6th and 7th in the 4x4x4, 3x3x3 and 2x2x2 cube competitions respectively. (You need to be logged into Facebook to see the video.)
Watch other videos of Lonwabo solving various cubes on his father's Facebook page.
Dodgy people are suing us. Please support us by contributing to our legal costs and helping us to publish news that matters.
© 2016 GroundUp.

This article is licensed under a Creative Commons Attribution-NoDerivatives 4.0 International License.