Gugulethu residents fight over future of Tambo Square
City wants to put in services for shack dwellers, but local residents want community facilities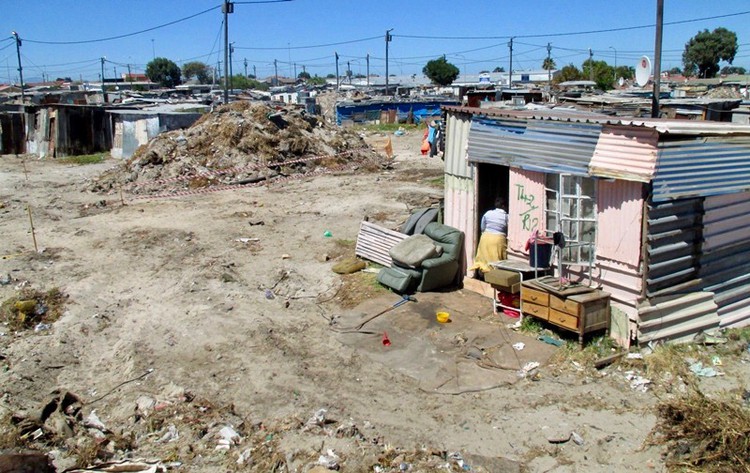 On Tuesday night and Wednesday morning, residents in Gugulethu Section Four protested against the City of Cape Town's plans for a piece of land at Tambo Square. The NY3 was blocked with burning tyres, rubbish and rubble. Protesters told GroundUp they would make the area ungovernable if the City did not listen to their demands. A large police contingent has been monitoring the situation.
The disgruntled Section Four residents (living in parallel streets NY78, 99, 101, 102 and 103) say they originally accommodated families fleeing the violence that decimated KTC in the 1980s on Tambo Square between NY78 and NY3. In 1998, these families were moved into RDP houses at Tambo Village near Manenberg, and new people arrived and set up shacks. There are now 144 families living on the site.
The City now wants to bring services to the site for the Tambo shack dwellers. A number of people took down their shacks for work to begin, but Section Four residents protested when the City commenced work. The protests forced construction vehicles to leave the site.
The Section Four community want a children's play park, a communal facility for elderly people, a crèche and a satellite police station on the land.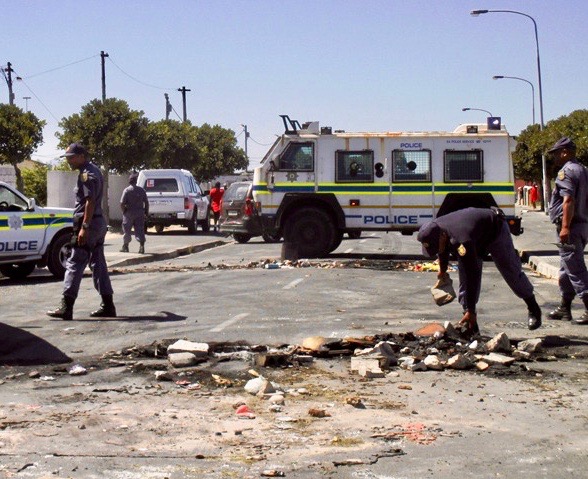 Section Four community leader Joyce Ngakwe said the shack dwellers did not own the land and "we should be the ones who benefit from that plot".
She said at a meeting on 14 February, councillor Siyabulela Mamkeli was told that residents wanted the development stopped, and he "promised to report back to us with a proper response after we handed over our documents and demands about the facilities we had envisaged for the land".
"It shocked us to discover heavy-duty vehicles working on the land this week, while we were still waiting for Mamkeli's response."
"It is our wish that Mayor Patricia De Lille should resolve the issue before it escalates further," said Ngakwe.
Muzi Mandulo, who was protesting, said, "All the previous councillors are aware of this matter because we thoroughly expressed our concerns to them."
Ward 41 councillor Mimi Manatha said she was aware of the problem, but her hands were tied. "It has been a long standing issue. It deserves a higher structure."
Zanethi Mithi, a long-time Tambo Square resident, said the Section Four community was being "very unfair". "They live comfortably with flush toilets in their homes. We now also wish to do away with the bucket system toilets and enjoy the basic rights [and] privileges the development is all about."
City of Cape Town's Mayoral Committee Member for Informal Settlements Xanthea Limberg said the development was part of the municipality's effort to improve the living conditions of the Tambo Square residents, and it had been characterised by intricate community dynamics since inception. She said there had been in-depth engagement with the community.
On Wednesday, Western Cape Human Settlements MEC Bonginkosi Madikizela met protesters. He promised to consult the City and report back on Monday.
© 2017 GroundUp.

This article is licensed under a Creative Commons Attribution-NoDerivatives 4.0 International License.
You may republish this article, so long as you credit the authors and GroundUp, and do not change the text. Please include a link back to the original article.