GroundUp readers to the rescue of Sibhozo brothers
|
Nombulelo Damba-Hendrik
News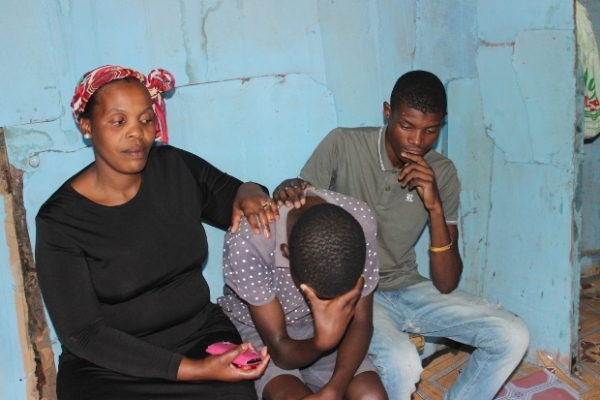 Generous GroundUp readers have made sure the Sibhozo brothers of Site C Taiwan informal settlement in Khayelitsha have enough to eat every day.
GroundUp published the story of 17 year old Sivuyile who has to work, sometimes for just R10 a day, to feed his younger brother on 23 April.
Thanks to readers, says Sivuyile, now there is food on the table.
"At least now I can focus on finding something better to do and find a way to go back to school. It used to make me sad seeing my brother not going to school because he's hungry. Now that we no longer have parents it is my duty to take care of him and make sure he does not repeat the same mistake of dropping out of school.
"When I went out I used to pretend that everything is ok but it was not," said Sivuyile. It's was even worse when we didn't have electricity. We would go to bed very early. Sometimes I cried when I heard my brother waking up at night just to drink water. I knew that he was hungry and there was nothing I could do."" said Sivuyile.
"Now when he ask me what we're going to eat I easily reply 'yendoda zenzele' (man help yourself)," he said.
"We are happy."
The younger boy, who did not want to be named, told GroundUp that "I no longer miss school because of hunger."
"I always have a reason to come back home after school because I know I'm going to eat," he said.
Neighbour Noxolo Mafilika, who has been helping the brothers, said since the GroundUp article had been published the Sibhozo house was no longer cold.
"There are new beds, heater, stoves and lots of food. What more can we ask?" said Mafilika.
"Even when I'm at home during supper, I smile because I know the boys have something to eat" she said.
She said the younger boy used to sit alone at home. "When you asked him what was wrong he would look at you and cry. Some of our neighbours would ask him what he had eaten and he pretended he had food. However all that is past now, things have changed," said Mafilika.
A GroundUp reader who asked not to be named bought the boys groceries last month and again this month.
The reader also bought two beds, an electric heater, a stove and blankets.
A group of young people in Khayelitsha, mostly from Site C, have also donated food and are collecting money to rebuild the boys' shack.
DA councillor Phindile Maxiti assisted with blankets and has promised to work with Mafilika in finding a permanent solution.
Mafilika said some readers had deposited money via Shoprite.
"People are helping a lot. Any money the boys get helps a lot," she said.
Simanye Ndima of Site C youth from Site C D-section has been running the Sibhozo project.
"When I saw this article on GroundUp I was in tears. I knew that I must do something to help these boys. What I liked about them is that they are not criminal. But such a situation could lead them into doing bad things," said Ndima.
She said she had posted the article on her Facebook page and asked her friends to help. Some had shared the article on their Facebook pages as well.
"Every week new people join us to help. We've had three meetings already. The aim is to rebuild the boys' shack next week. We are collecting some money among ourselves so we can buy material. On Sunday we will have another meeting so we can decide who does what," said Ndima.
Some readers have donated through an NGO called Philani.
Philani Human Resource Administrator Lisa Filmalter said R800 had been donated.
Philani had sent a field worker to visit the family last month.
"We got a report and I have asked people when they donate to write the boys' name," said Filmalter. Philani would also help the boys to get back the foster care grant which had stopped when their grandmother, who had been getting the grant, died.
Alexandra Abrahams, secretary to MEC for Social Development Albert Fritz, told GroundUp a social worker had been appointed to visit the brothers. Mafilika confirmed that the social worker had been in touch with her to make an appointment.
To donate to the Sibhozo brothers via Philani, please contact Lisa at info [at] philani.org.za or 021 387 5124. Philani's website.
© 2016 GroundUp.
This article is licensed under a
Creative Commons Attribution-NoDerivatives 4.0 International License
.