Groundbreaking toilet case heads to Equality Court
Service provided by the City of Cape Town to be put under the spotlight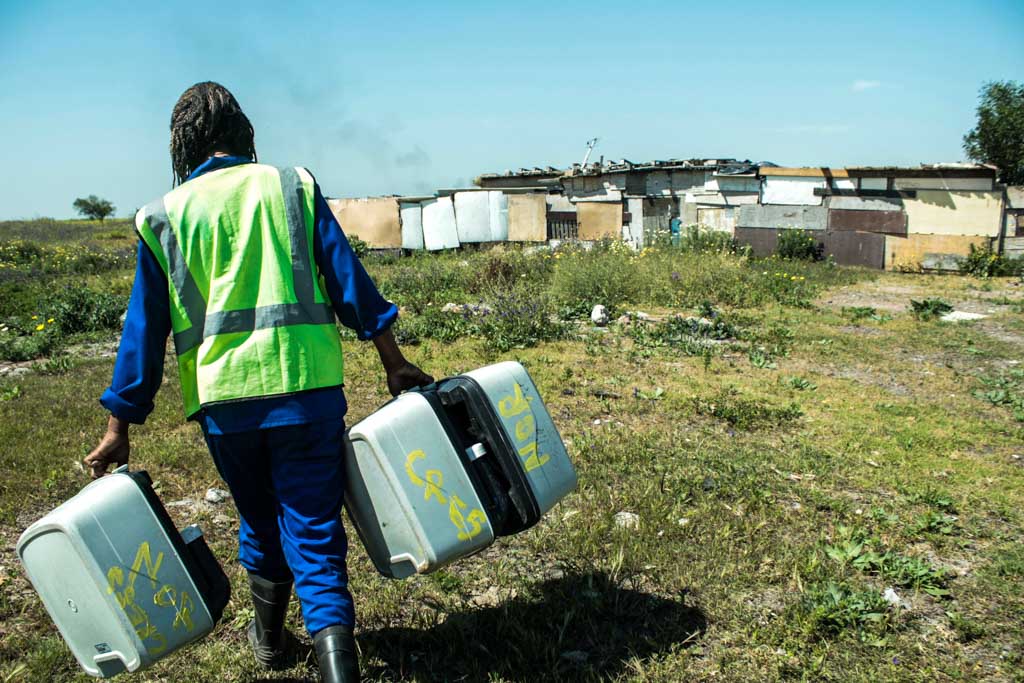 Do residents of Cape Town's informal settlements receive inferior sanitation services to those provided to residents living in wealthier areas? Does this constitute unfair discrimination? On 5 and 6 December 2017, the Equality Court will hear an application being brought by the Social Justice Coalition (SJC) against the City of Cape Town which raises these questions.
The SJC began its campaign for "Clean and Safe Sanitation" as far back as 2009. The most iconic instance of this campaign was the public toilet queue for Sanitation, Safety and Dignity held on Global Water Day, 20 March 2010. Since then SJC has engaged with the City on numerous occasions through protest action, public hearings and participation in the City's budget processes.
In its court papers, the SJC argues that every person has a fundamental right to decent, safe and adequate provision of sanitation services. Essentially, SJC argues that this right places an obligation on the City to develop a reasonable plan for the provision of permanent sanitation services to residents of informal settlements. This must all be done within the City's available resources.
The SJC claims that at least 65% of the toilets provided to informal settlements are container, chemical or portable flush toilets (PFTs). These toilets are different from full flush toilets which are typically found in wealthier homes. Full flush toilets are toilets which are connected to a sewerage and wastewater system. Container, chemical and PFT toilets on the other hand, are essentially temporary in nature and require regular maintenance and servicing.
The SJC argues that these toilets are demeaning, undignified and considered socially and culturally unacceptable by their users. It also argues that these toilets, especially PFTs, are unsafe to use at night because one has to relieve oneself outside. This safety risk is worse for women who live in informal settlements with high crime rates. The SJC states that these toilets do not provide privacy because family members have to relieve themselves in front of each other. Lastly, the SJC says these toilets, especially chemical toilets and PFTs, are unhygienic due to the harsh chemicals which are used and the repeated delay by City officials to collect and empty them regularly. Many of the SJC's supporting affidavits contain descriptions by people who have contracted diarrhoea and other diseases because, they claim, of these toilets.
The primary argument in the SJC's papers is that because these sanitation services are of an inferior nature, the City's actions constitute unfair discrimination on the grounds of race, socioeconomic status and location. This is because most informal settlement residents are black Africans many of whom live in poverty. The SJC argues that the absence of a reasonable plan to eradicate these toilets perpetuates race inequality inherited from apartheid. Lastly, in its expert affidavit, the SJC says that providing full flush toilets to residents of informal settlements will be cheaper in the long run than providing the current temporary solutions.
The SJC wants an order that will compel the City (1) to develop a reasonable plan for the provision of permanent sanitation services to Enkanini and CT Section in Khayelitsha; (2) to make that plan available to residents of those areas; (3) to take reasonable steps to implement that plan; and (4) to report back to the court under oath on the steps it has taken.
City's view
In its response the City argues that the law does not prescribe the use of any particular type of toilet. The City also points out that globally governments are beginning to move away from providing full flush toilets because they are not environmentally sustainable. As such, governments around the world are beginning to experiment with new types of toilet technologies which are independent of water, sewerage or electricity. The City has one such pilot project which has been running since 2010. In this community, a toilet referred to as a "urine diversion and dehydration toilet" is being used. The City argues that in the future, it may well begin to roll out entirely different types of toilets.
At present however, the City says that it would ideally like to prioritise water-based sanitation to residents of informal settlements. The City says that ideally one flush toilet should be provided for every five households. Flush toilets require a water supply and sewer reticulation network both of which are usually stored underground and connected to bulk services such as a water reservoir and wastewater treatment plant. But due to some constraints, the City argues it is not always feasible to provide full flush toilets.
Some of these constraints include the topography of the particular settlement, the density, and whether the informal settlement is an unsuitable location such as near a power line, railway, major road, or landfill site. Also, the City argues that the provision of sanitation and water services should not be viewed in isolation. To the contrary, when the City improves services to communities this is done in the context of upgrading informal settlements in general. So the City aims to improve the living conditions in informal settlements across the board by also ensuring better access to electricity, jobs and community facilities. The City currently plans informal settlement upgrades in accordance with its five-year plan which is reviewed annually.
The City denies that the services it provides to residents in informal settlements are inferior, unsafe to use or pose health risks. The City also denies the allegation of racial discrimination and argues that in most cases the reason for not providing full flush toilets is due to the constraints described above.
For example, in CT section Khayelitsha, full flush toilets have not been provided because 24% of the location is in a low-lying flood-prone area, where it is impossible to sustain flush-toilet infrastructure. The City also argues that informal settlements are not the only type of area in the city where there are poor households. The City argues that provision must also be made for people living in backyard dwellings, sub-economic housing and overcrowded areas. The City's key argument is that the provision of immediate sanitation services to residents of informal settlements must be balanced against the need for longer terms plans for the upgrading of informal settlements which must take into account various constraints.
The Equality Court will now have to determine the fate of the infamous portable flush toilets and similar toilet technologies. The court will have to consider whether the City complied with its constitutional obligations and created a reasonable plan for the provision of adequate, safe and decent sanitation services to residents of informal settlements.
© 2017 GroundUp.

This article is licensed under a Creative Commons Attribution-NoDerivatives 4.0 International License.
You may republish this article, so long as you credit the authors and GroundUp, and do not change the text. Please include a link back to the original article.