Mother and child die in fire, and government has no answers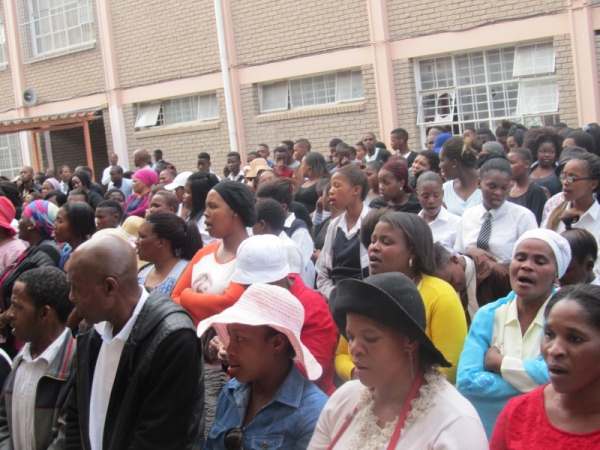 About three hundred people from in and around QQ community, Khayelitsha, gathered at Matthew Goniwe Memorial High School for the memorial service of Zuziwe Ngcibi and her grade 12 daughter, Zikhona, who died in the early hours of 19 October in a fire that hit six homes in the informal settlement. The family could not escape as the blaze came through the only door.
Jackson Hlahla, who spoke for the family, flatly blamed the Western Cape government for the deaths. "I stayed in that informal settlement for more than 15 years and we connected electricity illegally. We voiced to the government several times, but to no avail," said Hlahla in tears.
"We have lived 35 years in QQ community without electricity, so people have no choice but to resort to illegal connections. Our government does not care about the people who voted them in power," said Mzlwande Kakayi, one of the leaders in the community. "I wonder if one of the government officials would like to stay at such a place for a week or even a day."
But the City of Cape Town responded that QQ is "situated on Eskom-owned land, underneath some of their bulk infrastructure. It also falls within an Eskom supply area.'
Provincial spokesperson for Eskom, Jolene Henn, said: "QQ in the Western Cape is an informal settlement in an Eskom supply area. The area is partially electrified. Parts that are not electrified are located in a wetland and therefore by law, Eskom cannot electrify areas in wetlands, road reserves or under power lines.
"However, if there are pockets that are electrifiable, then Eskom will electrify them with the full agreement of the community and key stakeholders." She said that funding for electrification for informal areas is "done" by the Department of Energy. Municipalities decide which informal settlements should be electrified.
But Siyamboleka James, chairperson of Abahlali baseMjondolo social movement in the Western Cape, blames local government. "It's now two decades since we attained democracy in South Africa, but there are still thousands of people living in shacks. No one deserves to live in such conditions," he said.
"We have approached the Western Cape government several times with housing and sanitation matters," said Bongani Stuurman, a resident in the QQ community. "I remember some time [ago] Premier Helen Zille visited this place and it seemed as if they [would] attend to the problem the following day."
"Electricity is a basic necessity these days. Since the government is taking too long to attend, the whole QQ community has illegal connections," he said.

Aftermath of the deadly fire in QQ community in October. Photo supplied by Tasneem Ahmed.
Stuurman described the deceased as a humble family that loved working with the community. Zuziwe, he said, was involved in almost all community activities. "The community could see a bright future in Zikhona, but her life was cut short," he said.
"I am sure this is the fourth time the community has experienced such an incident," said Bonisizwe Magubudela. "The problem is that we, the community, are not united such that we approach the government with one voice … Since this is not the first time we are experiencing such an incident, I now think we should approach the courts because the Western Cape is infringing our basic human rights."
Okuhle Penduka, 19, who was a close friend of Zikhona says she misses her terribly. "Zikhona was friendly to everyone. We used to share anything. I am not sure I will get anyone to replace Zikhona," said Penduka.
The gathering sang hymns in remembrance of the family. The funeral will be held in the Eastern Cape this weekend.
© 2016 GroundUp.
This article is licensed under a
Creative Commons Attribution-NoDerivatives 4.0 International License
.