Former prisoners launch marimba band
Sakhulutsha project aims to keep others out of jail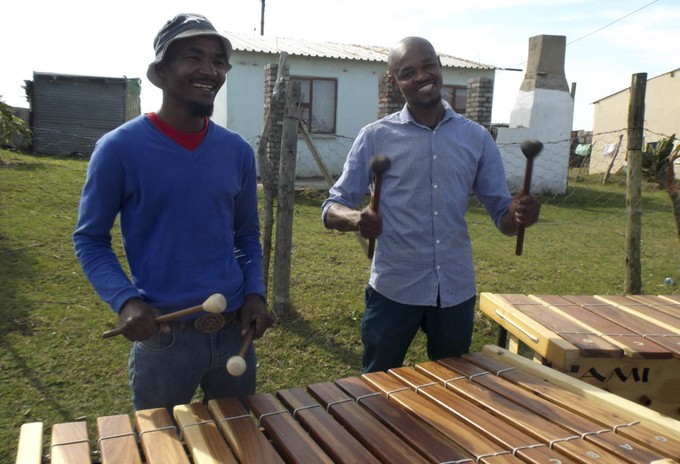 Two former prisoners from Kenton-on-Sea have beaten the odds to launch a music project aimed at keeping young people out of prison
Luthando Mangaliso, 28, and Patrick Makolo, 40, will be playing marimba in Swaziland at the end of this month.They are also training other ex-convicts and youth from their area in marimba drums, singing, dancing, poetry and drama.
Makolo grew up in Kenton On Sea. His mother lived in Johannesburg and he was raised by his grandmother in a household of 13 people. His grandmother was a domestic worker. He left school after grade seven.
"Where I grew up we didn't have much to do in terms of sport. We didn't have many role models.Those who succeeded mostly took a short cut in life," said Makolo.
"Things were tough and I had to do something to help my grandmother. Unfortunately I got mixed up with the wrong crowd, which landed me in prison".
Makolo was arrested in 1998, convicted of attempted murder and robbery and sentenced to 13 years in prison. He said the difficulties of prison life made him think about saving lives of young people in his area and make sure that they stay out of trouble.
While he was in St Albans prison in Port Elizabeth he continued his studies, passing grade 11, and learned to play marimba drums, and to sing and act.
"Because of a criminal record I knew that I was not going to find a job. But at least I had skills", he said. When he got out of prison he heard that his friend Mangaliso was also coming out of prison in Grahamstown after serving a sentence for theft.
"I was very sad to hear that. This boy had grade 12 and could have done something better with his life. But because of a lack of job opportunities here, crime seems the only option to survive", said Makolo.
The two decided to start a production company, Sakhulutsha, meaning "we build youth".
They knocked on doors looking for donations, with limited success.
"I'm sure you know how people responded. Not that we blamed them: who can trust a criminal?" said Makolo.
They also battled to get youth from the street to join them. Parents did not trust the two former prisoners and some took their children out of the group.
Then they got their break.
Ndlambe local municipality spokesperon Khululekile Mbolekwa said the group had come asking for help, and he had contacted the Sarah Baartman district municipality which had bought them drums.
"We see potential and talent in this group", said Khululekile. He said he admired their willingness to change lives after their experience in prison.
The group now has 20 members, six of whom are former prisoners.
Mangaliso said he was very grateful to the municipal officials who decided to take a chance with them.
He jumped at the opportunity to start the band.
"I was arrested for theft. I can not say much about my arrest. It is not something I'm proud of.I was sentenced to six months in prison but got out at three months for good behaviour.That three months felt like three years. I want to make sure that not a single person in my area goes to prison. But we have the challenge of parents who do not trust us", he said.
"We are going to Swaziland this month and we have already performed at the Grahamstown Arts Festival. We were the only marimba band there", said Mangaliso.
© 2016 GroundUp.

This article is licensed under a Creative Commons Attribution-NoDerivatives 4.0 International License.
You may republish this article, so long as you credit the authors and GroundUp, and do not change the text. Please include a link back to the original article.