Five years on, Marievale army base families still in limbo
The latest relocation plan has been rejected by some of the respondents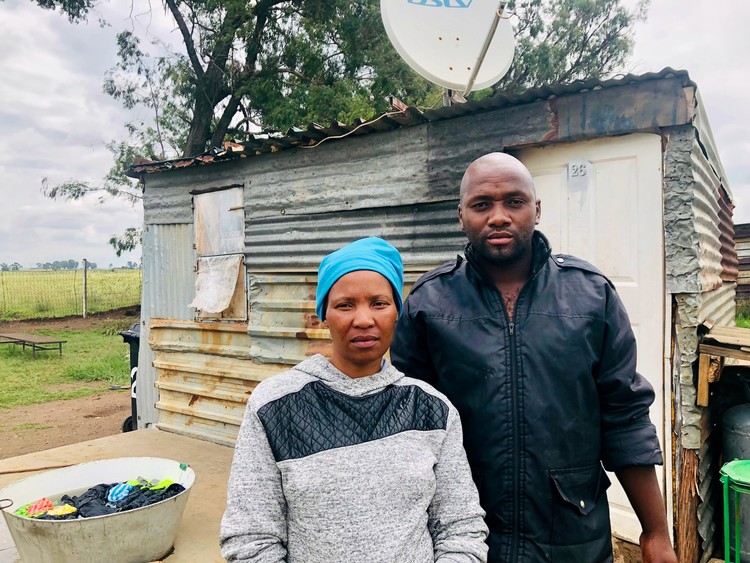 GroundUp has followed the saga of the eviction of families that were living at the Marievale military base, outside Nigel in Gauteng, since 2018. We last reported on the displaced community in September 2021. We returned last week to see how they are faring. We found little has been resolved despite years of litigation, court orders and promises by various state actors.
Shalin Ruiters has lived in Marievale's Happiness Village for the past five years, in a tiny, precariously-built shack she shares with her eight children. At night, it is difficult for all of them to sleep crammed next to one another. There is barely enough space for them to even sit inside together during the day.
The South African National Defence Force (SANDF), which owns the land, refuses to allow anyone in the village to enlarge their structures.
Ruiters is one of over 80 respondents in ongoing litigation after they were brutally evicted from their homes at the Marievale Military Base by the SANDF in 2017.
Some had lived on the base for decades in individual homes, bungalows and dormitory rooms. Some of the houses in the military camp were shared by up to three families. There had also been a community hall.
Soon after they were evicted, the families built shacks on land just meters away from their old homes and called it Happiness Village.
Despite overturning the SANDF's unlawful eviction and obtaining an order to be given adequate alternative accommodation and services, the community is struggling. They still don't have toilets and over 80 households share one water tap.
The army together with the City of Ekurhuleni tried to relocate the residents to temporary emergency accommodation in Zamani informal settlement in Duduza. Promises were made that those who qualified would be considered for permanent housing in the John Dube housing project currently under construction. But the City says it cannot say when the housing project will be complete because it depends on funding from the Gauteng Province, and the province is mum on timeframes for the project.
There are also immigrants among the Marievale families who are unlikely to be even considered for state housing.
A few families agreed to move, but Ruiters and others refused, saying the informal settlement was overcrowded and nothing like Happiness Village, and it would mean relocating yet again from Zamani at a later stage. They want to move straight to "permanent homes" and not have their lives disrupted twice more.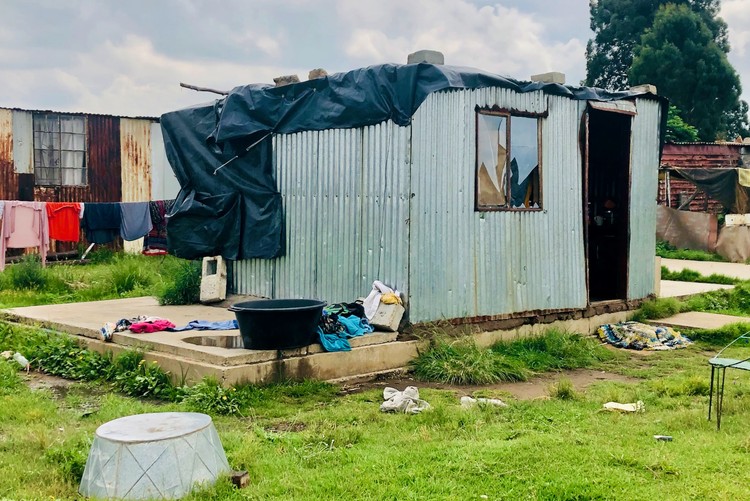 In September 2021 the residents were served with a final eviction order, subject to being provided with a relocation plan. But many Happiness Village families have remained steadfast in their resistance.
In December 2022, the municipality submitted its relocation plan to Lawyers for Human Rights (LHR), which has represented the families in various court battles.
The City is still offering Zamani and corrugated iron structures with steel framed doors, windows and cement floor (24m2), with a life span exceeding five years. It says the structures can be dismantled three times, are easy to transport, store, construct and adaptable to local conditions. The SANDF would provide trucks for relocation.
The City promises access to water, chemical toilets, communal skip bins, and electricity with prepaid meters. Those who are employed and not indigent would pay for basic services. Those who qualify will be considered for permanent housing and others for location to a portion of Zamani, which the municipality has identified for a new development.
"It seems as if we are still at the same position," said Chris Koetsioe, one of the Marievale family litigants. "To be on the safe side, the residents want to stay in Happiness until they can be given a house."
Louise Du Plessis, of LHR, said, "People should be moved to a place where they will be given security of tenure or be given title deeds."
"There are so many people waiting in informal settlements around Nigel, waiting for houses," says Ruiters. "At some point people in Zamani were protesting because they did not want Marievale people to take their houses. The environment is also unsafe and crowded. My family and l will remain here in Happiness Village until we get a house."
Hendricks Makua, who keeps a large garden in Happiness Village, says the past year has been relatively peaceful. "The soldiers have stopped brutalizing the community. However, if we try to extend [our shacks], they will come and stop us, which means they dont want us here. The only thing which will bring me peace is getting a house."
Nocks Giyana and her husband Sthembiso Mangisa keep a large yard with chickens and a garden. Mangisa also hunts rabbits.
"If they give us an RDP house, we may not have enough space for our chickens, dogs or garden. Where will we go hunting because here we never go hungry? We also fetch firewood in nearby woods. It's unfair for them to move us and take us to a random informal settlement," said Giyana.
"One thing that I know is that I would miss Happiness Village very much," she said.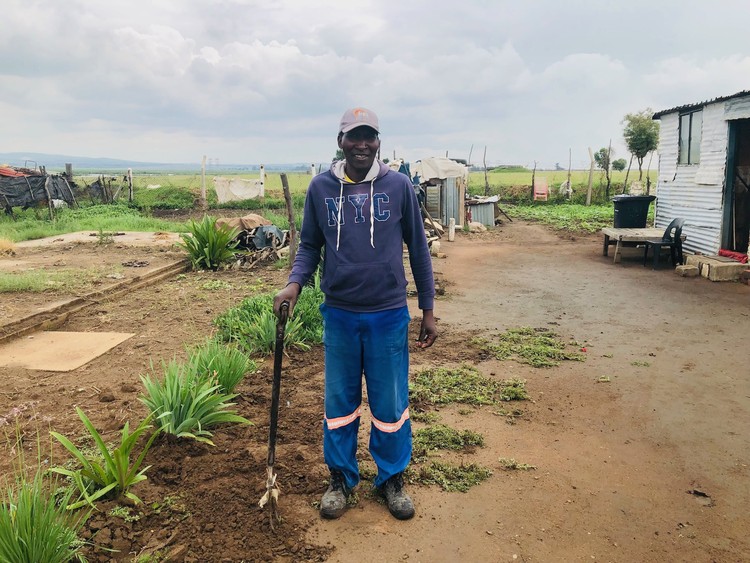 © 2023 GroundUp. This article is licensed under a Creative Commons Attribution-NoDerivatives 4.0 International License.
You may republish this article, so long as you credit the authors and GroundUp, and do not change the text. Please include a link back to the original article.
We put an invisible pixel in the article so that we can count traffic to republishers. All analytics tools are solely on our servers. We do not give our logs to any third party. Logs are deleted after two weeks. We do not use any IP address identifying information except to count regional traffic. We are solely interested in counting hits, not tracking users. If you republish, please do not delete the invisible pixel.