Five years and still no street lights on N2 Gateway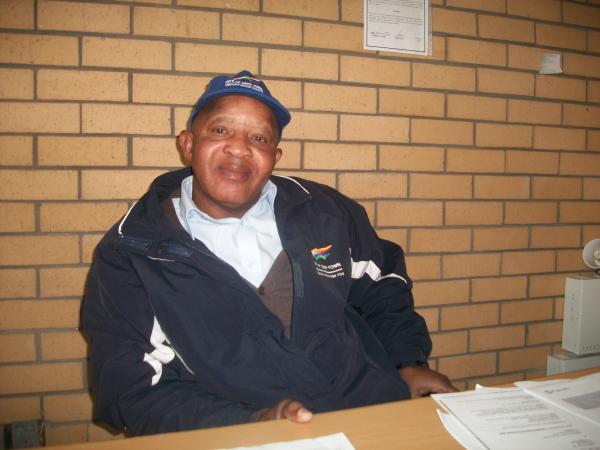 Delft ward councillor Michael Sandile Toko is in charge of ward 20 which includes Voorbrug, Eindhoven and Delft South. His duties include bringing services and projects provided by the City of Cape Town to the people of these areas.
This article is part of our focus on wards.
The 60 year old member of the Democratic Alliance (DA) receives a monthly salary of R30,000. He explained to GroundUp the necessary steps that have to be taken to provide services to a ward. A budget plan for the ward is handed over to the City of Cape Town's administration. The City then decides what will and won't be approved. The sub-councillor then informs the ward councillors of the decisions by the City.
Toko explained that the approved budget of R220,000 is used to develop parks, keep the ward clean, provide sport centers and maintain government buildings. It is also used to install libraries and make pavements.
Some Delft residents live in densely packed temporary houses situated alongside the township's cemetery. In response to our question about what will be done for these residents, Toko replied that people staying in the temporary houses were given a government house before and sold it. They then requested another one but the system picked up that they have already received a house from government before. "These people don't qualify for an RDP house anymore," explained Toko.
Residents at the temporary housing dismissed Toko's claims and told GroundUp that they are there because they were relocated from surrounding shacks mainly Tsunami, New rest and Blue downs, where some of the people's shacks burnt down while others are awaiting approval for their government house.
Michael Mbokasi explained how these temporary housing were not good, that in winter they are extremely cold and hot in summer, he further explained how the shelter becomes moist during the night and lead to their clothes being moldy. All the residents share an outside toilet and shower to relief themselves.
Another issue of concern is the unlit street lights in the suburban N2 Gateway area which has street poles but no street lights attached to them. Toko says that he's been asking and requesting that the N2 Gateway area be lit, but the City keeps saying the lights are coming and that the area is new, even though it has existed for five years.
Xolani Booi has been living in the N2 Gateway area for over four years with his wife and five children, but did not know the name of his councillor when asked.
"We should have street lights by now. There is a lot of crime in my area because there are no lights and there are single people living in some of the houses that leave their homes alone while they're at work. The thieves come in and break inside their houses. Because it's dark the neighbours don't see the thieves. How long must we wait for lights? While they say the area is new the people are suffering. If they are not going to put in the street lights then they must just take out these poles too," exclaimed an irritated Booi.
© 2016 GroundUp.
This article is licensed under a
Creative Commons Attribution-NoDerivatives 4.0 International License
.