Fire leaves over 50 homeless in Khayelitsha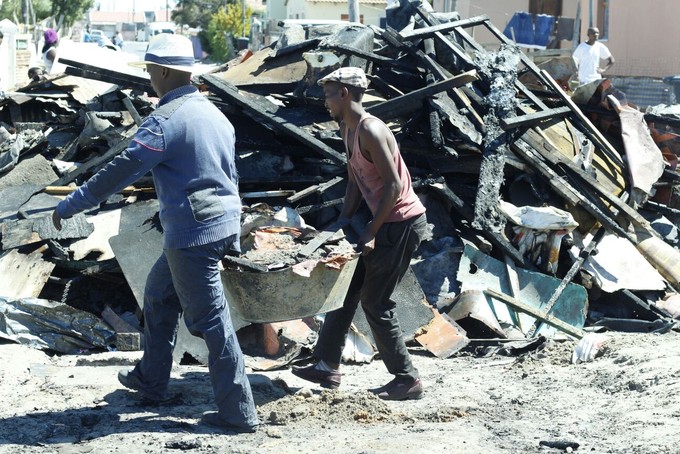 Residents of BT section in Site B Khayelitsha lost their homes and belongings after a fire hit the area late afternoon yesterday. Many do not know where they will sleep tonight.
Fourteen shacks were affected by the fire leaving over 50 people homeless. They had to ask family and friends for shelter last night.
Ward Councillor Mlulami Vellem says the fire wouldn't have burned so many houses if emergency vehicles had attended to the area faster.
"I went there myself to call them and when I got there I was told to wait because all their cars were out. I had to wait there and the fire was already spreading," said Vellem.
There were no injuries caused by the fire but many people lost their belongings because they were at work or still travelling during the holiday season.
Noluvuyo Mashiyi was at work as well as her husband when the fire started. There was no one at home as her children aged three and 14 were at a friend's place.
"I was at work when my neighbour told me that my house was on fire. There was nothing I could do. I wasn't going to get here on time. I have nothing, I didn't save even a teaspoon, I borrowed the clothes I am wearing now."
"My husband and I were supposed to be at work today but we couldn't go, if we go to work what are we going to come back to?" said Mashiyi.
No one called Thembela Mayeki to let him know what was happening. He saw the smoke on when he arrived at the train station from work. "I didn't know how close it was to my house, I rushed to see. I didn't save anything. I only have the clothes I am wearing now," he said.
Residents speculated that the fire started because of electricity connections between a church and some people's homes. "Because there is no electricity in the area, people depend on their neighbours who have electricity. People are saying it is those electricity wires from the church to where they were getting electricity that started the fire," said community leader Mfuneko Mlanjeni.
When GroundUp visited the area, residents were cleaning the affected area while waiting for the City of Cape Town to deliver building material so they could start rebuilding their homes.
© 2016 GroundUp.

This article is licensed under a Creative Commons Attribution-NoDerivatives 4.0 International License.