Fees Must Fall protesters disrupt Rhodes University
Call for government to increase university funding from 0.5% to 1% of GDP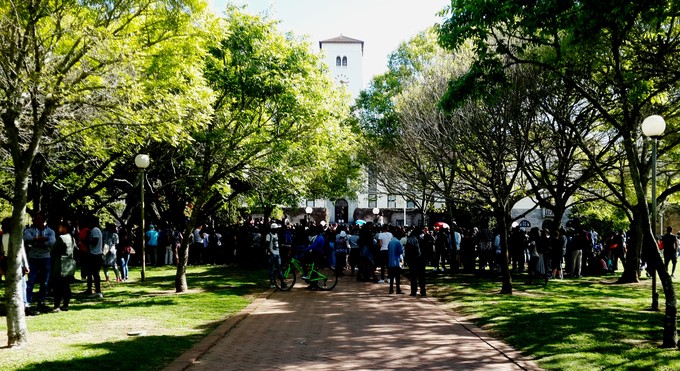 Fees must fall protests continued all week at Rhodes University. On Thursday, students barricaded the doors to the main library and disrupted classes by singing outside lecture halls.
Burning tyres barricaded Prince Alfred Street below Jan Smuts residence, but it is not clear if these protesters were part of the same group as they quickly dispersed when a student photographer from The Oppidan Press appeared.
Protesting students refused to speak to the media; one said this is because the media change their narrative.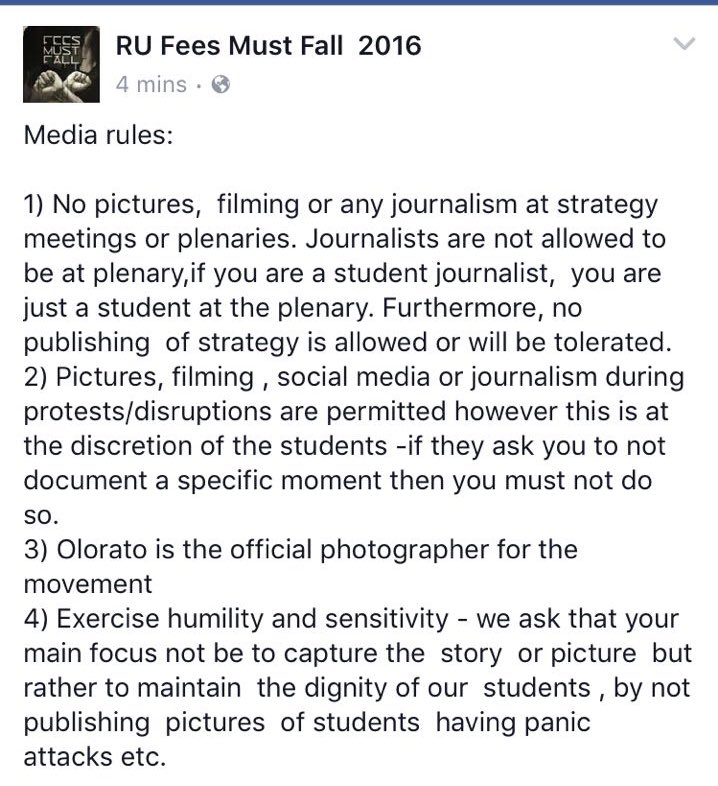 By noon more than seven police cars were on campus. Captain Luvuyo Mjeleku said police were only on campus to monitor the situation since Fees Must Fall protests had turned violent at other universities. No students were arrested.
Vice Chancellor Dr Sizwe Mabizela at a gathering on Drostdy Lawns on Wednesday said action would be taken against anyone who violated the rights of others. He said management respected the right to protest peacefully and within the law.
Professor Sussi Veter read a statement drafted by academics, university staff and management.
She said: "We share with our students the disappointment of the government deliberation and continued lack of financial support for higher education. We urge the government to provide the necessary funding to ensure quality higher education is accessible regardless of [a person's] financial situation."
She called for government to increase funding for universities to 1% of GDP. She shared some figures on education spending by other governments. "Universities in South Africa are funded at 0.5% of GDP. By comparison higher income African countries spend an average of 1.06% of GDP … Other countries even more: Saudi Arabia 2.3%, Russian federation 1.8%, Argentina 1.4%, India 1.3% and Brazil 0.8%."
Dodgy people are suing us. Please support us by contributing to our legal costs and helping us to publish news that matters.
Letters
Dear Editor
It makes sense that our students at university have taken the path they did. It is immoral and unethical for our government to fund tertiary education by only 0,5% when other countries in our economic development peer group can afford increases many times over that. When millions of rands go into the pockets of a few, such as Penuell Maduna in the Sasol empowerment deal which was supposed to benefit the poor, it becomes immoral. Is there no way that money can be released to sponsor students? For every student who graduates with a degree 18 family members are taken out of poverty.
© 2016 GroundUp.

This article is licensed under a Creative Commons Attribution-NoDerivatives 4.0 International License.
You may republish this article, so long as you credit the authors and GroundUp, and do not change the text. Please include a link back to the original article.