Farm workers demand urgent ban on 67 pesticides
Women on farms say that pesticide exposure is making them sick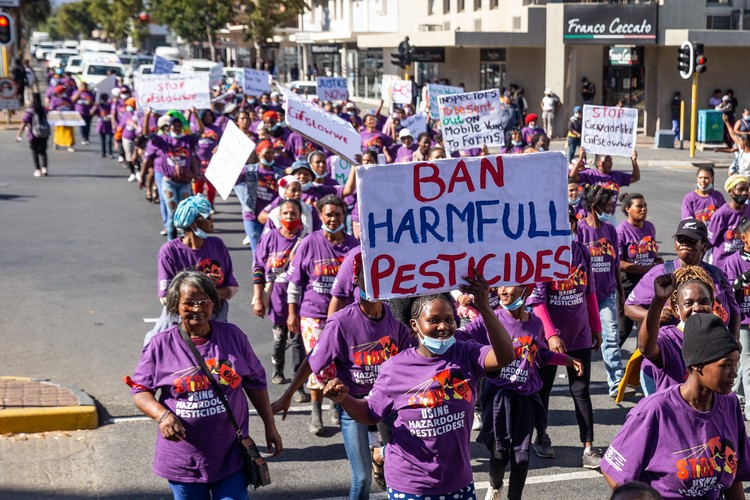 Farm workers marched to the Labour Department offices in Worcester on Thursday, calling for a ban on 67 pesticides used on farms.
They say these pesticides are banned in the European Union but frequently used on South African farms.
The marchers also demanded stricter enforcement of labour regulations on farms, including regulations on protective clothing.
About 200 farm women from the Cape Winelands marched in Worcester on Thursday calling for a ban on hazardous pesticides frequently used on farms. They also want farmers to be held accountable when they break labour regulations.
About 67 of the pesticides still used on South African farms have been banned by the European Union (EU), according to the Women on Farms Project (WFP) who organised the march.
The farm women marched to the Labour Centre in Worcester to hand over a memorandum. The memo was received and signed by Karen Fuller of the Department of Employment and Labour in Worcester.
Denile Samuel, the labour rights coordinator at the WFP, said that farm women have been complaining that farmers are not complying with regulations on protective clothing, are sending workers into the vineyards too soon after spraying pesticides, and are not giving them support when they get sick from pesticide exposure. "For farmers it's about profit," said Samuel.
In the memo the WFP asked the Department of Employment and Labour to:
Ban 67 hazardous pesticides already banned in the European Union;
Reform and update outdated legislation governing pesticides in South Africa;
Enforce existing legislation and regulations to protect farm workers from exposure to pesticides through farm inspections; and
Hold farmers accountable when they break labour regulations.
Samuel said that the campaign started in 2017 when WFP did research on pesticides and their impact on women farm workers. A total of 73% of women farm workers interviewed said that they did not receive protective clothes from the farmer when working in vineyards sprayed with pesticides.
In 2019 women from WFP marched to Parliament in Cape Town to call for the ban of the 67 pesticides. But further engagements with labour Minister Thulas Nxesi and Western Cape Chief Inspector David Esau were prevented due to the Covid lockdown.
Now WFP wants the meetings to start to discuss the banning of harmful pesticides and the enforcement of labour regulations on farms.
"We also want a toll-free number so that workers will be able to lay their complaints," said Samuel.
Legislation that guides the safety of farm workers currently is the Occupational Health and Safety Act 85, and with regard to pesticides specifically, the Regulations for Hazardous Chemical Substances. These regulations dictate "the need for personal protective equipment, including respiratory protective equipment" and also the duty of the employers to send a worker for a health evaluation if they are exposed to pesticides.
Christina April, who lives on a farm in Wellington, said that children who live in houses on farms are also exposed to pesticides when they play in the vineyards.
"Many people are getting sick on farms from working on vineyards with pesticides," said April. She said that farmers often don't support farm women financially when they need to go to clinics after being exposed to pesticides. "Many people don't have protective clothing or masks to wear," she said.
Dina Ndleleni, a farm worker from De Doorns, said that she got ill from pesticide exposure. "I was very sick," she said. Two members from WFP accompanied her to the doctor and then the hospital where she was diagnosed with asthma.
David Esau, the Department of Labour's chief Western Cape Inspector, told GroundUp: "The matters raised in the memorandum have been referred to the national Chief Inspector. The department is prepared to meet with Women on Farms so that we can work together to prepare a program that will look into the health and safety of the workers in the farms with regards to the use of pesticides."
Andrea Campher, Risk and Disaster Manager at AgriSA, said farmers must ensure that their workers are safe, wearing the necessary protective clothing and following the directions and warnings on the labels of the pesticides. Pesticide use should not be to the detriment of the health of workers or the environment, she said.
She said the Fertilisers, Farm Feeds, Seeds and Remedies Act registered pesticides and allowed for precautions against pesticides.
She said it would be difficult to ban pesticides completely because of the impact on farming. "Green" options should be considered but might take a long time to come onto the market, said Campher.
© 2022 GroundUp. This article is licensed under a Creative Commons Attribution-NoDerivatives 4.0 International License.
You may republish this article, so long as you credit the authors and GroundUp, and do not change the text. Please include a link back to the original article.
We put an invisible pixel in the article so that we can count traffic to republishers. All analytics tools are solely on our servers. We do not give our logs to any third party. Logs are deleted after two weeks. We do not use any IP address identifying information except to count regional traffic. We are solely interested in counting hits, not tracking users. If you republish, please do not delete the invisible pixel.