Evicted land occupiers take refuge in crèche
Dozens of children and adults left homeless after City demolitions in Kraaifontein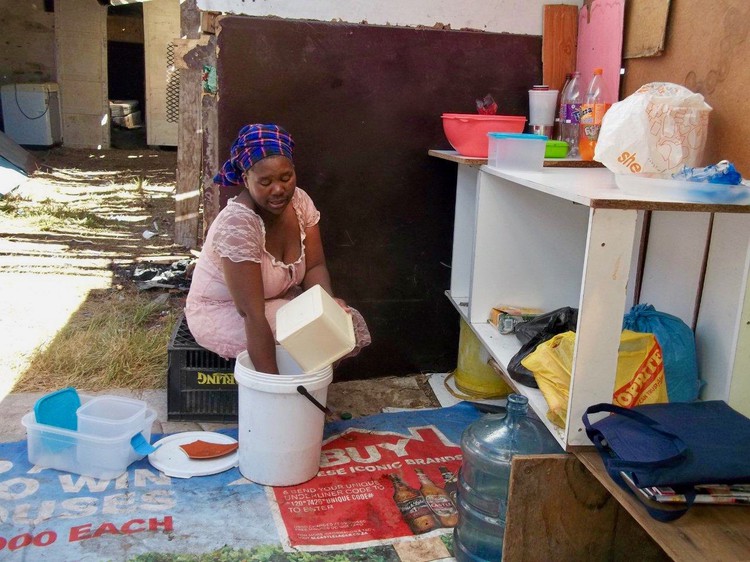 After the City of Cape Town demolished shacks in Kraaifontein on Wednesday last week, a number of those evicted have found refuge at a former crèche, now used as a community hall.
The land occupiers, removed from municipal land in section 18, Bloekombos, Kraaifontein, lost their housing material and many of their possessions. They do not have the means to purchase new building materials.
About 24 homeless adults and 26 children sleep at the former crèche at night and stay in a roofless shack made of old wooden planks and ply boards during the day.
Phathiswa Morris stays in the makeshift shack and the crèche with her seven children, aged from one to 26. "I can't return to my landlord's place because someone else is already staying in the shack I rented [before she went to occupy land]," she said.
Morris said she bought her building material for the shack, now demolished, on credit from a local businessman. "I will not be able to pay him his money because I have to buy my kids school uniforms, which I lost when law enforcement demolished our shacks. I'm worried sick," she said.
"The residents who are employed leave R10 or more for us to buy food and cook while they are still at work. We take turns to cook for everybody at the crèche and keep food for those who are at work," she said. "I keep a book and note down each money each person leaves. I don't want the residents to say I have eaten their money," she said.
Nozuko Ngixi, 37, sleeps at the crèche with her three teenage children. She wakes them at 5:30am to get ready for school. "I must wake up early before other residents come to use the crèche, otherwise I won't get a chance to bathe," said Ngixi.
"Residents first built their shacks in December last year. I noticed that the City took no action against them and decided to set up mine as well," she said.
"On the first two days after the City destroyed our shacks, I didn't bathe at all because we have no water. No one has done laundry here after the demolition of our shack, so our clothes are dirty," she said.
Nobongile Tshutshana, 63, said that during the demolitions, "The officials trampled on my baked bread and my food. Now I go around the township begging for food and money to contribute to our fund."
Tshutshana used to work as a grape picker on a farm in Kraaifontein, but she is now unemployed. "I can't fall asleep at the crèche because of stress. Even now my head aches from lack of sleep," she said.
Ward councilor Luyanda Mbele said, 'The residents asked community leaders to allow them to stay at the crèche because they were left with no building materials after the City demolished their shacks. I also agreed to their request to stay. They have nowhere to stay."
Executive Director for Safety and Security Richard Bosman said, "The City of Cape Town's Disaster Risk Management Centre is unable to assist the group as they were not displaced by a hazard like fire or flood. If they occupied the land illegally and were removed by the City's Anti-Land Invasion Unit, any assistance would be in contravention of the City's policies. This will also set a precedent."
© 2018 GroundUp.


This article is licensed under a Creative Commons Attribution-NoDerivatives 4.0 International License.
You may republish this article, so long as you credit the authors and GroundUp, and do not change the text. Please include a link back to the original article.