Fire Gwede Mantashe, say activists
Civil society groups plan mass action against electricity tariff hike and blackouts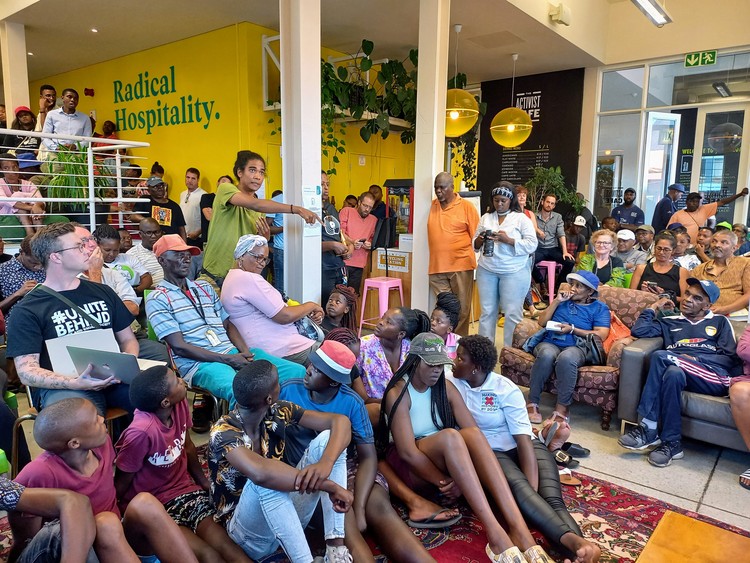 Civil society groups plan to take to the streets of Cape Town to protest loadshedding ahead of the State of the Nation Address on 9 February.
Last week the National Energy Regulator approved Eskom's 18.65% electricity tariff hike which will be effective from 1 April 2023.
Civil society groups, organisations and individuals are objecting to this tariff hike and are calling for Mineral Resources and Energy Minister Gwede Mantashe to step down.
Civil society groups are planning to take to the streets of the city centre ahead of President Cyril Ramaphosa's State of the Nation Address (SONA) on 9 February. They are demanding an end to Eskom's rolling blackouts and the devastating impact it is having on daily life.
On Wednesday evening, more than 80 residents, scholars, organisations, and members of civil society groups met at Bertha House in Salt River. Many people spoke out about the challenges they experience during loadshedding and how the power crisis could be resolved.
The meeting, facilitated by #UniteBehind, also marked the start of the #FixEskom campaign to get the government to end loadshedding and to find alternative power producing sources. This comes in the wake of the National Energy Regulator (NERSA) approving Eskom's electricity tariff hike for the 2022/23 financial year and 12.74% for the next. This will be effective from 1 April 2023.
Under the #FixEskom campaign, they are demanding that loadshedding end by December 2023 and they want Mineral Resources and Energy Minister Gwede Mantashe to be fired. Some of their other demands are (1) the planned tariff increases to be scrapped; (2) for municipalities to procure their own power and to build new power lines and (3) substations to enable investment in renewable sources.
#UniteBehind director Zackie Achmat said they are encouraging people across the country to join the #FixEskom campaign. Achmat said that those who are unable to take to the streets in February can organise lunchtime pickets.
Nonqaba Melani, who lives in Site C in Khayelitsha, told attendees that one of the biggest challenges of loadshedding is the damage it causes to appliances. She said this has also caused electricity boxes to explode, causing shacks fires.
Melani said many people's stokvel perishables had to be thrown away over the festive holidays because of rolling outages over the festive season. "Most of us are part of community stokvels. In December, there were meat stokvels for the festive season but because of loadshedding, we ended up throwing away most of that meat because there was no power to switch on the fridges," she said.
She said many residents are opting to use paraffin and gas to boil water and cook.
Academic and HIV activist Vuyiseka Dubula said loadshedding has exacerbated the inequalities in communities.
Bridget Nkomana from the Back2Work Campaign said while there are talks of the City buying electricity from other power producers, there are concerns over its affordability.
In a statement this week, Assembly of the Unemployed said that by implementing the 18.65% electricity tariff hike, "Eskom is stifling consumers, especially the poorest of the poor, who can barely afford the current rates".
The group said that the "public should not have to pay for ongoing corruption, mismanagement and Eskom's wasteful expenditure". They too are calling for mass action against the increases and loadshedding.
© 2023 GroundUp. This article is licensed under a Creative Commons Attribution-NoDerivatives 4.0 International License.
You may republish this article, so long as you credit the authors and GroundUp, and do not change the text. Please include a link back to the original article.
We put an invisible pixel in the article so that we can count traffic to republishers. All analytics tools are solely on our servers. We do not give our logs to any third party. Logs are deleted after two weeks. We do not use any IP address identifying information except to count regional traffic. We are solely interested in counting hits, not tracking users. If you republish, please do not delete the invisible pixel.