Elderly should get houses first, Mfuleni residents tell government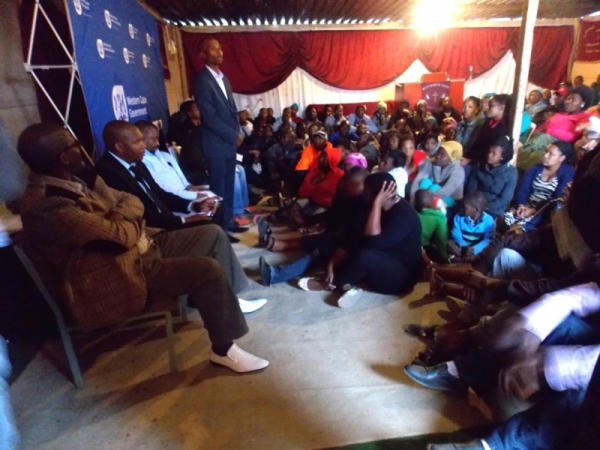 Residents of Garden City in Mfuleni braved chilly weather on Tuesday evening to voice their demands about housing to provincial government representatives.
Residents had invited MEC for Human Settlements Bonginkosi Madikizela to answer their questions at an imbizo but the MEC was unable to attend. Instead, Human Settlements spokesperson Zalisile Mbali and two other representatives visited elderly and wheelchair-bound residents to assess their living conditions before meeting about 100 residents in a local hall.
Residents asked when the government would build houses for shackdwellers in the area.
Mariam Commando, 77, told the provincial representatives she had been living in Garden City for more than seven years and it was difficult for her to get to the communal chemical toilets which were far away. Her legs were no longer able to carry her, she said.
She described her living conditions as a nightmare because her shack leaked and when it rained her belongings were damaged.

Mariam Commando explains her difficulties of living in a shack.
Photo by Siyavuya Khaya.
Commando said her two-roomed shack was not enough big enough for her family and some family members had to sleep on a mattress on the floor.
"I can't afford to buy a house because there is only one source of income, which is my pension, and I have to support my three grandchildren that are not working. I would love to get a proper house for me and my family," she said.
Community leader Malibongwe Wisa said Garden City had been settled in 1998, but there had been no development and not one government official had addressed residents about plans to develop the area. Yet other areas which had been settled later, such as Extension 4, were being developed.
He said members of the community felt that they had been forgotten by the government.
"When houses were built in Extension 4, we were told that we would be next to get houses built by the department of Human Settlements and that was ages ago. Now Human Settlements want to build house for backyarders. What about people who are not backyarders?"
Wisa said elderly people should be the first to get houses.
He emphasised that the community was not willing to move to another place and development should take place in Garden City.
Mbali told the residents that their complaints and questions would be handed over to the MEC.
Dodgy people are suing us. Please support us by contributing to our legal costs and helping us to publish news that matters.
© 2016 GroundUp.
This article is licensed under a
Creative Commons Attribution-NoDerivatives 4.0 International License
.