Eastern Cape villagers drink water with animals
Taps in KwaDukathole have run dry since 2014, say villagers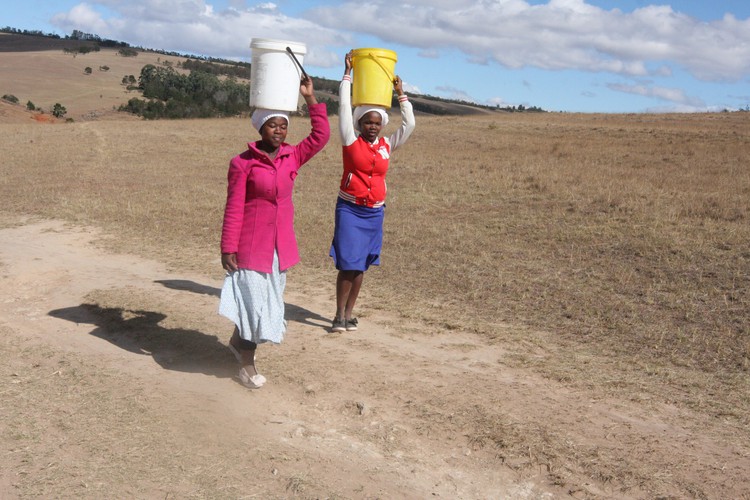 Residents of KwaDukathole village in the Eastern Cape have been sharing their drinking water with livestock since 2014, in spite of promises by the Chris Hani municipality to fix the village taps.
Bonga Skiti, 34, told GroundUp that the situation is very bad in the village. "We used to live a normal life in this village. But things changed in 2014 when our water taps went dry. We reported this matter several times to our Chris Hani District Municipality. Officials came and assessed the situation and they told us there are pipes that need to be fixed. But we do not know why our municipality does not fix this problem because they diagnosed the problem long time ago," she said.
School children, who have to fetch water from the nearby dam, are the worst affected. On school days they have to wake up about 5am to fetch water before school, and since the 25 litre buckets they carry on their heads do not contain enough water for the family, they have to fetch water again after school.
GroundUp met Zinzi Buzi, 14, and Zizo Zolwana, 17, on their way back from the dam with buckets on their heads.
Buzi said they had to travel a couple of kilometres to fetch water in the dam. "Sometimes you get a headache because these buckets are heavy. When you get to the classroom it is difficult to concentrate because you are tired. While you are in the classroom you also think about the road that you have to travel to fetch water."
"I heard that our municipality is aware of this situation but I do not know why the problem has not been fixed until now," she said.
Zolwana said the water was not clean. "We drink water that is also drunk by animals. Dogs and pigs just swim in this dam and there also kids who swim in this dam. Sometimes cattle, horses, sheep and goats relieve themselves in the water after they drink. But we drink this water because we do not have water."
"Other villages near ours do have water. I do not know why our municipality is failing to fix this problem," she said.
Chris Hani District Municipality spokesperson Thobeka Mqamelo told GroundUp she was unaware of the problem. "I will double check with our engineering department which deals with problems like this one," she said.
Dodgy people are suing us. Please support us by contributing to our legal costs and helping us to publish news that matters.
© 2017 GroundUp.

This article is licensed under a Creative Commons Attribution-NoDerivatives 4.0 International License.
You may republish this article, so long as you credit the authors and GroundUp, and do not change the text. Please include a link back to the original article.