Dispute over legality of Khayelitsha shack demolitions
Social Justice Coalition claims shacks were occupied and that City didn't have eviction order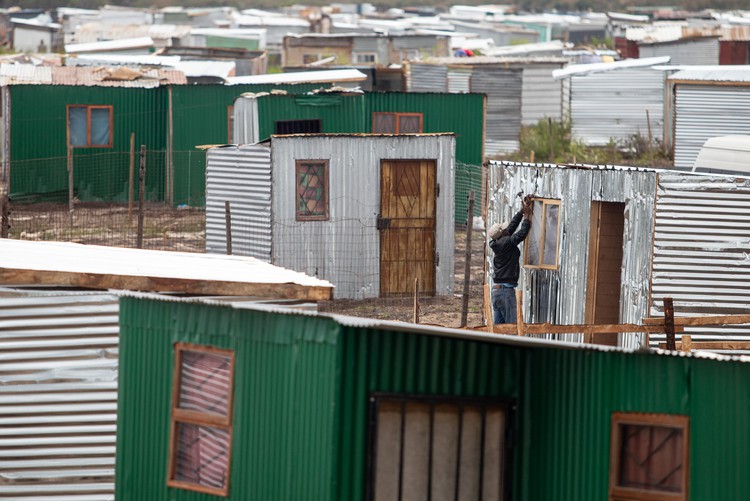 City of Cape Town law enforcement officers demolished shacks in Island informal settlement in Makhaza on Wednesday. Building materials were also confiscated.
This came while there is an ongoing case by the occupiers against the City to prevent their eviction. The residents lodged their court papers on 11 April and the case was first heard at Western Cape High court on 3 May. The next hearing is set for 14 June.
The crux of the case is whether or not the City may proceed to evict the occupiers without first obtaining an eviction order, even though the City has an interdict preventing occupation of the land. In dispute is whether or not the shacks removed by the City were indeed occupied.
By the time GroundUp visited on Thursday, rebuilding of the demolished shacks had already begun. Unlike many informal settlements, the occupants have built shacks in rows creating roads for easy access to the area.
"We know we are not going to get services," said residents' committee member Fundile Mapolisa. "As the people that will be living here, we are making things easier for us … We want ambulances and police to be able to get into the community. We want a community where we are not prone to fire even if we live in shacks."
Mapolisa said that the committee had registered over a 1,000 households. When GroundUp arrived he had been walking around the area to see if people were building in line that have been agreed on.
In the court case the judge ordered mediation between the City and the occupants. The parties have had one meeting since then.
Axolile Notywala, General Secretary of the Social Justice Coalition (SJC) said the organisation had filed an urgent affidavit on 11 May after shacks were demolished on 7 May to say the City was in contempt of court.
"They are in contempt of their own interdict which states specifically that the interdict may not be used as an eviction order." said Notywala.
Notywala cited an order given by Judge Robert Henney on 11 May. It states, "It is further ordered that no person occupying a structure should be evicted by demolition as at date of this order."
Jonty Cogger, an attorney with the Ndifuna Ukwazi Law Centre, explained that the problem is that the City believes the houses they are demolishing are unoccupied. "We have seen from the video evidence it is not the case," said Cogger.
In response to a list of questions, including whether occupied shacks were demolished, the City's Director of Communication Priya Reddy said the City "has a court order in place".
"The City was accompanied by the Sheriff of the Court on 30 May 2018. The mediation order is being complied with," said Reddy. "Further responses will be made directly to the complainants, as and when required."
Lutho Gwebinto's bed and a few other belongings was still outside his shack on Thursday. He said he was at work when his shack was demolished on Wednesday. "I spent R3,500 to buy this shack and today alone I have spent close to R2,000 replacing the damaged material and on transport to get those things. I am not a rich man. I do not just have money lying around."
Golden Arrow driver Siyabonga Similo said, "No one would choose to move to a place where the is no water or electricity… We are all here because we are desperate."
The previous the City's Law Enforcement had removed occupiers on the stretch of land but further away in Green Point Khayelitsha in scenes that have played themselves out more frequently this year in Cape Town.
On Monday Mayoral Committee Member for Safety and Security JP Smith said that the City's Anti-Land Invasion Unit removes about 15,000 "illegal structures and/or pegs per annum". But, in just the first four months of 2018, "that figure is standing at over 26,000". The number of protests has also gone up from 85 in the same period in 2017 to 145 this year.
Smith said that the City has requested SAPS to establish a "priority committee on protest action".
Dodgy people are suing us. Please support us by contributing to our legal costs and helping us to publish news that matters.