Disabled students protest against police on Wits
But as some exams disrupted university commits to continued security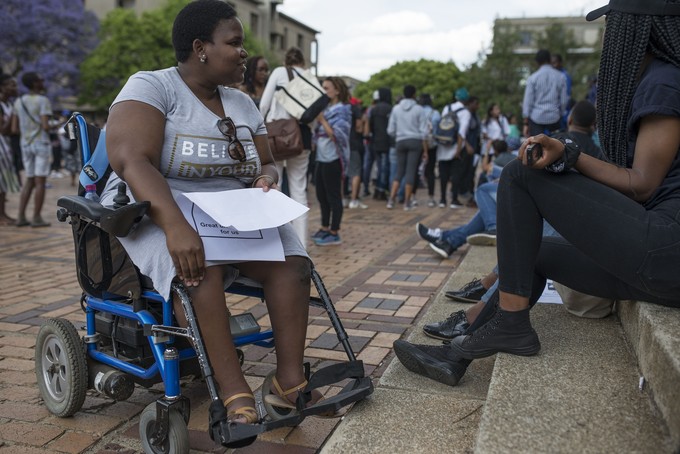 On Monday Wits University students with disabilities participated in a protest march from the David Webster residency to the Great Hall. The march was escorted by campus security and proceeded peacefully and without incident.
Protesters in wheelchairs held up signs criticising the high-level of police on campus and the uncertainty that this creates for students with disabilities. Protesters also called for greater access and better facilities for students with disabilities on campus.
The protesters were joined by workers from Wits outside the Great Hall where they handed over a memorandum to management.
Some of the protesting students claimed that when police attack residencies during the night firing tear gas and rubber bullets into the living residences they fail to take into account that students with disabilities are also residing in these buildings. "We feel that we are at higher risk when these acts are done by the police due to the fact that the majority of our rooms in residences are on the ground level and when things like tear gas are thrown at residences it affects us the most," said one of the students at the protest.
Sharon Mkhwanazi a 3rd year studying to become a social worker manoeuvred her wheelchair between two police Nyala's as she made her way towards the Great Hall to join the protest. "We as the students living with disabilities feel that it is about time that we also make our voices heard. What is going on here on campus affects us even more because we already have some limitations," said Mkhwanazi. "So for instance if the police decide to open fire I'm not going to be able to move fast enough to escape that chaos of rubber bullets and tear gas. No one takes this into consideration so that is why I felt it important to come and let my voice be heard here today."
Meanwhile the university's executive committed to keeping the university open. In a statement released on Friday titled "Classes and exams disrupted but academic programme resumes on Monday", the university stated: "Students who have been identified as having violated the university's rules are being suspended."
The statement continued: "Several lectures and two tests were disrupted today on the Braamfontein campuses. In many cases, protesting students entered classrooms pretending to sit for a lecture and/or test before setting off firecrackers and stink bombs to disperse students. They also blew whistles extremely loudly so that lectures and tests could not continue and students panicked and evacuated the rooms. In some cases, students continued with lectures outside the classrooms."
"A test was disrupted in the New Commerce Building while about 500 law students were unable to complete their tests this afternoon. Students tried to disrupt lectures at the Faculty of Health Sciences in Parktown this morning but were moved out of the building by private security and the police. … Four students were arrested on our campuses today for contravening a court order. Students who have been identified as having violated the University's rules are being suspended … The University respects the rights of those who want to protest, but not at the expense of the Constitutional rights of those who want to work and learn."
The university has developed a "separate, extensive security plan to ensure that examinations are written without disruption."
Dodgy people are suing us. Please support us by contributing to our legal costs and helping us to publish news that matters.
© 2016 GroundUp.

This article is licensed under a Creative Commons Attribution-NoDerivatives 4.0 International License.
You may republish this article, so long as you credit the authors and GroundUp, and do not change the text. Please include a link back to the original article.