Disabled and living in a shack
|
Mary-Anne Gontsana
News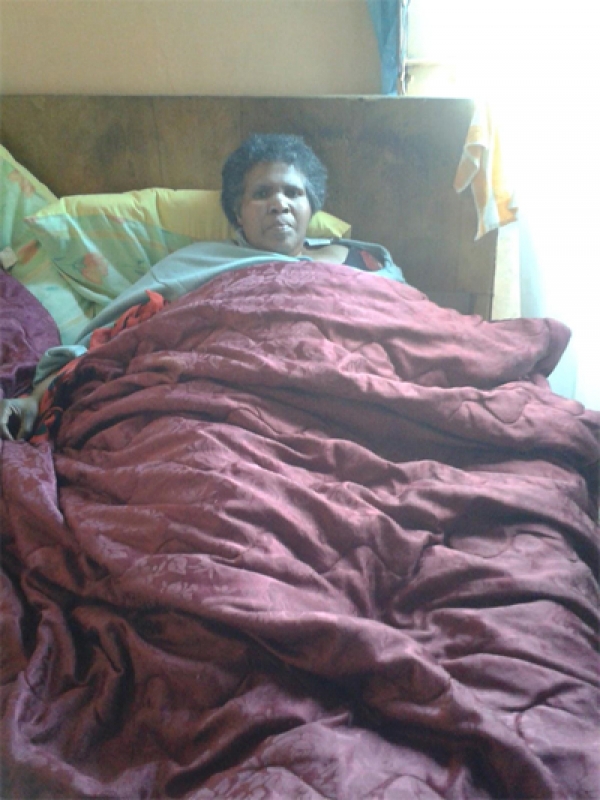 Regina Mahlombe is 64. She has become bed-ridden as a result of being stabbed by muggers in Gugulethu when she was 21. She yearns to leave her shack for a proper home.
Mahlombe, affectionately known as Ncinci, has been living in Site B's QA Section in Khayelitsha since 1990. In 1997, she almost burnt to death in her abode in a shack blaze.
Located between many other shacks, when you walk into hers, you are greeted by a sparsely furnished lounge and on your left, Mahlombe's bedroom, with a curtain for a door.
"They stabbed me at the back of my neck, right through to my spine. I lost the use of my lower body and it resulted in me using a wheelchair. As time went by and I grew older, my body started giving up. Now I cannot even get out of bed. Everything I do, I do in this bed," said Mahlombe.
In front of Mahlombe's bed are two buckets and a black crate. One bucket is filled with water, which she uses for her dishes, and the other she uses to empty her bedpan; the crate serves as a little table.
"I have a son and one day, when he had left for school in the morning, he left the flame [on the prima stove] burning. I had to drag myself out of bed and get into my wheelchair to go and turn off the flame. When I got to the kitchen, the fire had already ruined parts of the wall."
"Now my neighbours are not always there and even if they are, their houses are closed, so they wouldn't even hear me call for help. The way our shacks are next to each other, an ambulance wouldn't be able to get here. This made me realise that I am living in danger."
"All I want is a house, where I can feel safe and be comfortable because of the situation that I am in," said Mahlombe.
Mahlombe, who is cared for by her unemployed 21-year-old granddaughter, is one of many people in the Western Cape who are still waiting for houses because of the huge housing backlog and may be waiting for many years still.
Dodgy people are suing us. Please support us by contributing to our legal costs and helping us to publish news that matters.
© 2016 GroundUp.
This article is licensed under a
Creative Commons Attribution-NoDerivatives 4.0 International License
.