DA and ANC councillors both say hostel is not in their ward
"We are good enough to be used during elections but when we want service delivery we become a nuisance to them"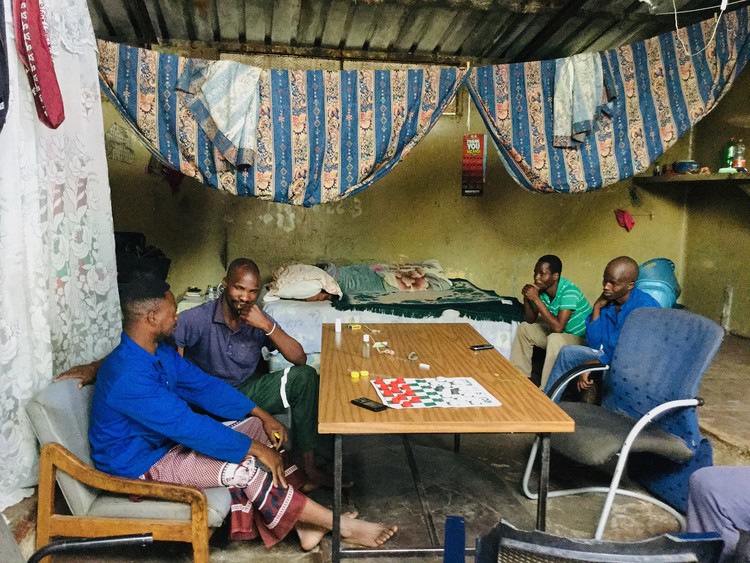 Residents of Sallies hostel, an old mine compound in Brakpan, say neither ward 105 Councillor Stephanie Uckermann (DA) nor ward 74 Councillor Thulani Simelane (ANC) has taken responsibility for their community since 2016.
Community members say there are water shortages and over ten households share a few toilets that have not been cleaned for months. Some hostel rooms are shared by three or four families. They have no electricity and there is strife between the residents.
A previous councillor had promised residents that the hostel would benefit from a government hostel renovation project but this never materialised.
Residents say Sallies mine closed down in 1999. Only a few of the current residents were workers at the old mine; most are descendants of the mine workers.
The hostel is adjacent to the DRG Ergo Gold mine, which the community says does little or nothing to support them. They wanted their councillor to intervene, but they don't know which councillor to turn to.
In the 2016 municipal elections, hostel residents voted at a voting station in Minnebron, under ward 105. Hostel resident Susan Defos even contested as an ANC candidate, but lost to Uckermannn. Some residents said they volunteered during the elections working in ward 105, but to their surprise Uckermann told them that they belong under ward 74. Defos said there were also some DA members in Sallies Hostel.
"Most of the people under ward 105 are whites living in suburban areas. Maybe we are not good enough because we are black," said Defos. "It's a pity l did not win. l would be putting my community first."
Residents say Simelane once came to their aid but claimed he was doing so on a voluntary basis. Of late, they say, they have struggled to reach him.
Uckermann said the people were misled by the ANC to vote and volunteer under ward 105. Simelane denied this.
Uckermann said she did try and help the community when she came to office in 2016, but stopped when she discovered it was in fact under ward 74.
"The hostel is under ward 74 belonging to Simelane. There is another area called Sallies Village, which is under my ward. Sallies Hostel is not in my ward. Maybe that is where the confusion is."
"The community needs major capital investment for service delivery, such as water and electricity. As much as l may want to help them l cannot because the people in my ward would be furious that l shared their budget with people who are outside the ward. They have a budget allocation under Simelane," said Uckermann.
"Simelane should step up and serve his people. Allegations of me racially discriminating against the Sallies Hostel residents are far fetched as 60% of people in my ward are black," she said.
Uckermann said she wrote a letter to the Speaker of the Ekurhuleni Council, complaining that Simelane was refusing to take responsibility for the ward.
Simelane told GroundUp that the hostel had been placed under ward 105 after demarcation. "That area is private land but people still need service delivery because they voted. The priority is for the people to apply for houses because some of them qualify. However, according to demarcation, the area is under 105. When the people of Sallies vote they vote under ward 105. After voting and the people now need services, the DA says it is under 74," said Simelane.
"I assisted them with a mobile clinic and the issue of toilets. l am still willing to help them out where l can," he said.
"So we are good enough to be used during elections but when we want service delivery we become a nuisance to them," said Lans Makhubo, a Sallies hostel resident. "The youth in our community are unemployed and the local mine and the council does not employ us for projects."
"We have a serious problems on our hands. People are desperate. The government should clarify the issue and give us a ward councillor who will serve us wholeheartedly," said Paulos Mthetwa, residents' chairperson for the area.
Daniel Sebake, a senior manager at the Demarcation Board, sent GroundUp a map which confirms that Uckermann is correct that Sallies Hostel falls under ward 74, while Sallies Village and Club fall under ward 105.
Sebake said ward 105 was a new ward introduced in the area in 2016 due to the increases in the number of voters in the area. He said under the Municipal Structures Act each ward in a municipality should have an equivalent number of voters with a 15% variation from the norm allowed.
"So, this implies that if the number of voters in a certain area increases, there is a high likelihood for the size of the ward to change as some of the voters will be moved to adjacent wards in order to balance the numbers," he explained.
"Due to a lot of people moving into cities, the ward shapes and sizes in these municipalities will be changing more often than in municipalities with [fewer] people migrating into their spaces. As a result, wards in cities are ever-changing."
Dodgy people are suing us. Please support us by contributing to our legal costs and helping us to publish news that matters.