CPUT drops intimidation charges against SRC president
Management commits to "reconciliatory process"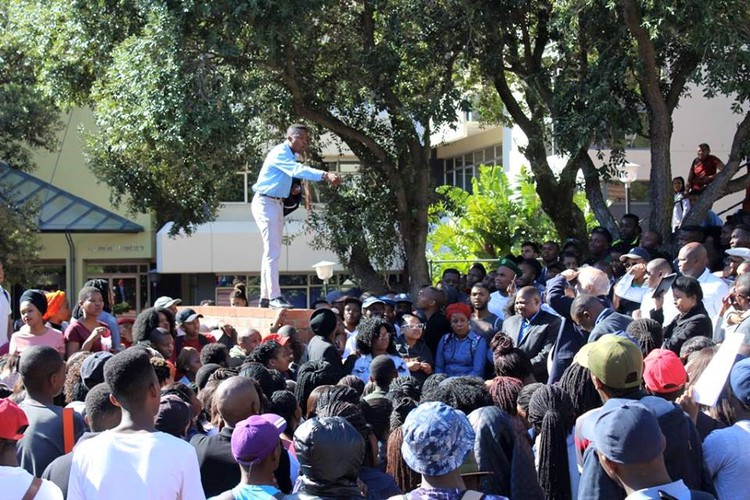 Following an impromptu mass meeting on 14 August at the Cape Peninsula University of Technology (CPUT) city campus, the university has agreed to drop the charges against city campus SRC President, Ayakha Magxothwa, and commit to a "reconciliation approach". Magxothwa faced charges of intimidation and harassment laid by three staff members at CPUT during the protests to insource workers earlier this year.
Magxothwa was expected to attend a disciplinary hearing on the day but over 100 students left their classes to attend the impromptu mass meeting in support of Magxothwa. As a result, the disciplinary hearing was cancelled and management signed the agreement to drop the charges.
The #FeesMustFall CPUT statement released on 15 August read: "This set a precedent that if any of us is under attack, we suspend political badges for the betterment of all of us because no one is immune from victimization by management using Judicial Affairs…". The statement went on to thank members of the SRC, PASMA, EFFSC and workers for uniting to support Magxothwa.
Magxothwa told GroundUp he was relieved that the charges had been dropped. He said he had sleepless nights and as a result, had been unable to focus on his studies. "These intimidation and harassment charges came from university staff members who are not used to my approach. They would tell us to leave the office before the discussion was over and I would refuse. They saw this as harassment and intimidation."
He said other students had been charged by the state for the #FeesMustFall protests in 2016 and some had been suspended from the university. He said management had been asked to write to the court requesting that the charges be dropped.
CPUT spokesperson Lauren Kansley confirmed that management after a "mammoth" meeting between students and staff "affirmed a reconciliatory stance with regards to student discipline matters. Acting Vice-Chancellor Dr Chris Nhlapo continues to meet with students today."
GroundUp has not yet been able to get hold of the staff members who lodged the complaints.
Dodgy people are suing us. Please support us by contributing to our legal costs and helping us to publish news that matters.
© 2017 GroundUp.

This article is licensed under a Creative Commons Attribution-NoDerivatives 4.0 International License.
You may republish this article, so long as you credit the authors and GroundUp, and do not change the text. Please include a link back to the original article.