Concern about government plans to move people to Pelican Park
While officials say there are good facilities, others paint a grim picture of the suburb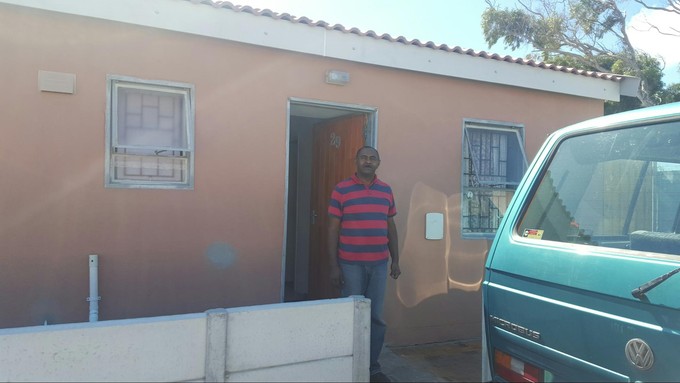 Abduragman Ganief has a house in Pelican Park with his wife and two children after 24 years on a housing list - but he doesn't like it.
"There are no soccer fields, no community centre, no churches or mosques, and the nearest school which is a ten minute walk, is a primary school which is always full, because it cannot cater for all the children who live here," he says. "There is only one shopping centre and it is expensive, especially because for most of the people who live here their source of income is social grants."
He complains about the quality of the houses and about crime in the area.
Tenants in houses elsewhere in the city have expressed fears that they would be evicted and moved to Pelican Park. But the City says all the subsidised homes in the R700 million housing development have already been allocated and no more families can be moved there.
GroundUp reported last month that tenants in City-owned houses in Maynard Street, in central Cape Town, were up in arms after coming across a notice in a local newspaper saying their houses were to be sold. They had heard they would be moved to Pelican Park, they said, and they were concerned about lack of infrastructure and high rates of crime. But Executive Deputy Mayor Ian Neilson says the City is not aware of any offers of alternative accommodation because the sale of the Maynard Street houses was still being investigated.
A huge board written Power Construction is the first thing you see when entering the Pelican Park development. Houses are painted beige or orange, spaza shops are scattered in the bare area which has been given the name New Horizons.
Ganief lives in a two bedroom house which is 42 square metres. He says he had to do everything from scratch when he moved in because the house was just a shell.
"The City says it is giving us these houses for free, but we had to sell half of our belongings to make it liveable. Everything was raw when we moved in. You must plaster, skim, tile and you must put in your own geyser for hot water. You must spend about R15,000 to R20,000 to make this house liveable."
He says that the 350 litres of water which is provided free is not enough, that there are cracks in the walls and the roof leaks.
Ganief, who is chairman of the area's neighbourhood watch, says cars and houses are frequently broken into.
But the City's Mayoral Committee Member for Human Settlements, Benedicta van Minnen, says the development is situated along a public transport route "and near schools and other facilities. There are generous open spaces within the development itself and safe courtyards encircled by houses."
She says the development contains 2,024 totally subsidised homes alongside 760 starter homes selling for R375,500, and 360 higher value homes valued from R497,500 to R700,000.
"By December 2015, beneficiaries had been identified for all of the totally subsidised homes and title deeds have been issued."
The provincial department of human settlements also has a housing project in Pelican Park and some residents of Naruna Estate in Plumstead fear they might be moved there. They are concerned about lack of infrastructure .
Provincial MEC Bonginkosi Madikizela's spokesperson, Zalisile Mbali, said this was "absolutely incorrect".
"This area has infrastructure, such as a school, is walking distance to the shopping centre, is close to transport, is few kilometres to Wynberg, and approximately ten kilometres to the City centre. This is a well-established area." (According to Google Maps it is over 20 kilometres from Pelican Park to the city centre.)
© 2016 GroundUp.

This article is licensed under a Creative Commons Attribution-NoDerivatives 4.0 International License.
You may republish this article, so long as you credit the authors and GroundUp, and do not change the text. Please include a link back to the original article.