"People are gatvol" of being "forgotten" by Ekurhuleni mayor
Geluksdal community wants 100kWh of free electricity to be reinstated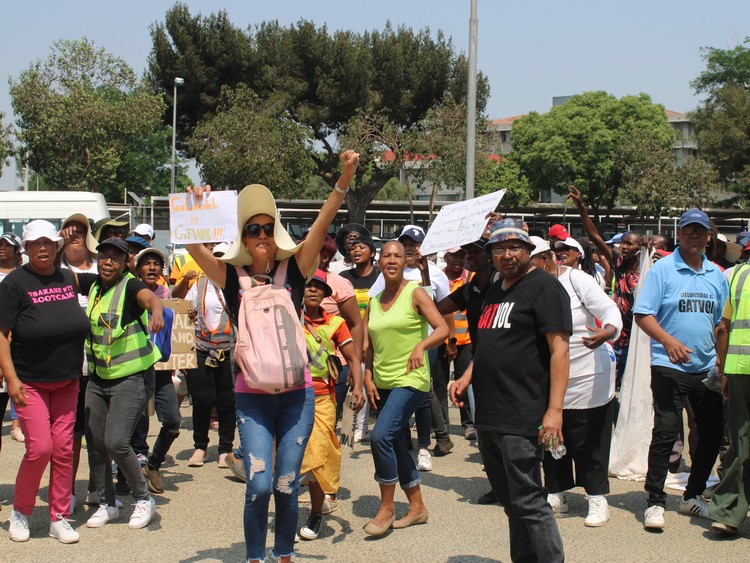 About 100 Geluksdal residents picketed outside the City of Ekurhuleni's mayoral offices in Germiston on Tuesday. They are demanding that the City give them answers following violent protests in August and again in September over electricity issues and poor service in the community.
At the centre of the protests was that until May this year, all residents in Ekurhuleni used to get their first 100 kilowatt-hours (kWh) of electricity free. But this was adjusted, the municipality said, when it implemented a National Treasury directive which stated that only indigent households with an income of less than R3,500 a month can qualify. The free allowance for qualifying households is now 50kWh per month.
But many residents say they are still struggling to pay historic debt with high water bills and electricity tariffs.
Residents also complained about poor services at the local municipal office, high unemployment rates, and poor services at the community clinic. The protesters also want ward councillor, Henry Desmond Buitendacht, to be removed as they accuse him of ignoring their complaints.
"People are Gatvol! We are submitting a third memorandum [to the City] but nothing has been done. The issue of free [electricity] units is a major one because many residents who cannot afford to buy electricity were relying on the free units. The community is suffering without free units," said Pule Moagi, a community leader.
He said the Geluksdal community feel like they have been "forgotten". He said there was only one clinic which was not functioning properly. "Our government is not doing anything to address our issues. The councillor needs to start working for his money," he said.
Resident Chamaine Miller, who joined picketers, said she has been blocked from buying electricity for five years because she owes about R17,000. She said she was told to pay R5,000 to reactivate her metre. "I'm unemployed. The municipality should consider a person's circumstances before they block our electricity. Where am I supposed to get R5,000 from?" she asked.
Mayco Member for Finance and Economic Development, Fanyana Nkosi, signed the group's memo on behalf of the mayor. He promised to respond within 24 hours as requested.
Councillor Buitendacht said he was willing to discuss issues with the residents but added that he did not understand why they were asking for his removal.
Dodgy people are suing us. Please support us by contributing to our legal costs and helping us to publish news that matters.
Letters
Dear Editor
The counsellor to assist Geluksdal is beyond incompetent to resolve issues. I logged a complaint on 2022/09/15, but it is still not resolved today, after numerous calls. The supervisor with the name of Pule is never in the office. I am left beyond words, the meter is still leaking – and when the bill comes, it will be my problem. I don't know what to do anymore.
Dear Editor
It is probably unfair that the free electricity supply has been cut to 50kw per month. But, it is also unfair that the already diminishing middle class should carry those costs. We also know that there is a worsening situation that is happening because of the incompetence of the past governance of this services issue, laced with outrageously high corruption issues. Why the attack on the new governance when it was because of the past governance that we find ourselves in this position today? And with the exponential growth in sabotage cases against all services it has become an impossible task. People should get real with this situation.
© 2022 GroundUp. This article is licensed under a Creative Commons Attribution-NoDerivatives 4.0 International License.
You may republish this article, so long as you credit the authors and GroundUp, and do not change the text. Please include a link back to the original article.
We put an invisible pixel in the article so that we can count traffic to republishers. All analytics tools are solely on our servers. We do not give our logs to any third party. Logs are deleted after two weeks. We do not use any IP address identifying information except to count regional traffic. We are solely interested in counting hits, not tracking users. If you republish, please do not delete the invisible pixel.