Civil society mobilises to end Zuma presidency
March in Cape Town to be held on 7 August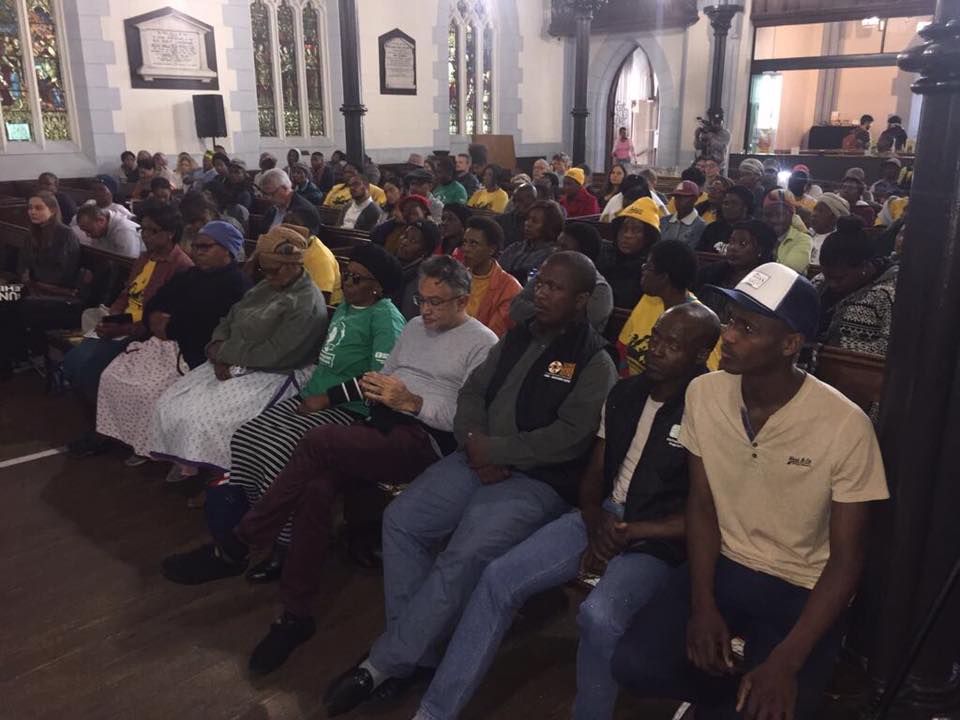 #UniteBehind held a public meeting on Saturday at the Central Methodist Mission Church on Greenmarket Square in Cape Town to prepare for mass mobilisation in support of the recall of President Jacob Zuma.
AmaBhungane journalist, Micah Reddy, explained the #GuptaLeaks and its implications for democracy. The city's biggest civil society movements participated in the meeting, using the opportunity to mobilise for a "People's March" to be held on 7 August in advance of the no confidence vote in Zuma in Parliament scheduled for 8 August. The march will demand that Zuma be recalled by the ANC. Large protests are expected to take place in Johannesburg on 8 August as well.
Reddy, one of the journalists recently attacked by (almost certainly) Gupta-funded Black First, Land First (BLF), spoke about two examples of "abuse of power" by the Gupta family and the government. The first example was the extravagant Gupta wedding and the second was the Transnet tender awarded to a Gupta linked company.
The R30 million wedding was funded by Free State Provincial Government's budget to start a community dairy farm. According to the #GuptaLeaks emails, several well-known businesses were instrumental in the money laundering process. Among these is one of the "big four" auditing firms, KPMG, who wrote the R30 million off as "business expenses". [This is not an isolated example of KPMG turning a blind eye to corruption. Read this. - Editor] 
Reddy explained that this was an important example of how corruption has a direct impact on communities who are supposed to benefit. [Other multinational companies to be implicated in the Gupta corruption include consulting firm McKinsey, and German software firms SAP and Software AG. - Editor]
Reddy also explained the second incident, which highlighted the method the Gupta family uses to benefit from foreign investment. Tequesta Group Ltd, a company owned by a Gupta affiliate Salim Essa, entered into an agreement with Chinese South Rail (CSR). Tequesta's mandate was to land the tender for CSR to supply Transnet with over 1,000 locomotives. As a result, the Guptas earned R5.3 billion in kickbacks and R10-million from each R50-million locomotive that Transnet was buying. "I asked my friend to do a calculation of how many social housing units can be built with R5.3 billion. R5.3 billion can build 53,000 RDP houses", said Reddy.
While the #GuptaLeaks have been reported extensively in the mainstream media, during question time, a member of #UniteBehind urged Reddy to bring this information to communities, by which was presumably meant townships and poorer areas in the country. He explained that some people may think #GuptaLeaks is a politically motivated ploy against the ANC if the information is not explained adequately.
Zackie Achmat, who co-founded the Treatment Action Campaign (TAC) and is helping the #UniteBehind effort, used an analogy to explain the scale of the Gupta corruption: "It's like going to a bank, but you don't rob it. Instead, you go to the big bosses and steal money from everyone's bank accounts".
Another member of the audience said that the post-apartheid government has been captured by a minority once again: "Maybe we should do what we did to get rid of the apartheid regime".
A member of Equal Education raised the issue of access to education and jobs for the youth. She explained that there are children in communities who complete matric but are unable to find jobs or access education due to the failure of government to create opportunities for the youth.
Towards the end of the mass meeting, Equal Education, Right2Know and Social Justice Coalition encouraged people to mobilise and participate in the upcoming march. Vuyisa Mbayi, Organising Coordinator of Equal Education, said that this is a "fight against corruption" because corruption diverts money away from education.
Vainola Makan, from Right2Know campaign, urged people to act against the state capture. "We didn't allow it for PW Botha and we won't allow it for any president", he said.
Axolile Notywala, Secretary General of SJC, concluded the meeting by saying people need to march to tell the government: "We elected the ANC, not the Gupta family".
According to a report circulated on WhatsApp by Achmat, there are many efforts underway by at least 16 organisations to mobilise for the march. The march will start at 3pm on 7 August at Keizersgracht Street. 
© 2017 GroundUp.

This article is licensed under a Creative Commons Attribution-NoDerivatives 4.0 International License.
You may republish this article, so long as you credit the authors and GroundUp, and do not change the text. Please include a link back to the original article.