City offers Blikkiesdorp residents fraction of houses needed
Uncertain future for those who were expecting houses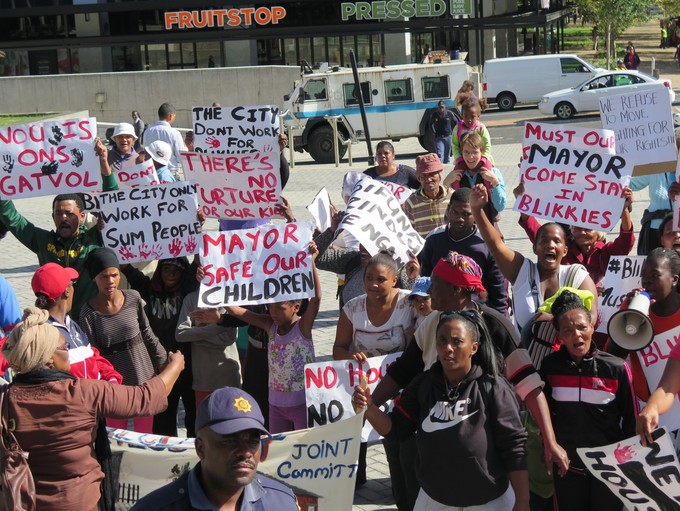 Blikkiesdorp residents are angered by the mayor's latest relocation proposal in which only 3,000 qualifying beneficiaries will receive houses, a number that must be divided between residents of Blikkiesdorp, Freedom Farm and Malawi Camp.
While it is unclear how many households are in the three settlements (estimates vary wildly), it is much more than the number of houses being offered.
Etienne Claasen of the Blikkiesdorp Joint Committee said that when the committee reported back to the community following the Monday meeting with Mayor Patricia de Lille, the community was "furious". They believe that because the City built the structures in Blikkiesdorp and that Malawi Camp and Freedom Farm are both informal settlements, the City should address Blikkiesdorp separately.
He said that they were originally told that there were two pieces of land available but that in the latest meeting they were informed that now there is only one piece of land in the equation.
Claasen also said that they were given the option of choosing serviced sites instead of houses, which would translate into more than 3,000 beneficiaries benefiting from the project.
This option did not seem to appeal to the community as residents who qualify for houses want to receive these but Claasen said that there was to be another community meeting on Sunday where the options would be discussed again with the whole community.
Where the remainder of the residents who don't qualify, or are unable to be accommodated on the relocation site, will go remains uncertain but Claasen said that he thinks they could be moved to Wolwerivier.
Spokesperson for the Mayor Zara Nicholson confirmed that serviced sites are an option at the moment. She also said that the land that has been identified is about 30 hectares and that "housing opportunities are provided according to the waiting list in order to avoid people jumping the queue and ensure a systematic approach to delivering opportunities".
"In addition, over the past few years, many of the original residents of the Symphony Way TRA [Blikkiesdorp] have moved into housing opportunities or they have sold their structures illegally. Currently 100 residents from the Symphony Way TRA also qualify for the Hague Integrated Development and as they move out we will break down those structures."
Dodgy people are suing us. Please support us by contributing to our legal costs and helping us to publish news that matters.
© 2016 GroundUp.

This article is licensed under a Creative Commons Attribution-NoDerivatives 4.0 International License.
You may republish this article, so long as you credit the authors and GroundUp, and do not change the text. Please include a link back to the original article.