City to improve toilet cleaning facility
This is a response by Councillor Ernest Sonnenberg, Mayoral Committee Member for Utility Services, to GroundUp's article "Is this the Dirtiest Job in Cape Town?" published on 21 January.
The article Is this the dirtiest job in Cape Town? refers.
The company called Sannicare entered into a contract with the City of Cape Town in which they are legally obliged to ensure that all prescribed health and safety standards are met, as is standard with any City contract.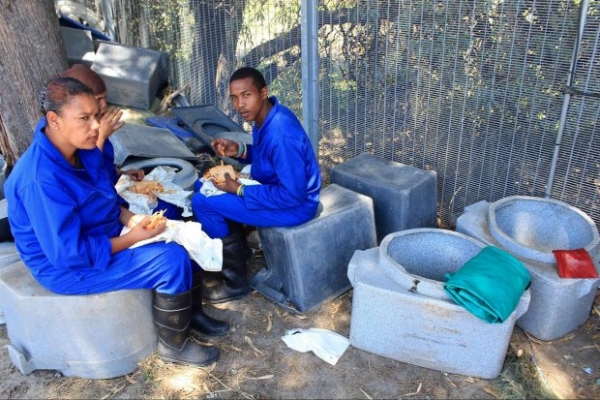 Workers on a lunch break at the facility. Photo by Masixole Feni.
The consumption of food while sitting on toilets is not permitted. Sannicare has been given a stern warning regarding their staff sitting on cleaned toilets [see photo above] in order to ensure that this practice doesn't recur.
With regard to contract workers using City ablution facilities, the permanent staff facilities were opened to contract workers for some time before they were repeatedly vandalised beyond usability. Even since the facilities have been restricted for use by City staff only, they have been broken into and vandalised. The showers are at present being repaired.
Other facilities were then made available to contract workers on site including two chemical toilets (the service of which is paid for by the City) and a large wash basin area. Two huts were made available to Sannicare, and the City can place one more if necessary. These huts can be used for administrative purposes or to accommodate any other staff requirements.
It is important to note that Sannicare workers do not start or end their day at Borcherds Quarry. The time they spend at Borcherds Quarry is limited as the service schedule consists of collecting toilets from settlements around the city, cleaning them at Borcherds Quarry, and returning cleaned toilets to the settlements. A shower is available to workers after their shift at the Sannicare depot.
The City is planning to issue a tender before June this year for the mechanisation of the facility which will reduce the number of people handling portable toilets. During this process, we will provide for further staff amenities such as a mess-area and ablution facilities. The possibility of allowing Sannicare and other contractors to use these facilities (which will be better protected and easier to monitor) will be considered.
The site cannot accommodate a mobile shower facility at this point but we are looking at reconfiguring the site in an effort to make some space available.
In the interim, we will provide an 'emergency shower' which is used in industry in the event of direct contact with any hazardous material, should an emergency need arise. 'Emergency showers' are often used by people who work in similar environments to the Sannicare staff.
Furthermore it must be emphasised that staff working at wastewater treatments works such as this one have necessary protective clothing and inoculations.
The City will continue to find solutions where we can and will also hold our contractors to account to ensure that our own, as well as our contractors' employees, are treated in accordance with the conditions that the law affords them.
Dodgy people are suing us. Please support us by contributing to our legal costs and helping us to publish news that matters.
© 2016 GroundUp.
This article is licensed under a
Creative Commons Attribution-NoDerivatives 4.0 International License
.