Chaos in Uitenhage as angry residents demand housing repairs
Protestors claim ward councillor only serves ANC members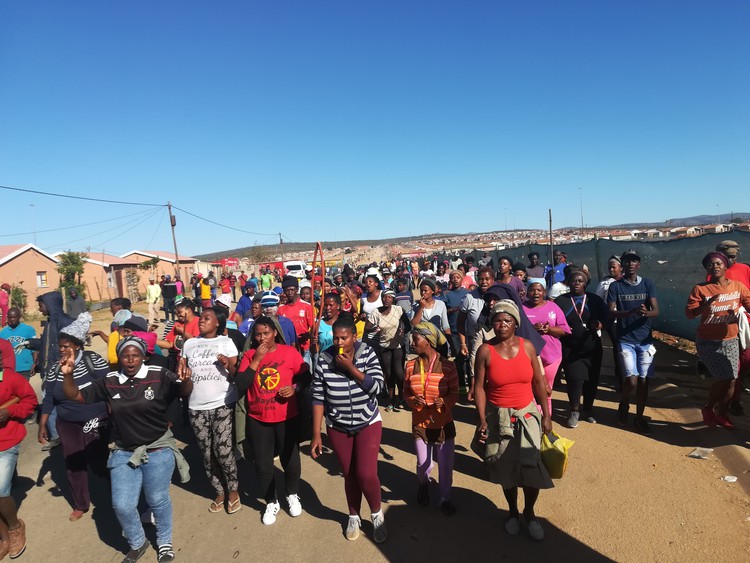 Angry residents shut down the office of their ward councillor Siphiwo Plaatjies (ANC) and burnt tyres in front of his house in Uitenhage in the Eastern Cape on Thursday afternoon.
They demanded the repair of their RDP houses and claimed that all government jobs in their ward in KwaNobuhle, Uitenhage had benefited only ANC members.
"We want him [Plaatjies] to feel the pressure wherever he goes," shouted one of the residents involved, punching his fist in the air.
Resident Mabuti Majola said RDP houses built in the 90s were all crumbling. "The councillor is folding arms, whilst we sleep in leaking RDPs," said Majola. "We can't sleep at night, suffering from flu and some of us have TB."
The residents also prevented building operations on three schools, Noninzi Luzipho and Mjuleni Primary Schools and Nkululeko Secondary School.
The workers at the sites had to pack and leave at the command of the residents, who carried sticks, axes, canes, pangas and knobkerries. They blew whistles, sang and vowed, "we will close down all government projects!"
"What triggered the closure of these three schools' construction was that all the workers are ANC card-carrying members," said Majola. He said residents don't get invites to ward meetings and accused Plaatjies "of serving ANC instead of us residents."
Another resident, Martin Mathews, 48, said, "This thing is making us sick, because we all voted and we all belong to our own political parties. If he doesn't want to heed our warning this time, hell will break loose."
Metro police were present and monitored the situation street by street.
Councillor Plaatjies, who was not at home at the time, denied serving only ANC members in his ward.
"I serve all residents equally and I don't wear an ANC cap all the time," said Plaatjies. "I have had meetings with politicians in the Human Settlements portfolio to discuss the … issue of [repairing] RDP [houses]. Meetings are ongoing and I am trying my best to have their issues addressed."