Township residents occupy city old age home
CPOA says it intended to upgrade Observatory building, but new residents say they will not move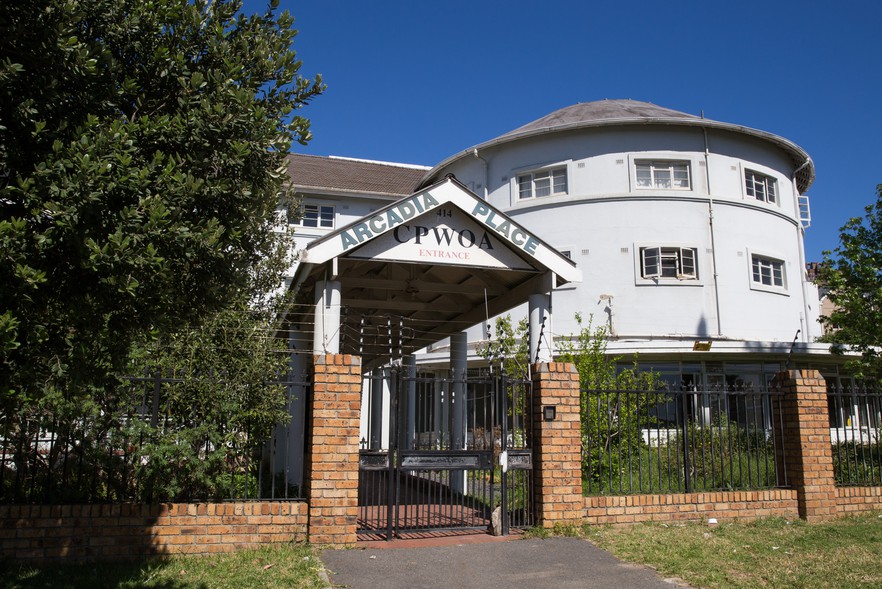 A large group of backyarders and shack-dwellers from different Cape Town townships, who call themselves Singabalapha or "we belong here", have occupied a vacant property that belongs to the Cape Peninsula Organisation for the Aged (CPOA). They have declared that they intend to stay there until the government provides them with alternative accommodation.
A spokesperson for the group, Barbara Vuza, told GroundUp that most of their members have been living in shacks and backyard structures for years, even though most have long been on housing waiting lists. The organisation's members are fed up with living under these conditions, she said, and when they saw a property in Cape Town's suburb of Observatory which had been vacant since February they decided to seize the opportunity and take occupation of what was clearly an unused building.
She said as a former combatant in APLA during the struggle against apartheid: "We learned to grab what we need when we had to. We don't want to do this, but we had to grab this opportunity."
On 21 September, two weeks after the occupation began, the CPOA visited Arcadia Place. The organisation confirmed in a statement that its management had "engaged directly with the occupiers at Arcadia Place" and had explained that the building needed to be demolished because it was unsafe and also that the intention was to "rebuild Arcadia as a new welfare retirement home".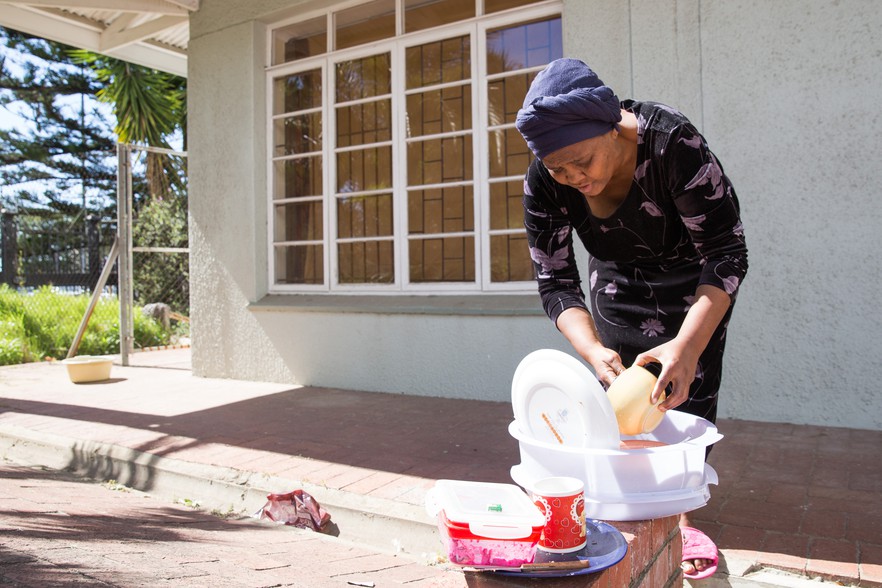 The CEO of CPOA, Dr Michael Zipp, was present at this meeting, where the CPOA explained that it is a non-profit company that provides low-cost "welfare homes" to the elderly with the help of a government subsidy.
According to Vuza, it was a fairly amicable discussion in which the CEO expressed his reluctance to evict the occupiers. It appears all parties agreed that when it comes to affordable housing "the government had failed everybody".
Zipp said in a later statement: "CPOA has promised the Arcadia residents that they can return to their home in Observatory once Arcadia has been rebuilt. CPOA is committed to provide safe housing to those older retirees who do not have the financial means to adequately care for themselves in old age."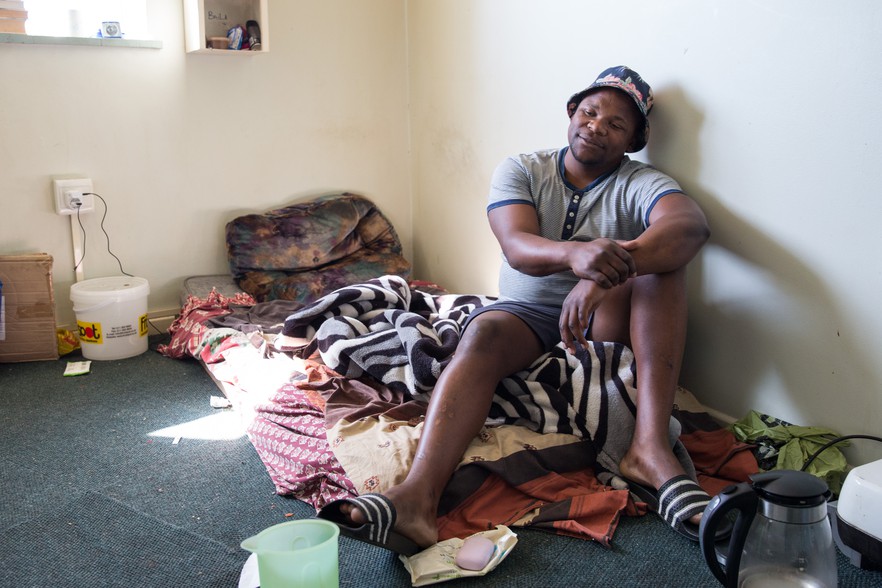 In its media statement the CPOA confirms that "the occupiers responded that they would not leave the building until alternative accommodation was offered by the government". The occupants themselves told GroundUp that they were there to stay and had no intention of leaving.
The day after the meeting, a Sunday, CPOA made an urgent application to the High Court where the presiding judge granted an eviction order. A lawyer mandated by the occupiers responded with an equally urgent application for an interdict to suspend the eviction, which was granted. CPOA and the occupiers are now preparing for the next High Court hearing at which this will be challenged by CPOA.
The occupiers' lawyer could not be reached for comment, but neither parties dispute the sequence of events.
Vuza said that Sheriff visited the premises ordering the occupiers to vacate within 24 hours. He only left when Vuza showed him the latest court order suspending the eviction. However, it is alleged by the occupiers that the very next day armed guards from a private security company entered the premises, milling about for approximately half an hour before departing having taken no action. It is not known whether they were called in by the new partial owner of the property or the CPOA.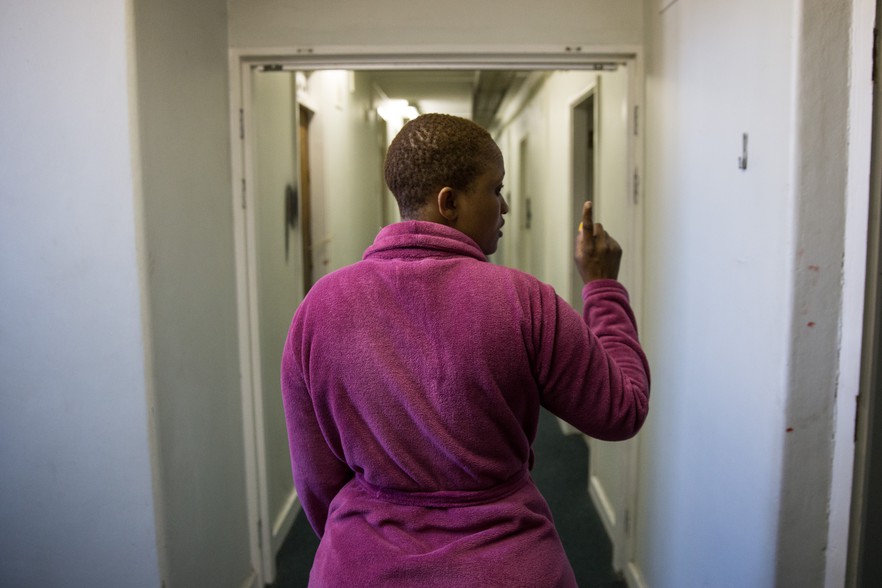 One occupant expressed indignation at what was considered to be an unnecessary show of force. "They had guns, which looked like AK47s, and there were children around." (The company had not responded to our questions by the time of publication.)
Vuza described how the occupants, now estimated at more than 200, slipped onto the premises in small groups, unnoticed – or perhaps deliberately ignored – by building security staff. The illegal occupants kept a low profile and it took about two weeks before their occupation came to the attention of CPOA authorities.
Singabalapa added that they had made a point of inviting the homeless who live on the streets of Cape Town city centre and who have recently been attracting police attention and fined for "obstructing pedestrian traffic" and breaking similar by-laws.
Hopefuls looking for a place to stay continue to arrive, but are told the home has reached its capacity. Their names are recorded on a waiting list, managed by Vuza and the committee, in case vacancies arise.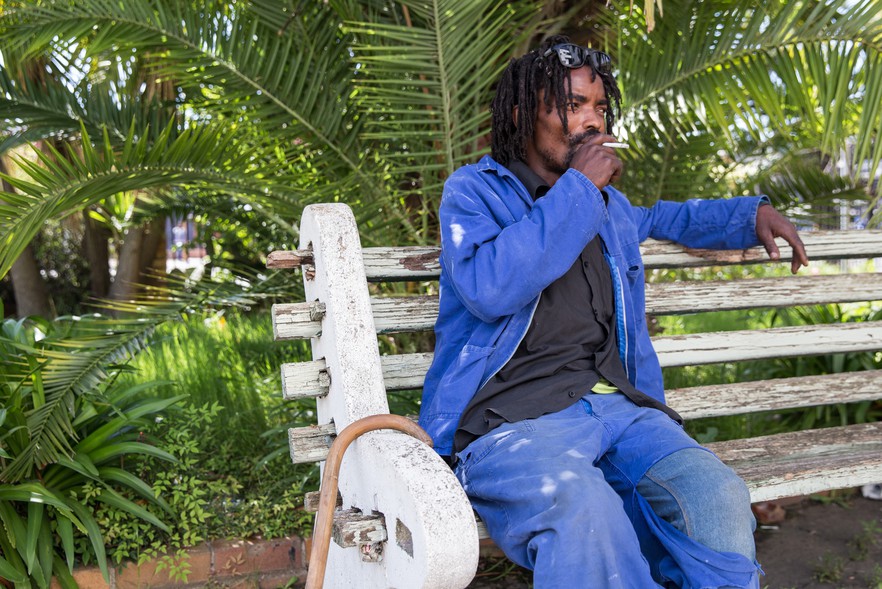 The building, on Main Road, is practically a Cape Town institution. It has been run by CPOA, with subsidisation from the state, as a welfare home for elderly people who are unable to support themselves since 1957. At the end of 2018 it was decided there was a need to upgrade the property as it was considered unsound and posed health and safety hazards. It was reported at the time that residents and their families had been informed of this decision, and despite expressing some concerns, they had accepted CPOA's assurances would be allowed to return to Arcadia Place. All the elderly residents have been relocated and are being accommodated in alternative CPOA homes until the upgrade is completed.
It has been confirmed that this process was completed with no hitches. Most residents have been moved to CPOA's residential homes in the considerably more upmarket suburb of Pinelands. The last residents of Arcadia Place were moved out in February amid some fanfare as plans were released to upgrade the declining institution.
CPOA has confirmed that although the revamping will be a lengthy process, taking three to four years, they have promised former residents that they will return to the building and it will be able to accommodate a lot more people. The proposal for a revamped Arcadia Place includes the possibility of additional of four or five storeys.
Its new occupants, however, are not buying that. They believe Arcadia Place has been sold by the CPOA to a private developer. The aging building is well-placed amid burgeoning developments in what is clearly a gentrification zone where several upmarket blocks of flats are going up or are already completed. Flats are being sold or rented out at prices unheard of before in this area, which for years has mostly accommodated students and local poorer people.
Singabalapha members believe the building has been sold for an unseemly sum to one of the developers, and will in time be used to build more upmarket shops and private accommodation which would further reduce affordable social housing in the area. A CPOA staff member confirmed that a part of the property had indeed been sold. By the time of going to press she had not supplied any details about the intentions of the new owner.
A search of the property — 414 Main Road — shows that it is owned by the CPOA, has a floor size of 6,220m2 and was valuated by the City in 2018 at R36,980,000.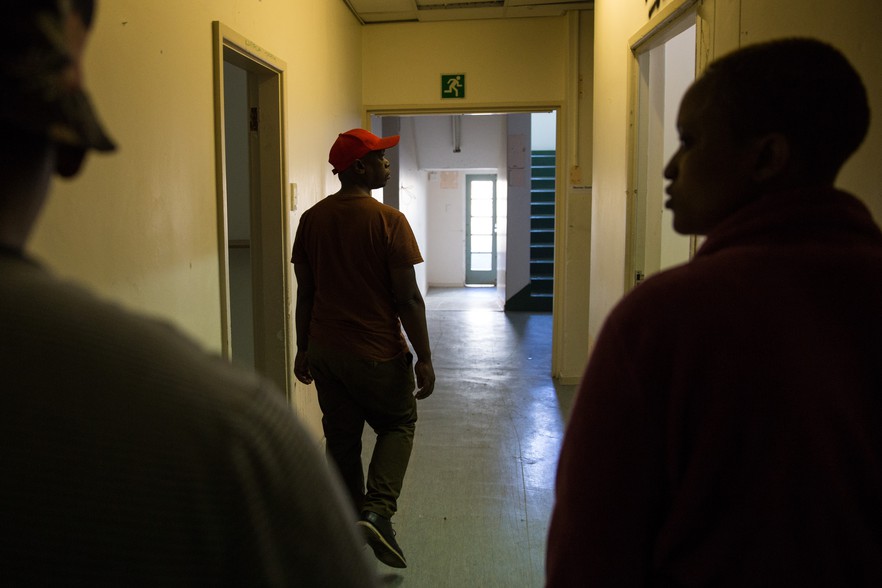 Vuza confirms that they found the building in a derelict state and badly vandalised. The new occupants have been steadily at work cleaning it and making it liveable. She bemoaned the fact that there are no locks on the doors and none of the new occupants can afford padlocks.
Vuza said she had first noticed the vacant building in March, and had been keeping an eye on it. Under the impression that it is state-owned property, she argues that backyarders and others who have no homes have the right to occupy vacant property. She spread the word and soon the building, which had once housed 160 elderly people, was fully occupied.
She also reports that since the occupation had come to the attention of the owners, the water has been discontinued. One of the occupants, Bandile Gcuwa, added that the lights had also been switched off, although the plugs were still working.
Vuza appears to have occupied a fairly spacious room, which clearly doubles as a makeshift office to which visitors are directed and where queries are dealt with. Colourful cloths serve as curtains and a neatly made-up single bed stands in one corner. The rest of the room is occupied by chairs arranged into a kind of waiting room, and a table that serves as a desk.
A couple of occupants sit on one of the benches that have been left behind, enjoying the late afternoon sun. A couple of people who have jobs slowly start arriving home but most of the occupiers stay quietly in the background. Vuza says they have no intention of disrupting the neighbourhood and are doing what can to fit right in.
CPOA describes itself as "a Public Benefit Organisation and Non-Profit Organisation in Cape Town", founded in 1953, which owns and operates 25 retirement facilities ranging from welfare homes to economic residences. "Surpluses in their economic residences are used to cross-subsidize their sub-economic retirement facilities".
Dodgy people are suing us. Please support us by contributing to our legal costs and helping us to publish news that matters.