The budding cyclists of Khayelitsha
|
Mary-Jane Matsolo and Nokubonga Yawa
News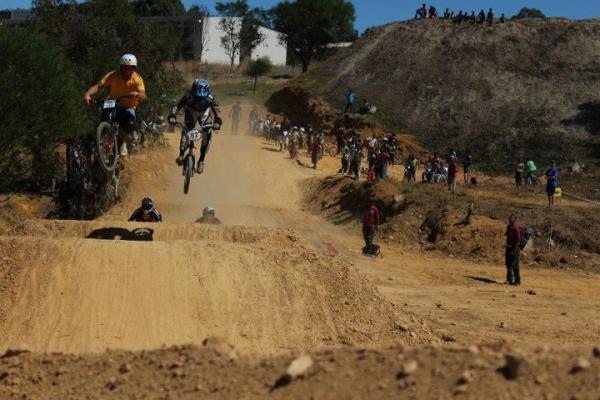 Situated in the heart of Khayelitsha Velokhaya Cycling Academy is an unusual sight in a township.
Under the careful management of Mzukisi Vicani, also known as Skeezo, Velokhaya's doors have been opened to the children of Khayelitsha for over 12 years. Former postman, Amon Ziqubu, had the original vision of the organisation.
Ziqubu is a 47 year old father of six children and decided to bring opportunities and change to the youth of Khayelitsha by transforming his community through cycling. Ziqubu wanted to utilize sport as a tool to distract young people from potential problems such as teenage pregnancies, gangsterism and drug usage.
"This centre plays a crucial role in supporting the learners with their academic achievements. Many parents leave their homes at six in the morning and come back late from work and still have to prepare dinner for their families. They do not have any time left to assist their children with homework and that's where we come in," explained Vicani.
According to Ziqubu, the founder of Velokhaya Cycling Academy, cycling is a new sport in the townships and it comes with a lot of opportunities. He explained that cycling teaches children a lot about working as a team while also needing to work individually. Velokhaya ensures that the youngsters understand that from day one it is all about training with the intention of turning them into professional riders.
The academy takes people between the ages of 6 and 23 years and trains them in three styles of cycling: BMX, road and mountain biking. While the centre caters for female cyclists there are only a few of them.
"My first woman promotion was in 2011 when I coached a female cyclist, but unfortunately she had a lot of family commitments. Today she's a housewife with children and I honestly believe if she had had the time and support from her parents in sport she would be far today," Ziqubu explained.
Ziqubu became interested in cycling in 1999 when he bought himself and his brother bicycles that cost him R2500. He paid for the bicycles with the small amount of money he earned from his post delivery salary. He paid an additional R350 to register and take part in the Cape Argus Cycling Tour, all thanks to an advertisement he came across in a newspaper which sparked his interest.
"Every time I got back home from my training I would get messages that there were some children from the neighbourhood that came by wanting to cycle. But none of them had bicycles. I then went around the neighbourhood and asked for broken bicycles I saw thrown on top of the roofs of houses. I collected 10 broken bicycles and I fixed them and gave them to these children," explained Ziqubu.
Luthando Kaka, a professional rider at Velokhaya, represented South Africa in 2004 in Canada, when he participated in the World Junior Tour where he was the 24th person to finish the race out of 250 riders from all over the world.
The centre currently has about 180 members, 32 of them as active riders that compete professionally. "While there is a lot of talent in our townships, unfortunately we lack the necessary resources needed to nurture it. We would love for each child to have a bike, but due to the lack of resources we cannot afford that," Vicani said.
Not only does Velokhaya Cycling Academy provide biking skills to the youth, but it also employs 11 people from the community that maintain the grounds and train the cyclists. Once the children turn 19 and compete professionally they receive a salary which they get from sponsors which they use to support their families.
Ziqubu explained how if they had more resources the centre could become fully equipped with a swimming pool because cycling goes hand in hand with running and swimming.
"The academy produces top quality athletes that participate in both national and international competitions. We are developing and a niche group of black cyclists. Two have already joined big cycling teams like MTN and Bonnita," Ziqubu explained.
Dodgy people are suing us. Please support us by contributing to our legal costs and helping us to publish news that matters.
© 2016 GroundUp.
This article is licensed under a
Creative Commons Attribution-NoDerivatives 4.0 International License
.